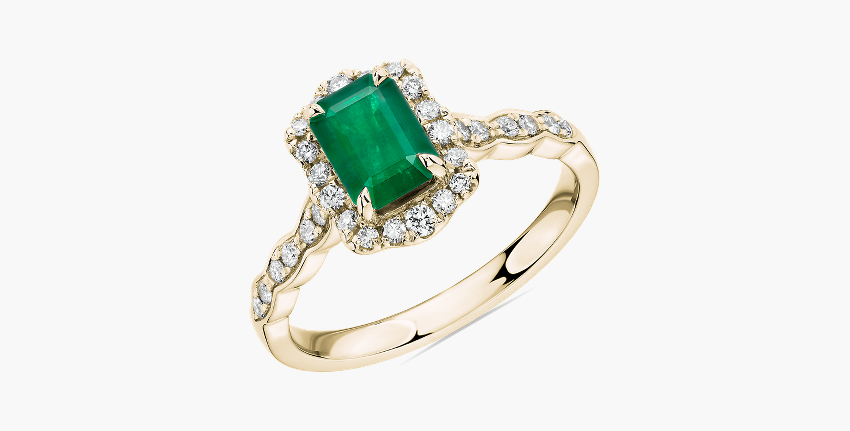 Emerald Engagement Ring Guide
Emeralds
are treasured for their verdant and velvety greens, with each gemstone containing its own garden of delights. These paradiscial gems symbolize rebirth, renewal and revelation. Ancient Romans believed emeralds were the gemstone of Venus, the goddess of love and hope.
History & Mythology of Emerald
Vibrant green emeralds were treasured by almost all cultures across the world. The Greek word for emerald "smaragdus" literally means green. Cleopatra of Egypt so loved emeralds, she declared ownership of all the emeralds in all the world. Ancient Sumerians wore them on their little fingers to help their eyesight.
EMERALD QUICK GUIDE
PRIMARY COLOUR
SECONDARY COLOURS
Greenish Blue

Yellowish Green
COMMON SHAPES
Mineral:

Beryl

Origins:

Columbia, Zambia, Madagascar, Canada, Russia

Symbols:

Peace, Balance

Properties:

Openness, Relaxation, Acceptance

Durability:

7.5
Enhancements
Infused to improve clarity and/or colour
CARE
Special Gemstone Care: Do not use ultrasonic cleaning. Avoid sudden temperature changes, chemicals, perfume, cosmetics, and hairspray.
What Does an Emerald Engagement Ring Symbolize?
Emerald's verdant green colour brings to mind symbols of growth, new beginnings and rebirth. An emerald's lushness is formed by patterns of inclusions, called jardin, or its "garden". In addition to being the
May birthstone
, emeralds make enchanting engagement rings.
What to Look for in an Emerald Engagement Ring
Emeralds are one of four precious gemstones and they rival the rarity and value of diamonds. The right emerald engagement ring will leap out at you when you see it, but keep these features in mind when looking for your ideal ring.
Colour

The most important factor when choosing an emerald is the

gemstone's colour

. Emeralds are found in medium to deep green shades with deep bluish-green being the most sought after. Many people find that they prefer pale hues, as they're more reflective and have a greater brilliance.

Cut

The cut of a gemstone shows off all of the emerald's best features and affects how much sparkle it will have. Emerald cuts and step cuts, like Asscher, are favored for this gemstone because they accentuate its natural beauty.

Shape

The shape of your gemstone is its outline when you look down at it. Round and octagon shapes are popular because they allow the emerald to reflect the most light. Pear and oval shapes are favourites for showcasing an emerald's size. And of course, emeralds always look spectacular in a rectangle shape with their namesake emerald cut, which maximizes the surface area of the gemstone.

Metals

Emeralds are a spectacular gemstone and look lovely with any metal. A lush emerald against yellow gold makes for a striking pair, but these gorgeous green gemstones look just as impressive on a platinum or silver band. A helpful tip is to choose a band that's opposite the colour wheel from the emerald to enhance its greenness. For example, if the emerald is a bluer hue, choose a yellow band, or if it's a yellower hue, choose a white band.
Hardness & Wearability
Emeralds rate a 7.5 to 8 on the Mohs scale of hardness which determines how susceptible a gemstone is to cracks, chips and scratching. Emeralds require more care than a diamond or
sapphire
, but with proper wear they make beautiful centre stones for engagement rings that will last generations. Learn more about choosing
emeralds vs. diamonds
for an engagement ring.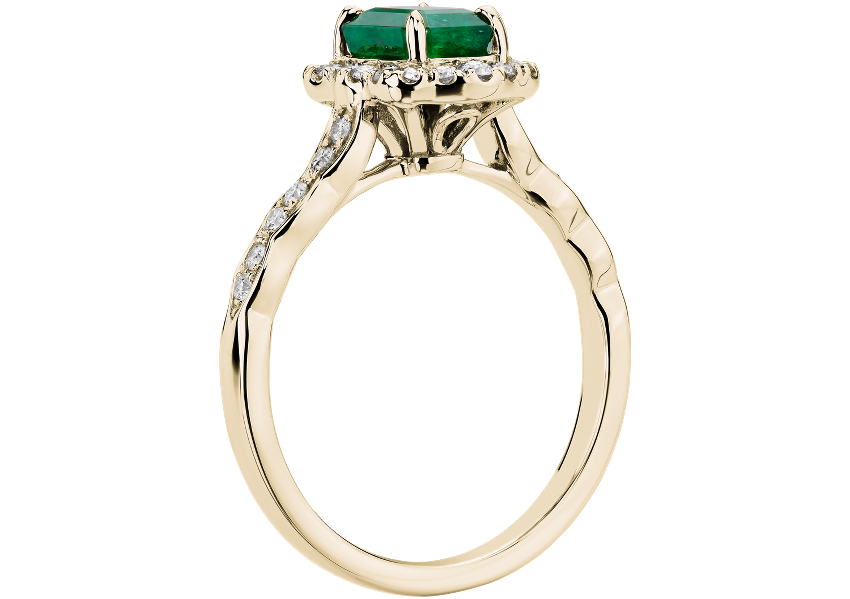 Setting
The setting for your engagement ring is what holds the centre stone in place. Popular choices for emerald engagement rings are solitaire and elegant pavè settings. These understated settings bring attention and light to the way the ring sparkles on your hand.
Accent Diamonds or Gemstones
Diamonds are a classic choice for accent stones on your emerald engagement ring and look stunning in a pavè setting on a vintage-inspired ring. Try royal blue sapphire or bright citrine accent gemstones for a less conventional look.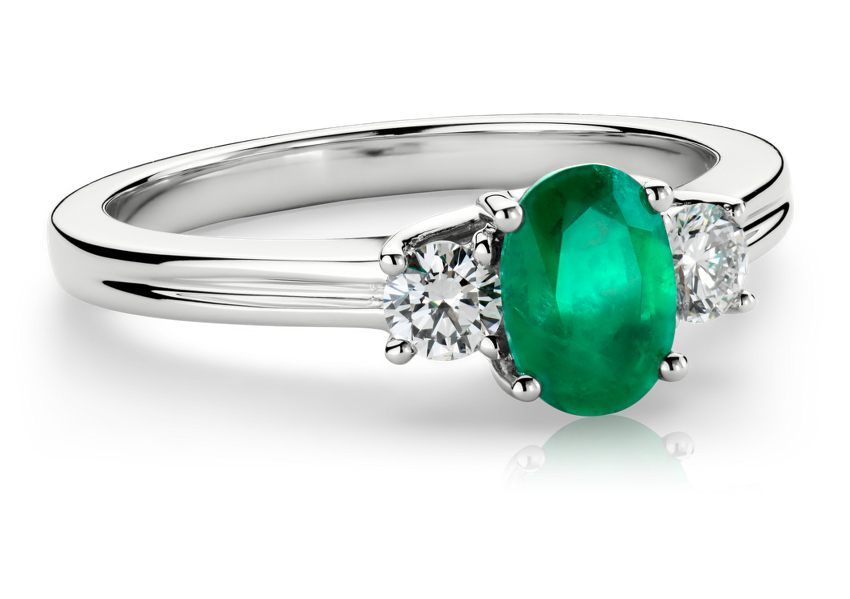 Style
Emeralds are dazzling in any style. Lovers of vintage glamour will be smitten by art deco and Edwardian styles with their ornate filigrees and timeless appeal. Those who prefer modern designs are sure to love the clean lines and gentle curves of a contemporary engagement ring.
Emerald Engagement Ring Buying Tips
Your love is forever, and your emerald engagement ring should be, too.
Buying an engagement ring
is a big step and there are some points to bear in mind while you look for an exquisite ring.
Know Your Budget

Set your engagement ring budget before shopping so you can find a stunning emerald ring at the right price point.

Know Your Ring Size

Measure your ring size to get the best fit. Use our easy

ring sizing guide

for tips on measuring at home to ensure you find the proper fit for your emerald engagement ring.

Understand the Care Your Emerald Needs

Consider Personalizing Your Ring

If you have your own emerald engagement ring inspiration, consider

personalizations

such as a mixed-metal band, a personal engraving, or a diamond halo around the centre stone to create the ring of your dreams.

Choose a Reputable Retailer

Look for a trustworthy retailer like us, offering only the highest quality gemstones with exceptional imagery and detailed descriptions to ensure you're getting an emerald engagement ring that's exactly what you want.
Explore Education by Category
Only at Blue Nile
When it comes to celebrations we strive to make your experience as brilliant as our jewellery with the perfect pieces for every occasion.
Amazing Value
The highest-quality design at a great price.
Peace of Mind
30-day returns, diamond price-match guarantee and more.
Expert Guidance
The original online jeweller since 1999.
Inspiring Assortment
The perfect pieces for every occasion.