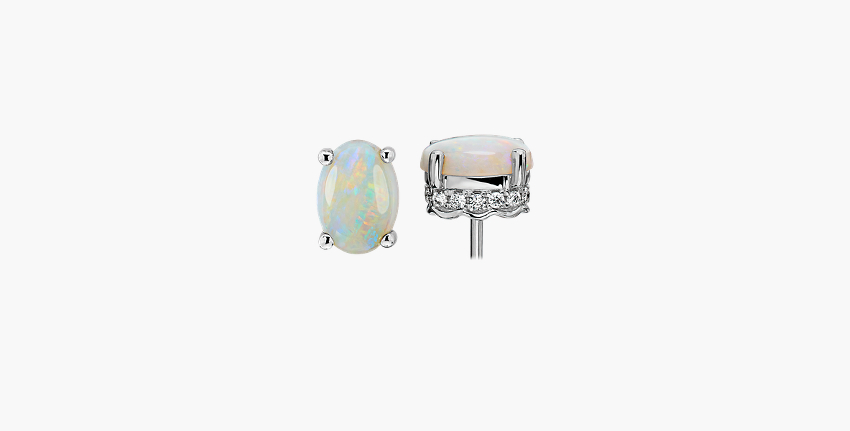 October Birthstone:
Opal
Every birth month is connected to a different gemstone. Those lucky enough to have an October birthday get to enjoy the
mesmerizing opal
as their birthstone. Opals are known for the range of shimmering colors that dance across their surface and create a striking optical effect. This phenomenon, known as play-of-color, makes every piece of opal gemstone jewelry extraordinary.
A Galaxy in a Stone
Opal was admired by many cultures throughout the ancient world, each giving it a unique meaning. In Arabic lore, opals fell from heaven in the form of lightning, while the Greeks believed they could protect against disease and bestow the gift of prophecy. Opal's shifting rainbow of colors has inspired writers to compare it to volcanos, fireworks, galaxies and more.
Opal's Birthstone History
When people first began wearing the stones connected to their birth months in the 16th century, opal was selected as the original October birthstone. The National Association of Jewelers also chose opal as the modern October birthstone in 1912.
Diversity in Color and Meaning
Each birthstone has its own
meaning and symbolism
. Opals are associated with love, hope, faith, loyalty, purity and truth. Through its rainbow of colors, this gemstone is thought to reflect the mood of the wearer, to help release inhibitions and to enhance beauty. Some believe that opal symbolizes the virtues of all colored gemstones, making it one of the luckiest gemstones to wear.
Gifting Inspiration for the October Birthstone
Celebrate a significant other, a family member or a close friend with a piece of opal jewelry that shows your appreciation. Our selection of opal birthstone gifts offers several options for many different occasions.
Keep Your Opal Jewelry Looking Beautiful for a Lifetime
Keep your opal jewelry in good condition with the right gemstone cleaning and care.
Opal is a gem that needs a bit of extra care but can last for decades when well looked-after.
Be sure to put it on last when getting ready and store it in a felt-lined jewelry box away from harder gems after taking it off.
Maintain the beautiful play-of-color of your opal jewelry by giving it a regular cleaning with warm water and mild soap.
We also offer free cleaning and repair services for gemstone jewelry that needs an expert touch to restore its brilliance.
Learn More About Gemstones
Opal jewelry makes a magical gift for someone you love or an excellent addition to your own fine jewelry collection. Learn more about gemstones and jewelry options in our comprehensive gemstone guide.
Explore Education by Category
Only at Blue Nile
When it comes to celebrations we strive to make your experience as brilliant as our jewelry with the perfect pieces for every occasion.
Amazing Value
The highest-quality design at a great price.
Peace of Mind
30-day returns, diamond price-match guarantee and more.
Expert Guidance
The original online jeweler since 1999.
Inspiring Assortment
The perfect pieces for every occasion.