Titanium
---
Titanium is a unique and strong metal with incredible value for
men's wedding bands
. With a solid foundation in the engineering and aerospace industries, titanium has a proven track record as an enduring metal. Our men's titanium rings are 99% pure and nickel free for hypoallergenic benefits.
Blue Nile titanium is gray-white in color and is easy to polish throughout the lifetime of the ring. Titanium is an incredible fusion of lightweight strength that will not tarnish and is corrosion-resistant. Since titanium is incredibly light, it is easy to wear and is perfect for those with an active lifestyle.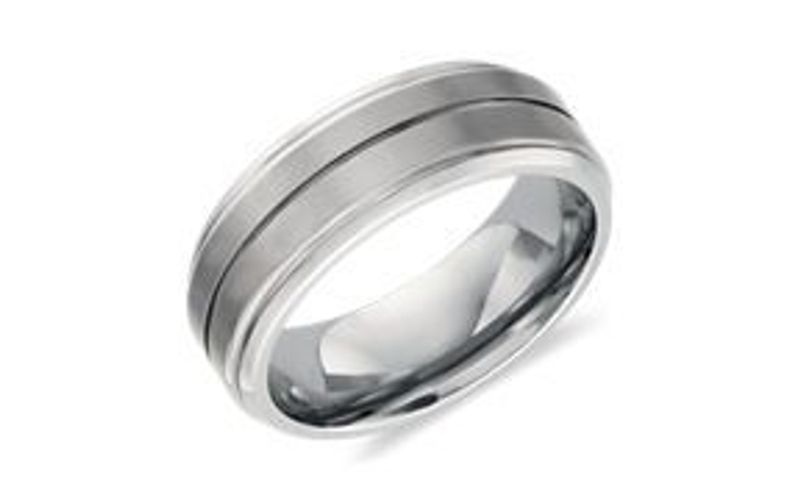 Elemental Properties For Titanium
Titanium Buying Tips
As one of the more
hypoallergenic jewelry
types, titanium is a popular choice for many jewelry styles. When buying titanium jewelry, make sure you're choosing the right size. It is a very sturdy metal but this sturdiness also makes it difficult to resize, so ensure you're choosing the right size before making your purchase.
When choosing rings, bracelets or necklaces made of titanium, you should look for designs that match your style and your wear. For example, if you're shopping for a ring in titanium and you work with your hands frequently, you may want to opt for a band that doesn't need upkeep such as a titanium and yellow gold design.
Care
Since titanium is a natural element, it will be affected by harsh chemicals such as chlorine or other cleaning products. We recommend that you remove your jewelry when using chemicals to reduce daily abrasions and prolong the polish. To clean titanium jewelry, use a solution of warm water and detergent-free soap with a soft cloth. When not worn, store your titanium pieces in soft cloth bags or the original box to protect them from the elements of daily exposure.
Polishing
Titanium is softer than tungsten and is moderately prone to scratches. If scratched, the jewelry piece can be polished, a complimentary service provided by Blue Nile.
Sizing
We are unable to resize titanium rings at this time, so we suggest referring to our
ring size chart
and sizers to ensure you're finding the right fit.
Safety
A titanium ring can be cut and removed if a medical concern occurs.
FAQs About Titanium Jewelry
Is titanium a good metal for jewelry?
Lightweight and durable, titanium is an excellent metal for all types of jewelry. It's most commonly seen in
rings
, with many wide band designs featuring this metal. Titanium resists corrosion, rust, scratching, and bending.
Can you wear titanium jewelry every day?
Jewelry made of titanium can be worn daily. It is a durable and hypoallergenic metal that's perfect for frequent wear.
What titanium jewelry styles are popular?
When it comes to jewelry made of titanium, rings are the most popular style. This includes men's rings that feature additional designs or plain titanium bands.
Can titanium jewelry get wet?
Yes, titanium jewelry can get wet. It is rust and corrosion resistant, making it perfect for frequent wear. As with all jewelry, avoid exposing titanium to chemicals like chlorine, cleaning chemicals, or cosmetics.
What's the best way to clean jewelry made of this material?
A gentle
jewelry cleaning solution
is perfect for restoring the shine of your titanium jewelry. Wash the jewelry and thoroughly dry it with a soft cloth. Jewelry polishing cloths can also help keep titanium looking its best.
What other metals pair well with titanium?
While titanium jewelry often features this standout metal on its own, there are also pieces that incorporate additional metals for a unique design. Metals such as gold and tantalum are perfect complementary metals to accompany titanium in jewelry, creating a two-tone style that's sure to turn heads.