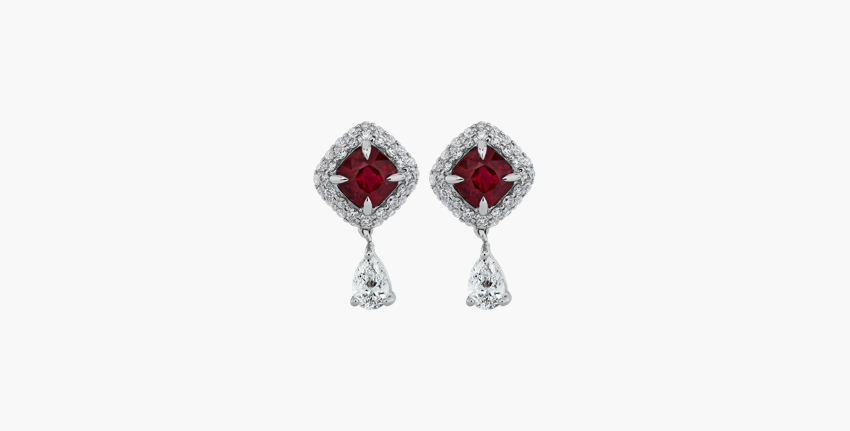 An Intro to Gemstone Treatments and Enhancements
In order to maximize their appearance and wearability, gemstones are often enhanced with treatments based on the stone type and the desired effect. Due to the rarity and uniqueness of colored gemstones, most fine jewelers (including Blue Nile) enhance their gems using various techniques. Some of these procedures have been around for centuries, while others have been developed in recent years.
What are Enhancements?
There are many methods used to enhance a gemstone's color, clarity and durability and maximize its beauty. Different gemstones are enhanced differently, depending on the type of gem and the end goal.
An Intro to Gemstone Treatments and Enhancements
Heat Treatment

Heat treatment is a method used to permanently enhance the color and/or clarity of a gemstone by applying heat. The temperature and time required to alter gemstone color depends on the stone. For example, rubies and sapphires require more heat than other gemstones. While some stones become more color-saturated after a heat treatment, stones like amethyst will lighten under high temperatures.

Some may worry that high heat will damage the gemstones, but most gems are formed under high temperatures, and heat will not have a negative effect on the stone. Heat treatment is one of the most common practices in gemstone enhancement, and without it, the availability of fine gemstones would be significantly reduced. For this reason, heat treatment is an accepted practice by the jewelry industry and the American Gem Trade Association.

Infusion

Infusion is the practice of filling a gemstone with a material like oil, wax, glass or resin in order to improve

gemstone clarity

. Like most gemstone enhancement procedures, this is a method that began centuries ago with the purpose of enhancing a gemstone's overall appearance to the naked eye.

Coating

Coating adds additional protective layers to gemstones, varying in form and function. One of the most common materials used for coating gemstones is wax, which can improve the stone's luster and protect gems from external oils and other damage. In other cases, artificial polymer, resin and oils are used to coat the gem and improve sturdiness and appearance. Coating is often used on gemstones cut into the shape of a cabochon gem, like turquoise and jade, and is also very commonly used on

pearls

.

Bleaching

Bleaching is commonly used to lighten the appearance of a gemstone. Chemicals like bleach and hydrogen peroxide are the most common lightening agents for gemstones. Bleaching also removes unwanted color in order to even out the appearance of the stone.

This is a relatively stable enhancement method for gems that won't be re-cut or polished following the treatment, but bleaching may have a negative impact on the gem's durability. For this reason, the bleaching method is often combined with an impregnation treatment to improve strength and durability.

Dyeing

Dyeing involves adding a coloring agent into a gemstone to give it a new color, intensify its existing color or to improve the overall color uniformity. Since color is the most important attribute of a gemstone, dyeing is one of the oldest enhancement methods in the industry.

Some believe that dyeing a gemstone decreases its value and renders it artificial, but this treatment only enhances its natural pigmentation—a dyed stone looks nearly identical to an undyed, much more expensive jewel.

Irradiation

Similar to heat treatment, irradiation is an enhancement method that uses radiation to alter and improve the color of a gemstone. Irradiation involves levels of ionizing radiation, which changes the atomic properties of the gemstone and results in a visible improvement in the gemstone's appearance.

The most common concern about irradiation is whether the radioactivity is safe for the wearer, and the answer is yes! There is no evidence of any harm from wearing an irradiated gemstone.

New and Future Enhancement Technologies

Gemstone enhancement techniques have been around for centuries and continue to be developed every year in order to provide consumers with the most beautiful gemstone jewelry available at an affordable price.

We are committed to working with the best industry professionals and gemologists to maintain our high-quality standards when it comes to gemstone enhancement.
What to Look For When Buying an Enhanced Gemstone
We're fully transparent about our gemstone enhancements. As you're shopping our gemstone jewelry online, review the Product Details on the page, which will specify whether and how that specific gemstone has been enhanced—click the information icon for more details. If you're browsing one of our showroom locations, here are a few tell-tale signs that the stone may have been treated.
Vivid Color

The gemstone may have been treated with heat or irradiation.

Even Color

The gemstone may have undergone dying or bleaching.

Eye-clean Appearance

If the gemstone appears perfectly clear, it may have undergone an infusion.
Our Colored Gemstone Enhancement Approach
We are proud to offer the highest quality, hand-selected gemstones on the market. In order to meet our high professional standards, our colored gemstones are thoroughly inspected by our expert gemologists to ensure all gemstone enhancements have been made with precision and care.
Common Enhancements by Gemstone
Gemstone

Enhancement method

Agate

Heated or dyed to improve color.

Amber

Heated to improve color and clarity.

Amethyst

Heated to improve color.

Aquamarine

Heated to improve color and clarity.

Black Diamond

Heated or irradiated to alter color.

Blue Topaz

Heated and/or irradiated to alter color. Thermal coated to alter color.

Carnelian

Heated to improve color.

Citrine

Heated to improve color.

Coral

Coated or impregnated with color less substances to improve surface uniformity or durability. Bleached or dyed to enhance color.

Emerald

Infused to improve clarity and/or color.

Kunzite

Heated or irradiated to improve color

Morganite

Heated to improve color and clarity.

Opal

Coated to alter surface consistency and durability.

Pearl (natural and cultured)

Bleached, dyed, polished and coated.

Quartz

Green/Lemon: Irradiated to improve color.
Smokey: Heated to improve color.
Blue: Dyed.
Rutilated/Rose/white: None.

Ruby

Heated and/or infused to improve color and clarity.

Sapphire

Heated and/or infused to improve color and clarity.

Tanzanite

Heated to alter color and clarity. Infused to alter color and clarity.

Tourmaline

Irradiated to improve color.

Turquoise

Coated or impregnated with color less substances to improve surface uniformity or durability.
Explore Education by Category
Only at Blue Nile
When it comes to celebrations we strive to make your experience as brilliant as our jewelry with the perfect pieces for every occasion.
Amazing Value
The highest-quality design at a great price.
Peace of Mind
30-day returns, diamond price-match guarantee and more.
Expert Guidance
The original online jeweler since 1999.
Inspiring Assortment
The perfect pieces for every occasion.