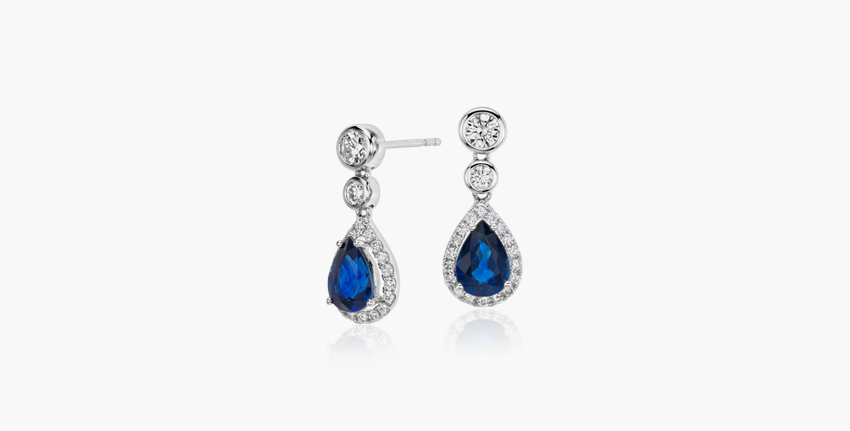 Sapphire Guide
Known for their signature lapis blue colour, sapphires are historically one of the most coveted gemstones. Although sapphire comes from the Greek word for "blue" Sappheiros, sapphires come in a variety of hues.
What is a sapphire?
Sapphires are derived from the mineral corundum. Commonly associated with a regal shade of blue, sapphires inspired the term "royal blue." But sapphires range in colour from green and yellow to orange and even violet.
SAPPHIRE QUICK GUIDE
PRIMARY COLOUR
SECONDARY COLOURS
Deep Blues

Yellows

Greens

Purples
COMMON SHAPES
BIRTHSTONE MONTH
September
Mineral:

Corundum

Origins:

Kasmir, Myanmar, Sri Lanka, Australia, Thailand, Cambodia, Madagascar, United States (Montana)

Symbols:

Good Fortune, Romance

Properties:

Wisdom, Wealth

Durability:

9
Enhancements
Heated and/or infused to improve colour and clarity
What to Look for in Sapphires
When we think of sapphires we often think "blue", but sapphire refers to any coloured corundum other than red, which qualifies as a
ruby
. Sapphires can be white, yellow, pink, green or purple.They also come "parti-coloured," which means they shift colours in different lighting. The most common parti-coloured sapphires seemingly change from blue in daylight to purple in incandescent light. Sapphires are the traditional
September birthstone
. Sapphires look gorgeous in any jewellery setting, whether silver, gold or platinum. When choosing a sapphire, keep these characteristics in mind:
COLOUR

Gemstone Colour is often the most important aspect of a gemstone. Sapphires with a true, deep blue colour are often the most desirable of these gemstones — and they're more rare than other sapphire colours. Rubies are also the same mineral, corundum, as Saphpire in a red hue. Sapphires in other hues are known as fancy sapphires. Colourless sapphires offer the look of a diamond at a more budget-friendly price point, but without skimping on beauty and brilliance.

CUT

A gemstone cut should highlight its best aspects. Our sapphires are cut to showcase their distinctive combination of colour, clarity and brilliance. To maximise reflection, sapphires may have a more shallow cut to allow in more light and sparkle, or they may be cut more deeply to showcase a dark saturation.

CLARITY

When speaking of gemstone clarity, natural gemstones contain inclusions, which are materials like gas bubbles, minerals or liquid that are trapped within the stone while it forms. The fewer visible inclusions in a sapphire, the more desirable it is. However, sapphires occasionally feature an inclusion known as an asterism, or the star effect, in which a dazzling six-ray star pattern appears on its surface.

SIZE (CARAT)

Sapphires are denser than diamonds, so what we consider a carat weight for a sapphire differs from that of a diamond. That's why the size of gemstones, including sapphires, is measured by their diameter in millimeters. A sapphire measuring six millimeters in diameter is roughly equivalent to one carat.

ENHANCEMENT

Most gemstones on the market today are enhanced with heat treatments or infusions to help improve the colour and clarity. Our sapphires undergo rigorous internal inspections and are of the highest quality.
Hardness & Wearability
Sapphires are very durable, earning a 9 out of 10 on the Mohs scale of hardness. A diamond, the hardest of all gemstones at a rating of 10, is the only natural thing that can scratch a sapphire. This makes sapphire jewellery suitable for everyday wear, whether in a beautiful ring setting, a bold pendant necklace or sparkling earrings.
Choosing the Right Sapphire Jewellery
Ultimately, selecting a piece of sapphire jewellery should come down to what you love. A sapphire that makes you think of the sky, or the ocean, or your favourite person's eyes brings good feelings and terrific sparkle to your look. Sometimes called the "wisdom stone," sapphire jewellery makes a
meaningful gift
for graduates. Green sapphires, known as the "stone of fidelity," makes them a wonderful choice for a
sapphire engagement ring
or anniversary gift. Sapphires are associated with spiritual truths and positive thinking.
Famous Sapphire Gemstones
Royalty has an enduring love affair with this gemstone, which adorns the Imperial State crown and the engagement rings of Josephine Bonaparte and Lady Diana Spencer—who chose her stunning 12-carat, oval sapphire ring to match her baby blue eyes. That famous ring was recently passed down to Kate Middleton by Diana's son, Prince William.
How to Care for Your Sapphire Jewellery
Keep your sapphire jewellery sparkling and in good condition with regular cleaning. Soak it in warm, soapy water for a few minutes, then grab a soft-bristled toothbrush to give the stone a gentle scrub. For more information, read our guide on
caring for your gemstone jewellery
.
Learn More About Gemstones
Explore Education by Category
Only at Blue Nile
When it comes to celebrations we strive to make your experience as brilliant as our jewellery with the perfect pieces for every occasion.
Amazing Value
The highest-quality design at a great price.
Peace of Mind
30-day returns, diamond price-match guarantee and more.
Expert Guidance
The original online jeweller since 1999.
Inspiring Assortment
The perfect pieces for every occasion.