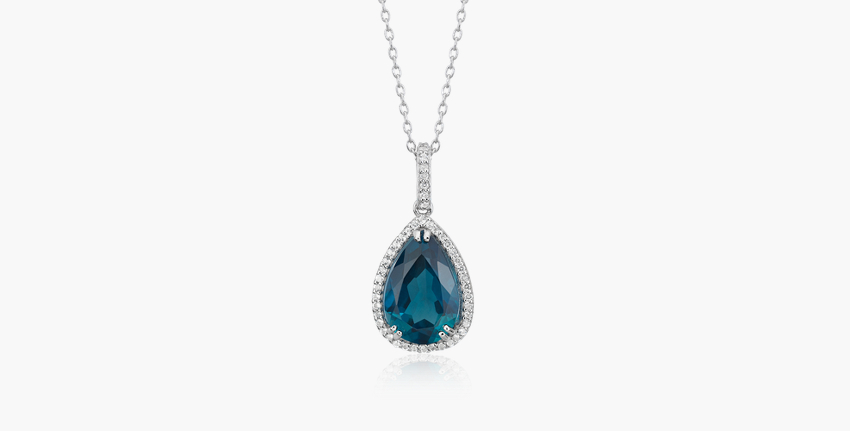 Blue Topaz Guide
There is perhaps no gemstone more worthy of our times than blue topaz. Blue topaz celebrates the intellect, alleviates anger and sadness and provides light in places of darkness. It's the gemstone of abundance and good health, and it looks just as good with a ball gown as it does business attire.
What is a blue topaz?
Blue topaz is a coloured variety of the gemstone topaz. It's mined in the USA, China and Russia, with the largest specimens found in Brazil. Topaz comes in a diverse range of colours, from charming pinks to rich browns. Each shade is dazzling in its own right, but the coveted blue topaz has proven to shine brighter than the rest and is a precious favourite of gemstone lovers. It's important to note that topaz is rarely blue in its natural form, and most blue topaz on the market has been enhanced to bring out the brilliant blue. Blue topaz is December's birthstone, and it's traditionally given on 16th wedding anniversaries.
BLUE TOPAZ QUICK GUIDE
PRIMARY COLOUR
SECONDARY COLOURS
COMMON SHAPES
Enhancements
Heated, thermal coated and/or irradiated to alter colour
Similar Gemstones
What to Look for in Blue Topaz
Vibrancy of colour plays the biggest role in the value of blue topaz. Clarity and a masterful cut should also be taken into consideration. This birthstone is easy to find in large sizes, so judging blue topaz by carat size (weight) alone won't necessarily mean it's of better quality.
COLOUR

Gemstone colour is perhaps the most important aspect of a gemstone. Deeply saturated blue topaz fetches a higher price tag than lighter shades. Popular colour variations of blue topaz include:

London topaz:

Top-shelf London topaz is a spectral dark grayish-blue, evoking images of Big Ben cloaked in morning fog

Swiss topaz:

Swiss topaz is a stunning bright blue with a gorgeous lustre that sets it apart from other shades of blue topaz

Sky blue topaz:

This pale blue topaz captures the glow of the heavens and will delight anyone who enjoys delicate colours and cloudless skies.

CUT

Part of the beauty of these treated gemstones is their uniformity of colour. Because of their consistent saturation and remarkable clarity, blue topaz gems make a stellar choice for any shape and gemstone cut, including artistic fantasy cuts. Topaz crystals form in an elongated shape and work especially well in oval, pear and emerald shapes.

CLARITY

Topaz is a Type 1 gemstone, which means the gems for sale — including the topaz we offer — are almost completely free of inclusions, or flaws, that can be seen with the naked eye. This level of gemstone clarity makes blue topaz an "eye-clean" gemstone.

SIZE (CARAT)

Unlike diamonds, which are measured by carat weight, a more accurate way to assess the size of gemstones, including blue topaz, is by its diameter in millimeters. This gives you a greater picture of what the gem will look like in its setting.

ENHANCEMENT

Naturally blue topaz with vivid saturation is an anomaly. Most topaz is found colourless or in diluted shades of yellow, pink, blue or grey. The jewels undergo a treatment of irradiation and heat to produce the beautiful colours that blue topaz is known for. These gemstone enhancements are permanent and won't fade over time.
Hardness & Wearability
Blue topaz has a Mohs hardness rating of 8, meaning it isn't as indestructible as a diamond and may be prone to chipping or scratching. But if you wear blue topaz with care, it can withstand everyday wear and tear.
Choosing the Right Blue Topaz Jewellery
Blue topaz is a reasonably priced gemstone that rivals even the most expensive sapphires and aquamarines with its scintillating shades of blue. It looks striking whether it's a subtle Sky Blue gem set in a gold ring or a lustrous London Blue necklace decorating your décolletage.
Famous Blue Topaz Gemstones
Ancient Egyptians worshipped topaz as a powerful gift from the sun god Ra. Today, blue topaz jewellery is worn to Hollywood awards ceremonies by the likes of Katy Perry, Jennifer Lopez and Cate Blanchett.
How to Care for Your Blue Topaz Jewellery
It's easy to keep your blue topaz jewellery sparkling for generations. Soak it in warm, soapy water for a few minutes, then grab a soft-bristled toothbrush and give the stone a gentle scrub. For more information, read our guide on
caring for your gemstone jewellery
.
Learn More About Gemstones
Blue Topaz is just one of the many colourful gemstones we offer. Learn what gemstones say about you, or find another gemstone that suits you — whether it's your birthstone, a gem in your favourite colour, or a gemstone that holds special meaning for you or someone who's special to you.
Explore Education by Category
Only at Blue Nile
When it comes to celebrations we strive to make your experience as brilliant as our jewellery with the perfect pieces for every occasion.
Amazing Value
The highest-quality design at a great price.
Peace of Mind
30-day returns, diamond price-match guarantee and more.
Expert Guidance
The original online jeweller since 1999.
Inspiring Assortment
The perfect pieces for every occasion.