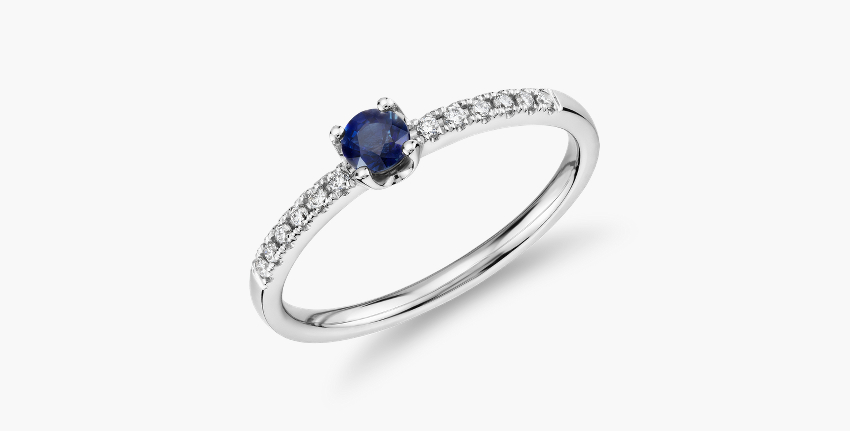 September Birthstone:
Sapphire
The
unique meaning behind every gemstone
is informed by its history and lore. A historically coveted gemstone, sapphire is traditionally connected with royalty, nobility and spirituality. This sparkling birthstone for September is also believed to be a stone of protection, healing and wisdom. With its connections to famous
engagement rings
, sapphire is also associated with love.
A Symbol of Royalty and Nobility
The
unique meaning behind every gemstone
is informed by its history and lore. A historically coveted gemstone, sapphire is traditionally connected with royalty, nobility and spirituality.
Sapphire's Birthstone History
The tradition of associating different gemstones with each month dates back to ancient times, though the practice of wearing the stone of your birth month arose around the 16th century. Sapphire became the official September birthstone in 1912, when the list of modern birthstones was published by the National Association of Jewellers. It replaced the traditional birthstone of chrysolite, which referred to any gemstone with a yellow-green colour like peridot.
The Gem of Wisdom and Romance
Today, sapphire is brimming with
birthstone meaning
for those born in September. It's considered to be a stone of wisdom, truth and good virtue, and is often worn to bring good luck, facilitate healing and encourage clear and positive thinking. This beguiling blue gemstone carries deep mystical meaning and has been associated with heaven and divinity since ancient times. Sapphire also symbolizes love and was famously worn in an engagement ring by Princess Diana.
Sapphire's Connection to September
September's birthstone properties have a strong connection to the zodiac signs that share this fall month. Virgos and libras are both known for their intelligence which makes their sapphire birthstone a fitting match with its connections to wisdom.
Though blue sapphire is the most popular colour of this gemstone, September's birthstone comes in a rainbow of colours. Yellow, orange and brown sapphires can represent the fall leaves of September.
Caring for Sapphire Birthstones
As one of the hardest gemstones, September's stone is incredibly durable. When a sapphire isn't being worn, it should be stored in its original box or a felt-lined jewellery storage box. Sapphires can be cleaned with a mix of soap and water or a gentle jewellery cleaning solution.
Gifting Inspiration for the September Birthstone
Sapphire makes an excellent gift for those born in September and to mark a variety of special occasions for anyone else. Consider different sapphire jewellery types to find the right gift for someone you love.
Keep Your Sapphire Jewellery Looking Beautiful for a Lifetime
Sapphire is a very hard gemstone, ranking just underneath diamond on the Mohs hardness scale. It can be worn with confidence and will last for decades if stored in a felt-lined jewellery box when not being worn.
Proper gemstone cleaning, like regular care with a soft brush and some warm, soapy water, will help your sapphire jewellery maintain its brilliance.
For pieces that need deep cleaning or professional repairs, you can trust our free cleaning and repair services to get your September birthstone jewellery back to its enchanting self.
Learn More About Gemstones
Sapphire is a beloved birthstone and a popular gemstone for fine jewellery pieces of any kind. Learn about other gemstones and the exquisite jewellery options they offer as well.
Explore Education by Category
Only at Blue Nile
When it comes to celebrations we strive to make your experience as brilliant as our jewellery with the perfect pieces for every occasion.
Amazing Value
The highest-quality design at a great price.
Peace of Mind
30-day returns, diamond price-match guarantee and more.
Expert Guidance
The original online jeweller since 1999.
Inspiring Assortment
The perfect pieces for every occasion.