Layering necklaces is trending again, but is it ever not? When a look is this persistent, it's time to call it classic. One of the many reasons we love this approach to styling is the opportunity for personal expression. Plus, wearing multiple pieces in an ever-changing mix of combinations lets you enjoy more of the pieces in your jewellery collection—and who doesn't love that? Here are our top tips for how to layer necklaces.
1. Combine Different Necklace Styles
Half the fun of layering is juxtaposing contrasting styles: modern pearls or pavé worn with contemporary motifs and geometric shapes. And don't ignore your options for choosing chains with different weights and textures: bead, cable, rolo, rope, snake, Venetian and wheat. This isn't just smart style-wise, it also helps reduce tangling.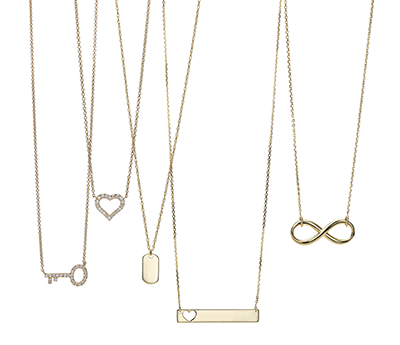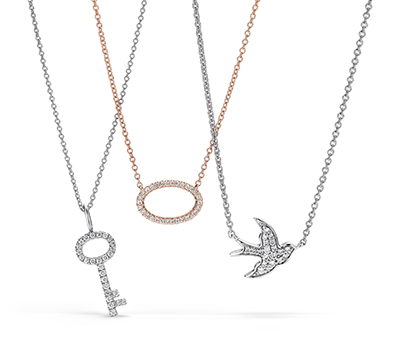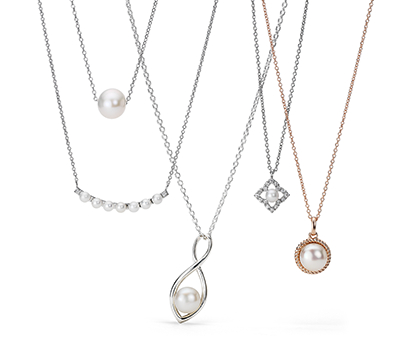 2. Combine Different Chain Lengths
By choosing necklaces of different lengths you can achieve a cascade effect that allows each piece to stand out on its own. If you have a few favourites that are the same length, you can always add chain extenders. Start with a piece that falls close to the neck, and build your look from there. Also, please note that the Long Diamond Bar Pendant worn by our model is a 30" chain and falls lower on the body than shown in our opening photograph.
Shop Necklaces by Length:
3. Add a Bar Necklace into the Mix
Timeless, yet on-trend, our classic bar necklace serves as a fantastic dividing point between pieces that fall close to the neck with 12–14" chains, and pieces that are 20" or longer. What's especially great about this classic design is that you can wear it at 16" or 18", and it comes in 14k Rose Gold, 14k Yellow Gold or Sterling Silver. You can even engrave it with a favourite word or two—up to 12 characters.
4. Consider the Neckline of Your Top
Think of the cut of your top as a frame for your necklaces. The neckline of your shirt and your style of jewellery should work together, not compete. And if you're wearing a high neckline, consider how the pattern or colour of your clothing relates to your jewellery selection. Your clothing and your jewellery are like any other successful relationship—they should result in a great partnership, each one complementing the other.
5. Try Combinations in Odd-Number Multiples
There's no shortage of opinions on what constitutes the "correct" number of necklaces to wear. Many people follow the "rule of three," while some insist it doesn't matter so long as it's an odd number. In our many layering experiments, we've found that combinations of three or five pieces are often the most pleasing, but ultimately the relationship between shapes, styles and chain lengths is important when deciding what works best for you.
6. Play with Contrasting Metals
Once it was considered "wrong" to combine jewellery with contrasting metal colours, but that's no longer a hard and fast guideline. Some of the best looks come from pairing different styles, with variations in weight, metal, colour, stones, texture and cost. It's a blank canvas so mix and match as you see fit.
7. Feel Free to Break the Rules
Despite everything we said above, there are no hard and fast rules when it comes to layering necklaces. And the few that do exist are just begging to be broken. Got a look you love? Share your layering favourites with us on Instagram and tag your images with #bluenilesparkle