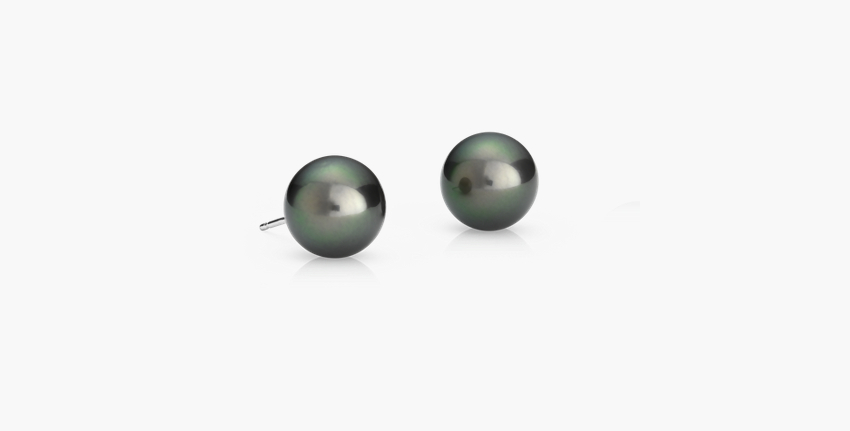 Tahitian Pearl Guide
Ancient cultures associated pearls with celestial bodies because of their spherical shape and silvery glow. Tahitian pearls—especially the black ones radiating with purple, green and silver tones—represent the dark side of the moon. Tahitian pearls come in a stunning array of colors, sizes and shapes. A pearl doesn't have to be your
June birthstone
to adorn yourself in Tahitian pearls.
What Are Tahitian Pearls?
Despite what the name implies, Tahitian pearls don't come from Tahiti. The name was born when pearl farmers from the other islands in French Polynesia would visit Tahiti to sell their wares, popularizing the area for the signature black pearl.
What Sets Tahitian Pearls Apart?
Around the world, pearls are cultivated inside the black-lipped oyster called Pinctada margaritifera, but only those from French Polynesia can officially be called Tahitian pearls. If there's one thing that defines Tahitian pearls, it's color. Tahitian pearls have the greatest color spectrum of any pearl type, but it's their natural black shade that set them apart as a rebel of the gemstone world.
What to Look for in Tahitian Pearls
Our Tahitian pearls, like almost all of those on the market today, are of the cultured variety and are hand-selected to find the finest gem. One of the biggest concerns among new pearl buyers is whether cultured pearls are as "real" as natural pearls — and the answer is "yes!" Cultured pearls also form inside an oyster, but with a little help from skilled pearl technicians. Cultured pearls are just as authentic—not to mention as exquisite—as natural pearls and are attainable at a more affordable price without sacrificing quality or elegance. The availability of cultured pearls makes it possible to choose the size, colors and styles that you love so you're never limited by the scarcity of natural pearls.
Size

Cultured pearls are sold by size rather than weight to ensure you always get fair value. Ranging from 8 mm to 18 mm, Tahitian pearls are among the largest pearl varieties.

Color

Tahitian pearls are known for their dark gray body-color, but they come in the full spectrum of shades, from white to black. Two aspects create the rich look of Tahitian pearls: body color and overtones.

Body color describes the main color of the pearl. Tahitian pearls are best known for the signature charcoal body, but can also range from white to brown.

Overtones are the softer colors that shimmer over the body of a pearl—think of an oil slick on water. Overtones can lend green, pink, orange and silvery hues to your pearl jewelry. Their signature color once made Tahitian pearls the rarest of any pearl type—and led to plenty of copycats. With the discovery of pearl cultivation, authentic Tahitian pearls are now affordable to a much wider market.

Beware of any non-Tahitian pearls that claim to be black. These have been chemically dyed, which weakens the nacre and shortens their lifespan.

Shape

Perfectly round pearls command the highest price, but they're not the only choice for a statement look. Tahitian pearls make baroque and circle shapes stand out when their grooves catch the light and their subtle overtones shimmer.

Luster

Luster is created when light reflects back through the layers of nacre that form the pearl, creating that signature glow. For an easy way to assess luster, check for your reflection in the surface of the pearl.
How to Choose Tahitian Pearl Jewelry
Enjoy everything Tahitian pearls have to offer with these easy tips to start your pearl jewelry-buying journey.
Determine Your Budget

Decide how much you will budget for your pearl jewelry. By deciding ahead of time how much you want to spend, you'll be more likely to stay within your budget.

Shop by Style

Enjoy browsing different styles of jewelry, from necklaces and earrings to bracelets and cuff links. Consider the metal type for the setting based on what you think looks best with the pearl or what you like best. Decide whether you're going to go big and bold or small and subtle.

Find a Retailer You Trust

There's nothing wrong with changing your mind! If you've purchased our pearl jewelry and discovered a color or style you love even more, we make it easy with 30-day free returns, no questions asked. You can always feel confident knowing you'll always find something you love.
How to Care for Tahitian Pearls
With the proper care, your pearls will last for generations.
Put your pearls on last, and take them off first.
Store your pearl jewelry in a flat box away from other pieces to avoid any scrapes and scratches.
For more information about caring for your pearls, read our helpful guide on gemstone and pearl care.
Learn more about our exceptional customer service and free returns so you can confidently choose Tahitian pearl jewelry that you'll love for years to come.
Learn More About Pearls
Tahitian pearls are rebels with their bold shades, but that doesn't mean they don't play well with others. Mix up your Tahitian pearls with playful freshwater pearls, stunning Akoya pearls and timeless round South Sea pearls for a shimmering jewelry box that takes you from the opera to every day.
Read our pearl education guide
for more information about these luscious gems.
Explore Education by Category
Only at Blue Nile
When it comes to celebrations we strive to make your experience as brilliant as our jewelry with the perfect pieces for every occasion.
Amazing Value
The highest-quality design at a great price.
Peace of Mind
30-day returns, diamond price-match guarantee and more.
Expert Guidance
The original online jeweler since 1999.
Inspiring Assortment
The perfect pieces for every occasion.