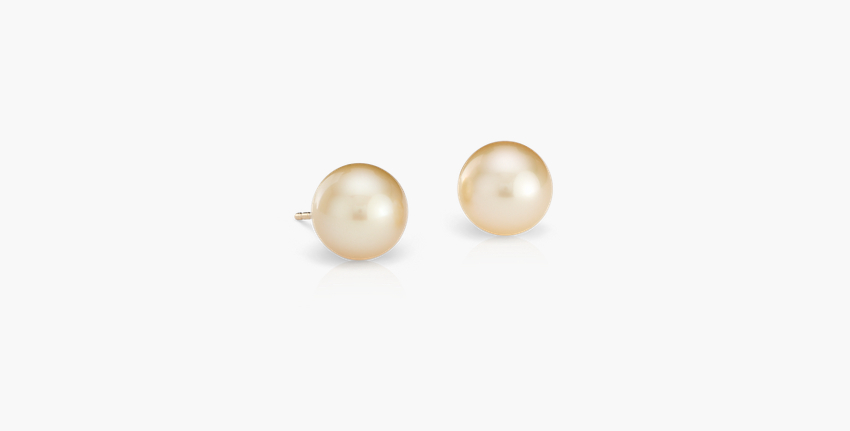 South Sea Pearl Guide
We love South Sea pearls, the rarest of any pearl type, for their large size and glowing luster. These prestigious gems come in silvery white and honey gold hues, with a range of round and baroque shapes, to add the finishing touch to your jewelry collection.
What Are South Sea Pearls?
Grown in the warm seas of Australia, Indonesia and the Philippines, South Sea pearls are a large and lustrous saltwater gem. Their delicate growing process makes it difficult to cultivate South Sea pearls outside of these areas, distinguishing them as a rare and valuable treasure.
What Sets South Sea Pearls Apart?
Beloved for their impressive size, South Sea pearls are the largest variety on the market. South Sea pearls grow inside the large Pinctada maxima oyster, which comes in white-lipped and gold-lipped varieties to produce two distinct colors. Pearl farmers stimulate the production of pearls by placing a small bead inside each oyster, where layers of nacre build up to create the signature sheen. Growing up to 20 mm in size, they make an enchanting impression on a strand or as a pendant. While other types, like Akoya, are known for a sharp and mirror-like luster, the thick nacre of South Sea pearls emanates a soft "glow" that sets these gems apart.
What to Look For in South Sea Pearls
From opera-only styles to everyday favorites, South Sea pearls are captivating in any jewelry setting. Pearl lovers can explore an array of defining features to find the gems that speak to them.
Size

Known for their large body size, South Sea pearls range from 8 mm to 20 mm, with most pearls falling around 12 mm. All cultivated pearls are sold by size rather than weight to guarantee a fair value. Larger South Sea pearls usually command the highest price, but smaller pearls look equally beautiful when set in our quality jewelry.

Color

Australia's South Sea pearls boast a creamy white color, with soft silver or blue overtones bringing a subtle and unique look. Indonesia and the Phillipines grow rich honey-colored pearls in shades of cream, champagne and deep gold. While the classic white pearl is still the most expensive, these color variations are a matter of taste and all create a stunning impression.

Shape

The rarest South Sea pearls have a perfectly round shape, making them a favorite for pearl strands. Most South Sea pearls are slightly off-round, baroque and drop shapes that are ideal for designer jewelry pieces.

Luster

South Sea pearls have been enchanting buyers with their shimmering luster for years. These pearls have the thickest average nacre of any pearl variety, giving them a softer look that sets them apart from other pearls. Look for a clean, blemish-free surface in our high-grade South Sea pearls.
How to Choose South Sea Pearl Jewelry
Whether you're shopping for a
June birthstone
gift or creating your own beautiful jewelry collection, South Sea pearls are an effortless choice. With so many captivating strings, pendants and earrings, the only challenge is deciding on a favorite.
Determine Your Budget

Today's market offers a range of price points to suit any buyer of South Sea pearls. Baroque and drop pearls are affordable and equally lovely companions to round pearls, and they're often featured in single-pearl pendants to showcase their beautiful shape.

Shop by Style

Our wide selection of sizes, colors and jewelry pieces makes it easy to find something you'll love. Matched pearls work best for the signature pearl strand, while unique pearls are enchanting statements. South Sea pearls offer a selection of rich colors, so be sure to browse both white and gold styles to find your favorite.

Find a Retailer You Trust

Feel confident knowing you'll always love your purchase with our

exceptional customer service

. Our 30-day free return policy makes it easy to upgrade, just in case you find a color or style you love even more.
How to Care for Your South Sea Pearls
With a little love and some simple pearl care, it's easy to keep your pearls looking beautiful for generations.
Remember to put your pearls on last when you're getting dressed, since the nacre is sensitive to hair products and perfumes.
At the end of the day, wipe down your pearl jewelry with a soft cloth to remove any dirt and oils.
Store them in a soft cloth bag to prevent scratching, then lay them flat to keep the silk string from stretching.
Learn More About Pearls
We fall in love with South Sea pearls for their large size and delicate luster, not to mention those stunning white and gold colors. Find something to cherish in every pearl type and discover what makes Akoya pearls, Tahitian pearls and freshwater pearls special.
Explore Education by Category
Only at Blue Nile
When it comes to celebrations we strive to make your experience as brilliant as our jewelry with the perfect pieces for every occasion.
Amazing Value
The highest-quality design at a great price.
Peace of Mind
30-day returns, diamond price-match guarantee and more.
Expert Guidance
The original online jeweler since 1999.
Inspiring Assortment
The perfect pieces for every occasion.