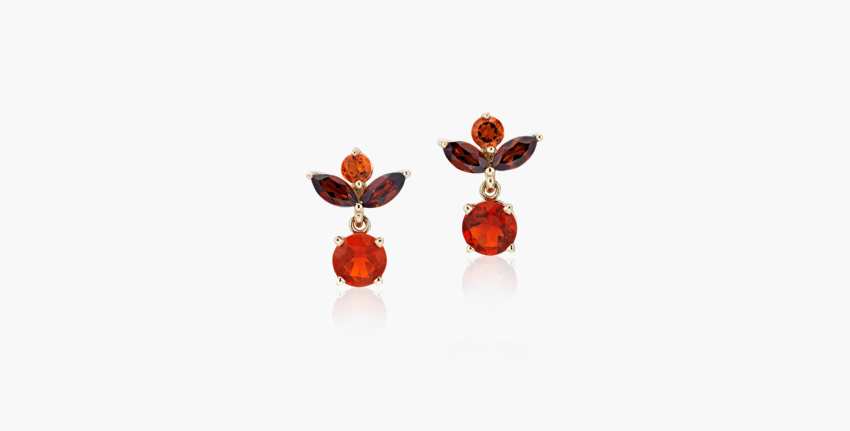 An Intro to Gemstone Colour
From ruby to sapphire and emerald to blue topaz, the colour of a gemstone is the most defining feature of any piece of jewelry—in fact, around 60 percent of the value of a gemstone is based on its colour alone.
What are Hue, Tone and Saturation?
When it comes to the many unique and beautiful colours of gemstones, there's more than meets the eye. While we may assign more value to one colour over another based on our personal taste in jewellery, three scientific factors—hue, tone and saturation—determine the true value of a gemstone based on its colour. Hue is what we generally associate as colour. Tone is how light or dark. Saturation is how rich or vivid.
The Hue of a Gemstone
The hue of the gemstone refers to the colour itself. For example, the
ruby
is most known for its pink and red hues, and
emeralds
are best known for their greenish and yellowish hues. In most cases, gemstones have a primary and a secondary hue, but when weighing the value of the gemstone's colour, experts often search for stones that are as free from secondary colours as possible. In general, the most valuable gemstones exhibit a pure colour and only slight hues of others. Exceptions include the
opal
, which is a unique gemstone that increases in value when there are more visible colours throughout.
The Tone of a Gemstone
The tone of a gemstone's colour refers to the depth of the colour, from dark to light. When categorizing a gemstone's tone, experts use the following terms to describe the range in its opacity: light, medium-light, medium, medium dark and dark. To evaluate the value of a gemstone based on its tone, we recommend holding it under a table or away from any direct light. This technique allows you to more easily determine the tone of a gemstone, since a brighter stone will still have life and brilliance, even when light isn't directly shining on it.
The Saturation of a Gemstone
The saturation of a gemstone refers to the intensity of its colour, ranging from light to strong to vivid. The more vivid the gemstone, the more valuable it is. For example, the value of an emerald gemstone is largely dependent on how green the stone is, and the price may drop significantly when the colour begins to approach a more "mossy" shade of green.
What To Look For When Buying a Gemstone
The best gemstone for you is the one that draws you in and fits your aesthetic, personality and style. Gemstones have a variety of characteristics that differentiate them from others, including:
Colour

Gemstone colour is, perhaps, its most important quality. Some gemstones have beautiful primary and secondary colours to them that many people love, even though these may not be the most valuable stones. Still, the most important thing to consider when you're buying a gemstone for jewellery is how well you like the colour. If a mossy-coloured emerald makes you happy, there is no reason you shouldn't choose one over a more valuable, greener green.

Brilliance

A gemstone's brilliance is how bright it looks when you and the gemstone are stationary. Brilliance is the result of how much light is reflected by the stone and the contrast pattern dictated by the cut.

Scintillation

A combination of brilliance and scintillation is what gives a gemstone its sparkle, or liveliness. Determining how scintillating a gemstone is requires either the gemstone or the viewer being in motion.
Learn More About Gemstone Characteristics
Explore Education by Category
Only at Blue Nile
When it comes to celebrations we strive to make your experience as brilliant as our jewellery with the perfect pieces for every occasion.
Amazing Value
The highest-quality design at a great price.
Peace of Mind
30-day returns, diamond price-match guarantee and more.
Expert Guidance
The original online jeweller since 1999.
Inspiring Assortment
The perfect pieces for every occasion.