1.00-Carat Very Light Pinkish Brown Round Diamond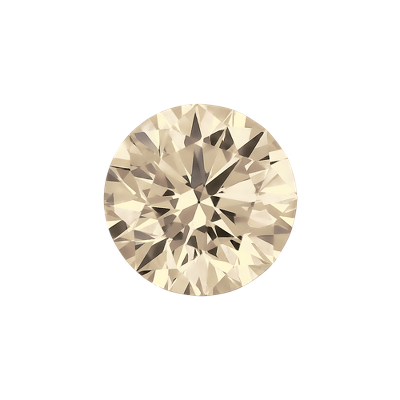 Top View Image

- Sample diamond magnified*
Side View Image

- Sample diamond magnified*
Top View Diagram

- Actual diamond table measurements
Side View Diagram

- Actual diamond profile measurements
* Due to differences in hue, overtone, and uniformity, actual diamond color may vary. For more information, contact our diamond and jewelry experts at 1-866-441-9066
* Due to differences in hue, overtone, and uniformity, actual diamond color may vary. For more information, contact our diamond and jewelry experts at 1-866-441-9066
1.00-Carat Very Light Pinkish Brown Round Diamond
Color

very light pinkish brown

Girdle

Medium to Slightly Thick

Measurements

6.35 x 6.40 x 3.96 mm
About Your Blue Nile Diamond
Color
Colored diamonds are purchased almost exclusively for the intensity and distribution of the diamond's color, unlike colorless diamonds where the 4Cs carry equal importance. There may be a single dominant body color (yellow, pink, etc.) or more commonly, secondary colors referred to as overtones (greenish yellow, brownish pink).
To learn more about colored diamonds, visit our colored diamond education page.
Intensity
Color intensity, the depth of color, can occur in a broad range of saturations. Even faint tones may qualify a diamond as fancy color, but the more intense the color, the more rare and valuable the diamond will be.
Tone & Saturation
faint

very light

very light

brown

diamond selected

light

fancy

intense

vivid

deep

dark
The Size, Shape, and Cut Of Your Colored Diamond
While colorless diamonds are typically cut to emphasize brilliance and clarity, colored diamonds are primarily cut to emphasize their color while retaining as much carat weight as possible.
Size:
1.00 Carat
After color grade, carat weight has the most impact on price for colored diamonds. Large gems are more rare than small ones – making them much more valuable – though even small colored diamonds can present outstanding value if the color is unique enough.
Shape:
Round
Shape refers to the overall outline of a diamond when viewed from the top. It's important to note that many colored diamonds are cut into non-traditional shapes to enhance their natural color.
Cut
Colored diamonds are primarily cut to emphasize their color. In contrast with colorless diamonds that are cut to maximize sparkle or brilliance, ideal proportions can in some instances detract from the natural color of a colored diamond, thus leading to more varied proportions.
Clarity:
VVS2
VVS1-VVS2: Very, very slightly included.
Due to the nature of colored diamonds, clarity is less important than it is in their colorless counterparts. This is true because inclusions tend to be masked by the diamond's color.
Setting Colored Diamonds
When choosing a setting for a colored diamond, certain metals will enhance the natural color of your diamond. For example, yellow diamonds are often set in yellow gold, while pink diamonds look best set in rose gold.
If you have questions about the best setting for your colored diamond, please contact our diamond and jewelry experts.
Certification
Each loose colored diamond at Blue Nile is independently analyzed and graded by the Gemological Institute of America (GIA), and accompanied by a colored diamond grading report. This authoritative report lists comprehensible 4Cs information along with the diamond's color grade and natural origin.
Financing Options4
Flexible payment options available with Blue Nile Credit Card. Learn More
6 month financing available for orders of $500 or $1499.99.
12 month financing available for orders of $1,500 or more.
48 month financing available for orders of $4,000 or more.††
1.00-Carat Very Light Pinkish Brown Round Diamond