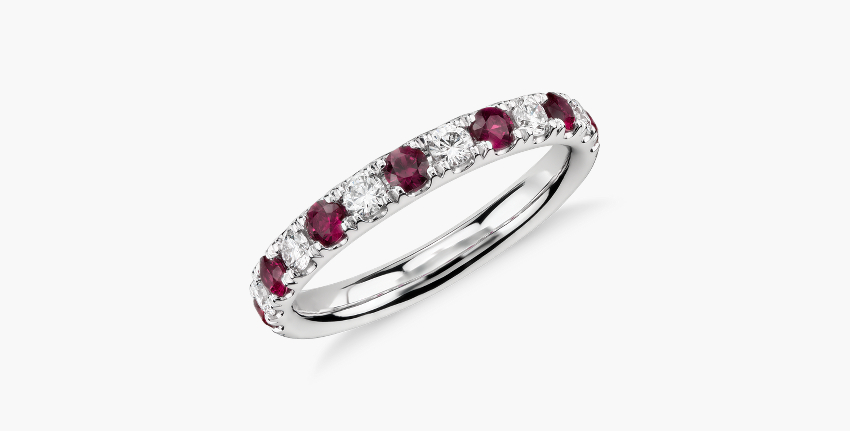 July Birthstone:
Ruby
One of the world's most highly prized gemstones, the deep red ruby is the birthstone for those born in July. This striking birthstone is the red-hued variation of the mineral corundum, bringing impressive wearability and beauty. July's birthstone is believed to represent wealth, passion and inspiration.
The Ancient Queen of Gems
July's birthstone has been a beloved gemstone among many cultures for its vivid and alluring colour. In ancient India, ruby was known as the "king of gems" for its rarity, beauty and hardness. Burmese warriors wore rubies into battle to make themselves invincible, and Medieval Europeans donned them to help ensure success in love.
Ruby's Birthstone History
A favored gem throughout time and across cultures, rivaless ruby has been both the traditional and modern birthstone for July. Ruby's status was cemented officially as the July birthstone in 1912 when the National Association of Jewellers released the modern birthstone list.
July Birthstone Meaning
The crimson colour of the ruby has long connected the stone to passion, devotion and energy. Many cultures have viewed it as a symbol of life itself and used it as a talisman for attracting good health and prosperity. The modern
birthstone meaning
of the ruby also includes wisdom to help guide the wearer on the right path.
Gifting Inspiration for the July Birthstone
Ruby jewellery is a thoughtful and meaningful present that any recipient is sure to cherish. The ravishing ruby is a statement-making stone that always leaves a big impact, making it the perfect gift for many special occasions.
Keep Your Ruby Jewellery Looking Beautiful for a Lifetime
Maintaining the colour and shimmer of your ruby jewellery requires some simple and routine gemstone care.
A soak in warm and soapy water followed by a gentle scrub with a soft brush will get it cleaned right up.
Over time, your jewellery may need a deeper cleaning or some small repairs.
Thoroughly rinse your ruby jewellery and then pat dry with a clean, dry cloth.
We provide free cleaning and repair services to restore your gemstone jewellery and keep you wearing it for years to come.
Ruby's Birthstone Connections
Like many gemstones, the birthstone for July is formed underground in high heat and immense pressure. This makes rubies a great birthstone for July, representing the warm summer month in their very formation. July's stone also represents the love and loyalty of this month's zodiac signs, Cancer and Leo.
Different Ruby Shades
Deep, rich red is the most popular July birthstone colour. Rubies come in a wide range of red-focused shades including colours closer to dark pinks and red-hued purples. The deeper red rubies are some of the rarest and most sought-after options of July birthstones. Rubies do not come in the colour blue, as blue rubies are actually
sapphires
.
July Birthstone Wearability
Ringing in at a 9 on the Mohs scale of hardness, July's birthstone ruby is exceptional for daily wear. It's difficult to scratch and stands up well to settings in rings, earrings, necklaces or other styles.
Learn More About Gemstones
Whether you're looking for yourself or searching for a gift for someone you love, the radiant ruby makes a brilliant addition to any jewellery collection.
Learn about more gemstones
and the beautiful jewellery options they offer.
Explore Education by Category
Only at Blue Nile
When it comes to celebrations we strive to make your experience as brilliant as our jewellery with the perfect pieces for every occasion.
Amazing Value
The highest-quality design at a great price.
Peace of Mind
30-day returns, diamond price-match guarantee and more.
Expert Guidance
The original online jeweller since 1999.
Inspiring Assortment
The perfect pieces for every occasion.