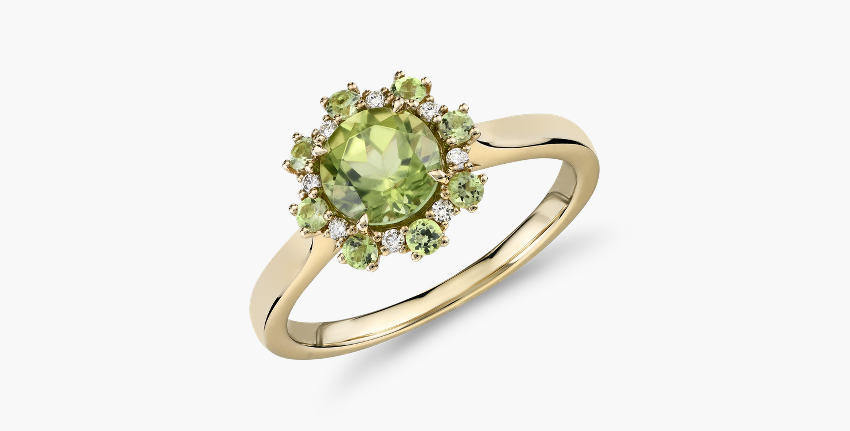 August Birthstone:
Peridot
One of the world's most ancient gemstones, gorgeous green
peridot
also serves as the modern birthstone for August. Peridot is known for its lime and olive hues, and its excellent transparency lends it an irresistible gleam when set in gemstone jewellery. Birthstones are an easy way to give your jewellery a unique touch, and they make personal, meaningful gifts as well.
The Gem of the Sun
Gemstone meaning
is tied to the individual story of each stone. Peridot has a long history stretching back to the ancient Egyptians, who used the luminous gemstone to protect against nightmares and evil spirits. They associated peridot with light, calling it the "gem of the sun."
Peridot's Birthstone History
The tradition of associating gemstones with different months began in the first century, but peridot was not always the birthstone for August. Peridot received its August gemstone designation when birthstones were standardized in 1912. One reason for peridot resonating as the August stone is its connection to lava flows. Peridot can be found in ancient lava in Arizona and areas of Hawaii. August is one of the warmest months of the year for much of the northern hemisphere and the peridot birthstone often forms in hot, volcanic conditions making it a fitting stone for August. Spinel was also added as a secondary August birthstone in 2016, but peridot remains the more popular gem for August.
A Symbol of Abundance and Balance
Every birthstone has a special meaning
for those born in the corresponding birth month. Peridot is a powerful stone that symbolizes strength, happiness and good fortune. It's worn to attract wealth and promote harmony in interpersonal relationships. Because of its connection to light, this green beauty is also used to inspire clear thinking and instill a sense of peace and calm. Your August birthstone can serve as your lucky birthstone as well.
Ancient Peridot Uses
August's birthstone has been a revered gem throughout history. In fact, many historians believe that Cleopatra's famous emeralds may have been peridot. Peridot was also revered in medieval times with this beautiful green stone adorning shrines.
August Birthstone Colour
Peridot brings beautiful green tones as August's birthstone. With colours such as lime green, deep olive green and yellow tinted greens, peridot is an excellent gem to wear day or night. It is often set in silver, gold or platinum.
Gifting Inspiration for the August Birthstone
Peridot jewellery makes a wonderful gift for anyone born in August. While commonly given as a birthday present, peridot can also serve as a thoughtful gift to mark achievements or simply express your love for a family member or cherished friend.
A Foundation for Lasting Love
Though not traditionally used for engagement rings, peridot can help you lay the foundation for a life in love with that special someone. A glittering peridot
gemstone engagement ring
set in yellow or white gold makes an exquisite gift to commemorate the special day, and a halo of delicate diamonds will enhance the green glimmer.
A Thoughtful Birthday Present
Give a gift that allows the recipient to showcase their stunning green birthstone.
Peridot pendant necklaces
come in striking cuts like solitaire, trillion, cushion, pear, halo and oval. You can also choose from a yellow gold, white gold or silver setting.
Gifts for Mom
Peridot gifts are perfect for moms of babies born in August. Earrings put peridot on subtle, but purposeful, display, making them an ideal gift for a graduate about to walk the stage or a family member receiving a hard-earned promotion. Some peridot earrings are paired with small diamonds to enhance their brilliance.
Marking a Milestone
Earrings put peridot on subtle, but purposeful, display, making them an ideal gift for a graduate about to walk the stage or a family member receiving a hard-earned promotion. Some
peridot earrings
are paired with small diamonds to enhance their brilliance.
Keep Your Peridot Jewellery Looking Beautiful for a Lifetime
Any peridot jewellery will continue to sparkle and shine over time with some proper gemstone cleaning.
Peridot is safe to clean with warm water, mild soap and a soft brush. Simply use a gentle scrubbing motion to remove any dirt and rinse.
If your peridot jewellery requires professional cleaning or repairs, you can trust our free cleaning and repair services to have your pieces expertly refreshed and restored.
With a bit of care, peridot jewellery can be worn anywhere. When you are finished wearing it for the day, make sure you return it to a felt-lined jewellery box for safekeeping.
Learn More About Gemstones
Our selection of peridot jewellery is sure to have just the right pieces to catch your eye, whether they are for yourself or for a gift. Learn about more gemstones that offer something unique to fall in love with.
Explore Education by Category
Only at Blue Nile
When it comes to celebrations we strive to make your experience as brilliant as our jewellery with the perfect pieces for every occasion.
Amazing Value
The highest-quality design at a great price.
Peace of Mind
30-day returns, diamond price-match guarantee and more.
Expert Guidance
The original online jeweller since 1999.
Inspiring Assortment
The perfect pieces for every occasion.