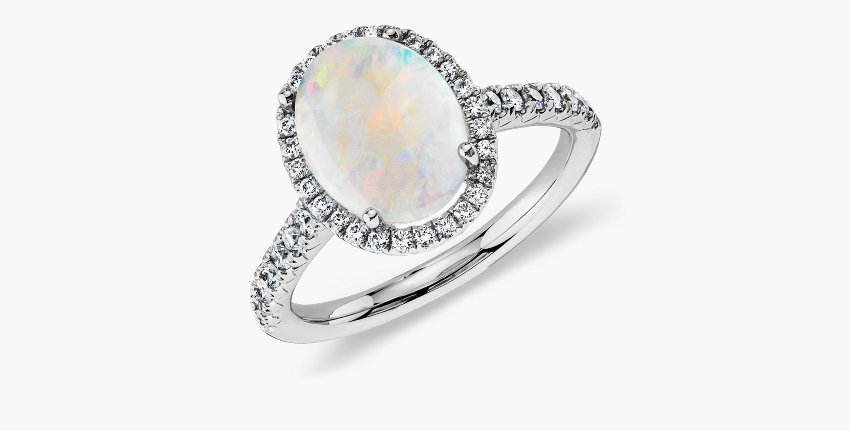 Opal Engagement Ring Guide
With its ethereal glow as enigmatic as the moon itself, the
opal
has captivated hearts throughout history. Immersed in mystical significance, the opal is associated with enhanced intuition, encouraging deeper compassion and empathy and awakening feminine energy. A sublime choice for an engagement ring, the opal is a stunning option amongst artistic, bohemian or eclectic brides who appreciate a uniquely exquisite expression of their love.
History & Mythology of Opal
Given artistic names like Light of the World and Empress, the opal is associated with love and passion, believed to enhance the intensity of emotions and free its wearer from inhibitions. Throughout time, opals have been regarded as lucky because they reflect a rainbow of all colours inside.
OPAL QUICK GUIDE
PRIMARY COLOUR
SECONDARY COLOURS
COMMON SHAPES
Mineral:

Hydrated Silica

Origins:

Brazil, Ethiopia, Mexico, United States

Symbols:

Truth, Purity

Properties:

Freedom

Durability:

5 to 6.5
Enhancements
Coated to alter surface consistency and durability
CARE
Special Gemstone Care: Do not use ultrasonic cleaning. Avoid sudden temperature changes, chemicals, perfume, cosmetics, and hairspray.
What Does an Opal Engagement Ring Symbolize?
Opal as an engagement ring choice symbolizes a couple's devotion and inspires lovers to celebrate each day together anew. The
October birthstone
, opal gemstones also mark a 14th wedding anniversary.
What to Look for in a Opal Engagement Ring
Your ideal opal engagement ring will set your heart on fire when you gaze upon its captivating lustre. While you're browsing opal engagement rings to find 'the one' for you, there are some characteristics to consider.
Colour

The

colour of a gemstone

is a key consideration for engagement ring buyers. Opal's hues exude a kaleidoscope of shimmering colours with no two stones alike. Opal's gorgeous array of colours include white, pink, blue, red, orange and black.

Cut

The

cut of a gemstone

engagement ring is important in showcasing its brilliant hues. Opals are most commonly available in a cabochon cut, which features a symmetrical, softly domed top with a flat base. This reveals the dynamic interplay of the gem's hues, enhancing the vibrancy of the stone at most viewing angles. We advise you to choose a lower set cabochon cut that will help protect your opal engagement ring from damage.

Shape

The shape — or the gem's outline — you choose for your engagement ring is key to highlighting its distinctive beauty. Oval and rounded shapes are popular choices for an opal engagement ring, followed by pear and marquise. Teardrop, square, rectangle and triangle are other desirable shapes.

Metals

While many choices of metals will highlight the luminous opal gemstone, black, boulder or crystal opals elegantly complement white gold, while yellow gold will enhance warmer toned opals. Rose gold is an alluring option for white opals, creating a blushing glow against the dreamy gem.
Hardness & Wearability
On the Mohs hardness scale, opal ranks between 5.5 and 6.5, making it one of the more delicate of gemstones. As a softer stone, it is not recommended for everyday wear, meaning those who work in hands-on careers such as artistic, culinary or medical fields should wear their opal engagement ring during their time off or on special occasions. Taking extra care ensures that it maintains its shine for years to come.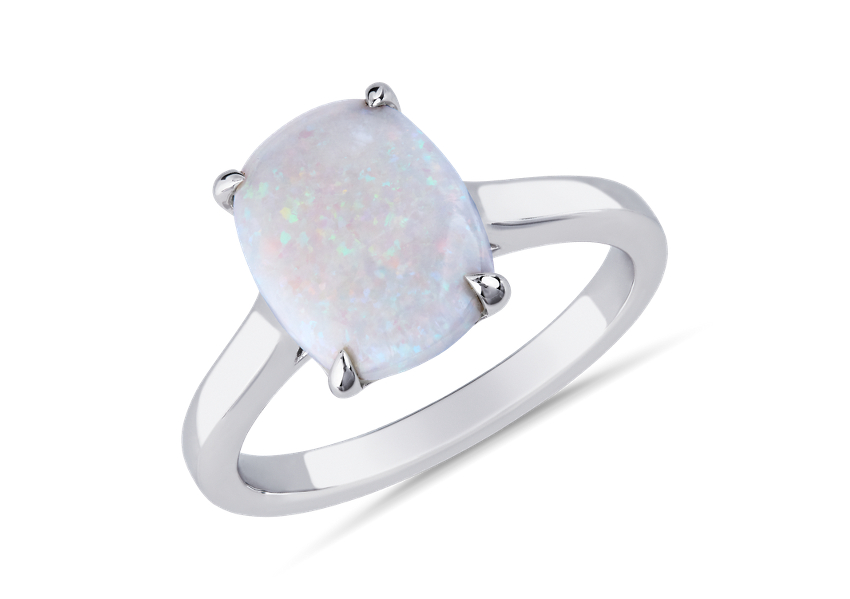 More on Colour
There are several varieties of this awe-inspiring gem. Fire opals, or Mexican fire opals, radiate bright hues of yellow, orange and red. Crystal opals present an otherworldly, mystical appearance, displaying a pastel rainbow of colours dancing against a glistening, transparent backdrop. White opals are also highly popular with dreamy, milky white and colourful translucent hues. For the earthy bride, boulder opals are impressive chestnut gems marked by vividly coloured accents and contain a piece of its ironstone host rock. Black opals are highly prized and the most expensive, evoking a mysterious appearance with vivid blue, green and sometimes golden hues juxtaposing a dark background.
Setting
As opals are softer gemstones, it's important to choose a setting that will protect it from wear and tear. For this reason, we recommend protective settings, such as the bezel, which surrounds the stone in support to help ensure it stays securely in place.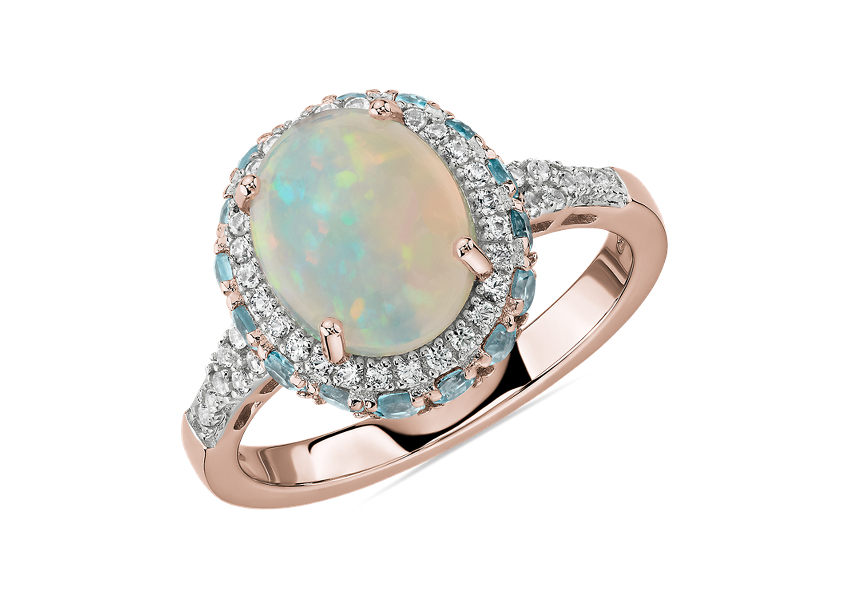 Accent Diamonds or Gemstones
You can elevate the beauty of your opal engagement ring with various accent designs. A diamond halo will dazzle an opal gleaming at the centre, while a pavé band with shimmering diamonds is another elegant option.
You may also choose to complement your opal centre stone with gemstones besides diamonds. Irridescent gemstones, such as topaz and moonstone, play gorgeously against a glinting crystal or white opal. A more vibrantly hued opal, like boulder, fire or black, will be exquisite with more intensely coloured gemstones, like amethyst or sapphire.
Style
Opal engagement rings are ideal for brides who dare to be different with unconventional tastes and bohemian style. From classic and vintage, to romantic and statement-making, a wide range of styles will beautifully enhance your opal centerpiece.
What style sets your heart ablaze? Maybe you're an artistic bride with simple taste who would love an opal gemstone set on a delicate band, with a minimalistic halo design around the centre stone.
Brides who love vintage jewellery will fall in love with the way yellow gold sparkles against a glimmering opal stone.
Rose gold creates a romantic, and dreamy look with soft pink hues gleaming against a crystal or white opal.
Brides with an adventurous style will enjoy the fiery tones of black, fire and boulder opal in eye-catching shapes set off by other vibrantly coloured gemstones for a statement-making look.
Opal Engagement Ring Buying Tips
An
engagement ring is an emotional investment
as much as a monetary one, and it's one of the biggest and most meaningful choices you'll make in your life. Symbolizing the special bond of love you and your partner share, an engagement ring is something that you'll both treasure forever. With that in mind, there are some things to keep in mind when purchasing an opal engagement ring.
Know Your Budget

Certain types of opal such as black opal and fire opal are rarer and pricier, while white and crystal opal are just as beautiful but more affordable.

Know Your Ring Size

It is crucial that your engagement ring, which you will want to wear forever, fits you comfortably. Especially with a softer stone like opal, you'll want to

determine your ring size

accurately so it won't snag or slip, exposing the stone to potential damage.

Understand the Care Your Opal Needs

"As a softer gemstone, you must treat it delicately with love and care to protect it from wear and tear. The right

gemstone care and cleaning

will keep it looking pristine for decades

Consider Personalizing Your Ring

Make your opal engagement ring exactly what you dreamed it would be with

personalizations

like an engraving, gemstone accents, or a unique, mixed-metal band that expresses your personal style.

Choose a Reputable Retailer

It's imperative that you choose a trustworthy retailer like us for your opal engagement ring so you can ensure your ring is of the highest quality and your valuable purchase will last forever.
Explore Education by Category
Only at Blue Nile
When it comes to celebrations we strive to make your experience as brilliant as our jewellery with the perfect pieces for every occasion.
Amazing Value
The highest-quality design at a great price.
Peace of Mind
30-day returns, diamond price-match guarantee and more.
Expert Guidance
The original online jeweller since 1999.
Inspiring Assortment
The perfect pieces for every occasion.