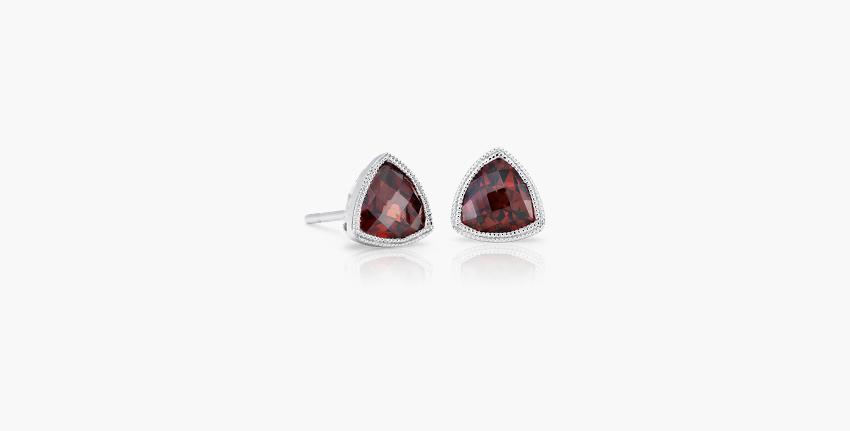 January Birthstone:
Garnet
With its bold crimson glow, garnet—the January birthstone—shimmers with fire and warmth. Though best known for its red colour, garnet birthstones come in a breathtaking kaleidoscope of colours, including fiery oranges and yellows, mysterious purple tones and even vivid green. Learn more about garnet's January birthstone meaning, history and how to buy jewellery featuring this gem.
A Treasured Symbol of Life
Garnet, derived from the Latin name, Granatus, is named for the stone's aesthetic likeness to pomegranate seeds. In fact, Victorian garnet jewelry—with its distinctive design accented by settings of multiple stones—echoes the seed clusters of this fruit.
Garnet's Birthstone History
Records of garnets used as birthstones date back to the 15th century, but you can trace the garnet's storied beginnings back further to Ancient Egypt. Pharaohs adorned themselves in necklaces studded with glistening garnets. Soon, other regions embraced the garnet. Ancient Romans believed that signet rings featuring garnet intaglios bestowed authority upon their wearers who used them to stamp wax on valuable documents.
January Birthstone Meaning
Known as the "Gem of Faith," the majestic garnet gemstone is associated with prosperity, health, and peace. A symbol of love and commitment, it is the stone that celebrates a second wedding anniversary. In Indian astrology, garnet wards off depression and guilt, fostering self-confidence and clear-headedness to inspire creativity and inner tranquility. According to medieval legend, the garnet is the antidote for inflammatory diseases, also helping to appease hot tempers.
Gifting Inspiration for the January Birthstone
If you wish to celebrate someone special—or even yourself!—with exquisite garnet jewellery, we offer stunning options for January birthstone gifts. Here are some ideas to spark your imagination and choose a piece of jewellery that will take their breath away.
Keep Your Garnet Jewellery Looking Beautiful for a Lifetime
With a hardness ranging from 6.5 to 7.5 on the Mohs scale, garnets are durable enough for everyday wear, but should be treated
To keep your garnet jewellery gleaming for years to come, use a soft cloth to gently polish the stones to release any dust, dirt, or grime.
To clean your garnet jewellery, use mild soap and water, and take a soft toothbrush to carefully scrub the setting.
Thoroughly rinse your garnet jewellery and then pat dry with a clean, dry cloth.
Periodically, check all of your jewellery for weakened strings, loose settings and stone or metal damage.
We are happy to offer complimentary cleaning and repair services with your purchase. Learn more about how to care for gemstone jewellery in our guide.
January Birthstone Colour
Rich, dark red is the most common colour for this cherished January stone. Garnets come in a variety of colours, even greenish and orange. When most people think of the January birthstone, they think of the dark red variation of garnet. This is the most popular style for January birthstone jewellery.
Garnet's Connection to January
With symbolic connections to love, friendship and perception, the red-hued January gemstone is a perfect fit for the month's zodiac signs. Loyal Capricorns will connect to garnet's symbolism of friendship. Analytical Aquarians will appreciate the newer ties of garnet to perception and clear-headedness.
Finding Garnet Birthstone Jewellery
We offer a wide selection of jewellery featuring January birthstones. You can choose from standalone garnet pieces or jewels with mixed gemstones or metals. Garnet is believed to bring extra luck to its January birthday wearers, but anyone can wear this beautiful gemstone.
Garnet's January Birthstone History
January's gemstone has been valued for centuries. Garnet jewellery was a common choice during Victorian times but dates back even further. In Medieval times, the January stone was believed to provide protection to its wearers. Ancient Egyptian pharaohs were known to wear garnet necklaces and ancient Romans would use garnet fobs to create customized wax seals.
Learn More About Gemstones
You can't go wrong with the elegance of garnet jewelry—one of the many stunning gems that we offer. Learn about other gemstones and their jewellery options in our gemstone guide.
Explore Education by Category
Only at Blue Nile
When it comes to celebrations we strive to make your experience as brilliant as our jewellery with the perfect pieces for every occasion.
Amazing Value
The highest-quality design at a great price.
Peace of Mind
30-day returns, diamond price-match guarantee and more.
Expert Guidance
The original online jeweller since 1999.
Inspiring Assortment
The perfect pieces for every occasion.