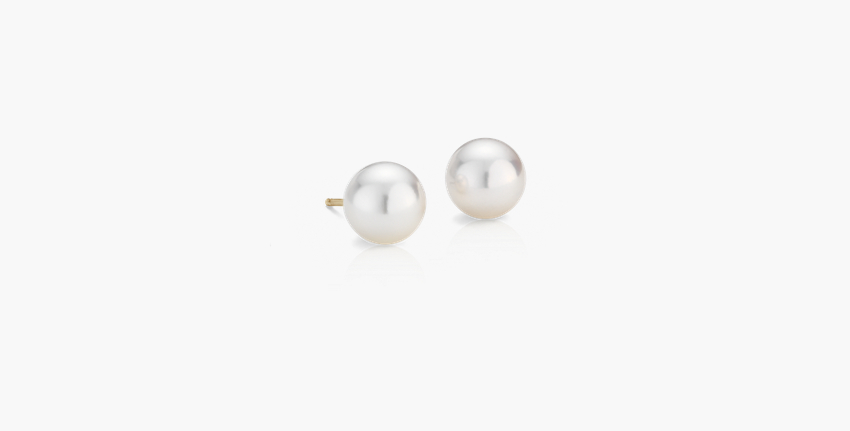 Akoya Pearl Guide
When we daydream about a timeless string of pearls, Akoya pearls likely spring instantly to mind. These saltwater gems enchanted ancient cultures with their silvery white colour, spherical shape and resemblance to the moon. Today, their delicate symmetry and classic white shades make Akoya pearls a must-have for any serious jewellery collection.
What Are Akoya Pearls?
The Japanese Akoya was the first pearl type to be cultured in the early 1920s, introducing more affordable, not to mention beautiful, pearls to the world's market. Akoya pearls form inside the Pinctada fucata martensii, the smallest pearl oyster in the world.
What Sets Akoya Pearls Apart?
Famous for their white body colour and perfectly matched shape, Akoya pearls are the signature elegant pearl. Today, Akoya pearls are cultivated across Japan, China, Vietnam and Myanmar. Pearl farmers place a small bead, called the nucleus, inside each oyster to stimulate the production of nacre. Over several years, the lustrous nacre builds up to form a perfectly round, smooth Akoya pearl with overtones ranging from silver to rose. Their incredibly high lustre gives a mirror-like effect, making Akoya pearls a favourite for the ages. It's no accident that Akoya pearls are a favourite for the signature pearl strand. These delicate
June birthstone
gems are incredibly uniform, and they're an instant go-to for matched necklaces and earrings.
What to Look For in Akoya Pearls
Finding the Akoya pearl that's exactly right for you or for someone you adore is a simple matter of examining these characteristics.
Size

While larger pearls typically command a higher price, matched pearls make a stunning impression in any size. Akoya pearls range from 3.0 mm to 9.5 mm, and are sold by size rather than weight to ensure fair value.

Colour

Saltwater pearl oysters produce a variety of colours, but the classic white pearl remains the favourite for the Akoya. Soft overtones of rose, cream and silver lend subtle differences to these white pearls, so it's worth exploring the spectrum to find what feels right.

Shape

Many pearl buyers gravitate to Akoya for their perfectly round shape. While baroque shapes are popular for an alternative style, spherical Akoya pearls are the market favourite for timeless pearl strands.

Lustre

We love Akoya pearls for their lustre, a bright glow so smooth you can see your reflection. Light bounces through the thick nacre of Akoya pearls, creating their signature mirror-like beauty. We offer a selection of quality Akoya pearls in a range of stunning colours. Browse our exceptional Akoya cultured pearls, which rank in the top five percent of pearls, or celebrate with premium Akoya cultured pearls, which rank in the top one percent.
How to Choose Akoya Pearl Jewellery
It's easy to choose beautiful pearl earrings, necklaces, rings and bracelets when all of our Akoya pearls are gorgeous to look at. Here's what to consider for buying pearl jewellery.
Determine Your Budget

When you want the iconic pearl strand at an affordable price, Akoya pearls are an effortless choice. Available at a lower price point than other saltwater pearl types, Akoya delivers an equally exquisite round shape and rich cream colour.

Shop by Style

Akoya pearls' flexible price point makes it easy to browse colours, sizes, and styles. While larger pearls are more expensive, our quality gold fittings make every pearl elegant. Browse delicate drop earrings for a subtle everyday look, or go big and bold—there's an Akoya pearl for every occasion.

Find a Retailer You Trust

There's nothing wrong with changing your mind! If you've purchased a set of pearls and discovered a colour or style you love even more, we make it easy with 30-day free returns, no questions asked. Learn more about our

exceptional customer service

, and feel confident knowing you'll always find something you love.
How to Care for Akoya Pearls
Whether your pearls are an opera-only piece or your favourite for everyday wear, make your pearls the last piece you put on and the first you take off. Pearls are sensitive to products like perfumes and sprays, so finish getting ready before you put on your pearls.
After you wear them, wipe them clean with a soft cloth. Store pearl necklaces laying flat to prevent the string from stretching.
For more information about caring for your pearls, read our helpful guide on gemstone and pearl care.
It's not just the pearls themselves that respond well to a little TLC. Taking care of your silk string extends the life of your pearl strand too.
Lay your necklace flat to avoid stretching, and get your strands restrung every 1-2 years to keep the knots tidy.
Learn More About Pearls
Perfectly matched and wonderfully bright, it's easy to fall in love with Akoya pearls. Find out what makes all pearls special—and give your jewellery box a treat—with our collection of freshwater, South Sea, Tahitian pearls.
Explore Education by Category
Only at Blue Nile
When it comes to celebrations we strive to make your experience as brilliant as our jewellery with the perfect pieces for every occasion.
Amazing Value
The highest-quality design at a great price.
Peace of Mind
30-day returns, diamond price-match guarantee and more.
Expert Guidance
The original online jeweller since 1999.
Inspiring Assortment
The perfect pieces for every occasion.