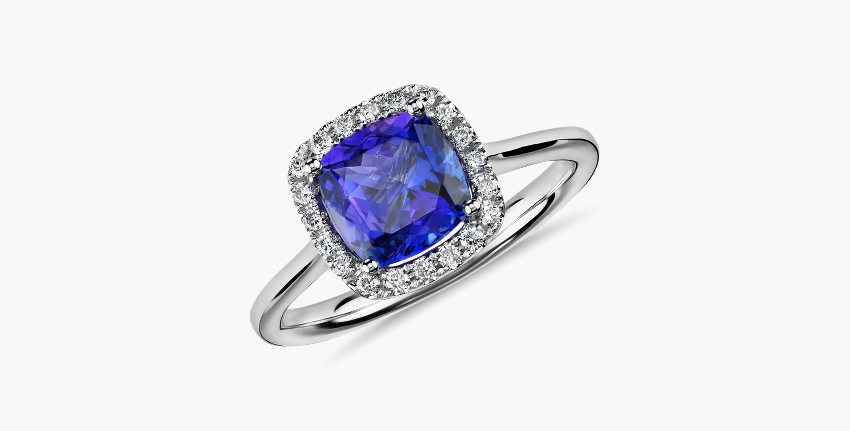 Tanzanite Engagement Ring Guide
With its awe-inspiring beauty and captivating blue and purple hues, reminiscent of a winter's night sky,
tanzanite
is one of the world's rarest and most desirable gemstones. A relatively new discovery, the enchanting tanzanite was found in the foothills of Mount Kilimanjaro in Tanzania in 1967, inspiring jewellers to call the stone tanzanite.
History & Mythology of Tanzanite
As a more recent gemstone find, tanzanite is not associated with ancient tales but does carry mystical meanings today. Tanzanite is associated with enhanced self-awareness, helping its wearer uncover hidden strengths and identify their calling. In spiritual practice, it aids in protecting and healing while increasing one's power.
TANZANITE QUICK GUIDE
PRIMARY COLOUR
SECONDARY COLOURS
COMMON SHAPES
Enhancements
Heated or infused to alter colour and clarity
CARE
Special Gemstone Care: Do not use ultrasonic cleaning and sudden temperature changes.
Similar Gemstones
What Does a Tanzanite Engagement Ring Symbolize?
An exquisite choice for an engagement ring, tanzanite is an elegant option for modern brides who wish to showcase their style in a distinctive way. Representative of new beginnings, a tanzanite engagement ring makes a stunning symbol of the special bond you and your partner share as you begin your next adventure in love. A secondary
December birthstone
, it also marks an 8th, 24th or 26th wedding anniversary.
What to Look for in a Tanzanite Engagement Ring
Ultimately, the tanzanite engagement ring that speaks loudest to you is the one you should choose. But if you want to browse armed with information, here's what to look for in a tanzanite engagement ring.
Colour

The

colour of a gemstone

is a primary consideration among tanzanite engagement ring buyers. In its natural state, tanzanite is trichroic in its coloration, meaning it reveals three colours at once, including brown, blue and violet. With heat treatment, it is known for its breathtaking hues that range from royal blues to rich, saturated bluish purples. Deeper, more intensely coloured tanzanites are the most highly prized and valued.

Cut

The

cut of a gemstone

is integral in revealing the radiant coloration and lustre of your engagement ring. Symmetric cuts will highlight tanzanite's areas of light and dark within the stone and will enhance the intensity of the overall colour.

Shape

The shape of your tanzanite engagement ring, referring to the outline of the stone, will be a key factor in displaying the radiant depths and shimmer of your ring. While you can find tanzanite engagement rings in a variety of shapes, many choose those with softly rounded edges, like oval, pear or heart. Other popular shapes include round (also known as round brilliant), square, teardrop, trilliant or triangular cut.

Metals

Any choice of metal will play beautifully against a gorgeous tanzanite centre stone. Cooler toned metals such as silver, platinum or white gold create a dramatic and icy look, magnificently contrasting against tanzanite's blue shades to enhance its colour. Yellow or rose gold will elevate your tanzanite centerpiece with their warmth, revealing more purple and red colours within the stone.
Hardness & Wearability
Featuring a hardness rating between 6 to 7 on the Mohs scale, tanzanite is a relatively soft stone, so it's not advised for everyday wear but ideal for showcasing its bold hues on special occasions.
A tanzanite engagement ring can be a wonderful choice for you if you work in a hands-on career where you would leave your ring safely at home each day. Take proper precautions to treat your tanzanite engagement ring with care to ensure it will retain its shine and brilliance for years to come.
Setting
As a softer stone, it's advisable to choose a protective setting that encircles and supports your brilliant tanzanite from all sides. Protective settings include closed settings such as channel, bezel or pavé. You may also consider claw settings which hold your tanzanite centre stone in place. Examples of desirable settings for tanzanite engagement rings include solitaire, halo or three-stone.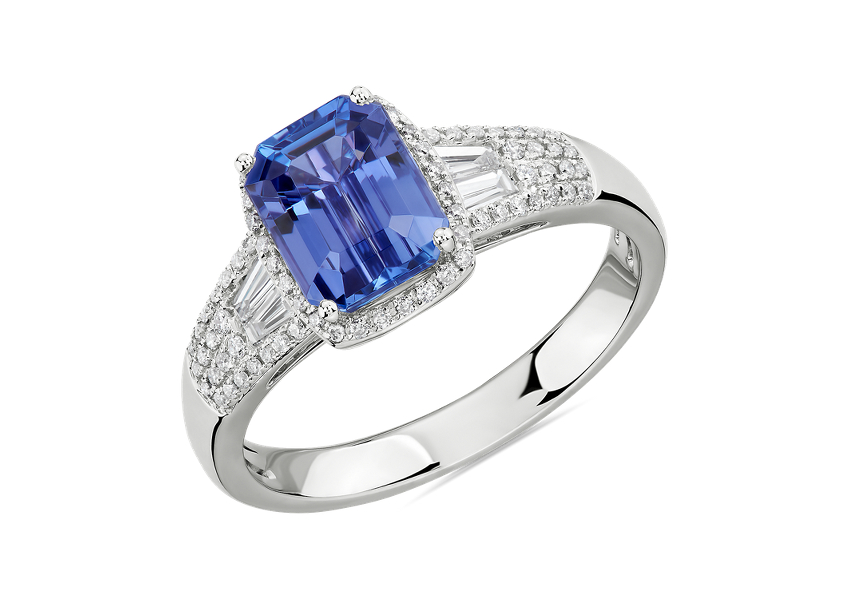 Accent Diamonds or Gemstones
A variety of accent designs will highlight the beauty of your tanzanite engagement ring. A halo of diamonds surrounding your tanzanite centerstone will create an extra sparkle, while baguette or pavé side stones will showcase a mesmerizing tanzanite gemstone at centre.
For a bold and eye-catching choice, coloured gemstone accents create a magical play of colour and light. Irridescent gemstones with a translucent quality, like aquamarine, will enhance the gorgeous tanzanite glowing at the centre of your engagement ring. For a more intense visual appeal, a richly coloured stone like amethyst will contrast and compliment a striking tanzanite.
Style
With their rare allure and breathtaking colour, tanzanite engagement rings are ideal for brides who value a one-of-a-kind representation of their love. From bold and statement-making pieces to vintage styles, your perfect tanzanite engagement ring will set your heart ablaze.
A heart-shaped tanzanite solitaire set on a delicate band is a timeless choice for brides who are true romantics at heart.
Sentimental brides may favour a glowing tanzanite engagement ring set on a yellow gold band and enhanced by a halo of shimmering pavé stones to evoke the look of a time gone by.
Brides who appreciate modern or contemporary design will adore the look of a chic square or oval shaped tanzanite glimmering against a white gold or silver band.
Tanzanite Engagement Ring Buying Tips
Our
engagement ring buying guide
can help you choose the right gemstone for you. As one of the most important purchases you will make in your life, an engagement ring is a symbol of the eternal devotion you and your partner share and is a token that you will cherish forever. Keeping that in mind, there are some things you should take note of when purchasing a tanzanite engagement ring.
Know Your Budget

While tanzanite is a beautiful and more affordable alternative to traditional diamond engagement rings, it's still important to set your budget before you shop. Vibrant blue and deep purplish coloured tanzanites are highly valued and significantly pricier than lighter tanzanites, which are equally dazzling variations. This range ensures that you'll find a tanzanite engagement ring that fits with your price point.

Know Your Ring Size

You want to enjoy wearing your engagement ring for the rest of your life, so it's vital that it fits you comfortably. Because tanzanite is a softer stone, it is especially important to get a perfect fit to protect the gem from potential damage if the ring is slipping around your finger. Use our easy

ring sizing guide

to find your perfect fit.

Understand the Care Your Tanzanite Needs

As a relatively soft gemstone, it is imperative that you treat your tanzanite engagement ring delicately.

Proper gemstone care and cleaning

will ensure that it looks pristine for decades.

Consider Personalizing Your Ring

Have fun enhancing the beauty of your tanzanite engagement ring with one-of-a-kind

personalizations

, such as an engraving, accent stones, or mixed metals to capture your desired look.

Choose a Reputable Retailer

It's important to choose a trustworthy retailer like us for buying your tanzanite engagement ring so you can rest assured that your ring is the highest quality and your valuable purchase will last a lifetime.
Explore Education by Category
Only at Blue Nile
When it comes to celebrations we strive to make your experience as brilliant as our jewellery with the perfect pieces for every occasion.
Amazing Value
The highest-quality design at a great price.
Peace of Mind
30-day returns, diamond price-match guarantee and more.
Expert Guidance
The original online jeweller since 1999.
Inspiring Assortment
The perfect pieces for every occasion.