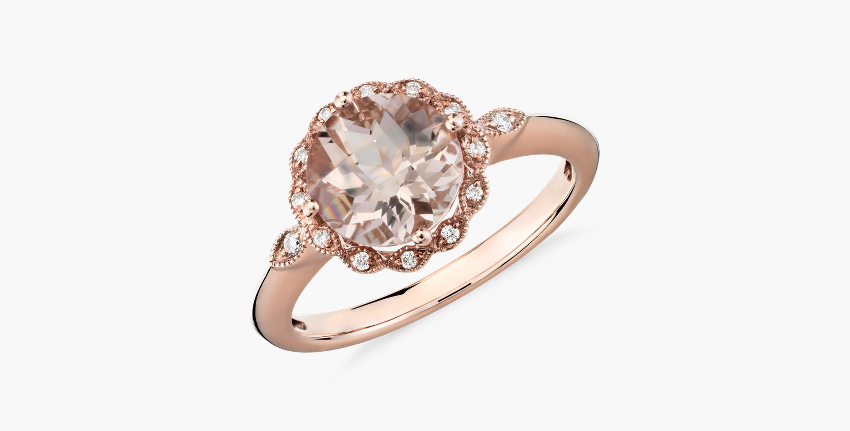 Morganite Engagement Ring Guide
A relatively new discovery, morganite was first found in Madagascar in 1910 and was named after the notable financier, J.P. Morgan. With its dreamy, ethereal pink hues, the majestic
morganite
gemstone is both a timeless classic and a modern favourite among today's brides. Evoking the rosy tones of sunsets, or the delicate hues of pink rose petals, morganite is a stunning option for an engagement ring. A beautiful alternative to traditional diamond engagement rings, morganite is a gorgeous choice among true romantics.
History & Mythology of Morganite
Morganite is considered to be a stone of 'Divine Love,' symbolizing eternal and unconditional love and deepening the connection between lovers. It's also said to foster confidence and inner strength. A newer gemstone discovery (1900s), morganite was named to honour J.P. Morgan for his philanthropy in the arts and sciences, making morganite a great choice for couples interested in natural history.
MORGANITE QUICK GUIDE
PRIMARY COLOUR
SECONDARY COLOURS
COMMON SHAPES
Enhancements
Heated to improve colour and clarity
What Does a Morganite Engagement Ring Symbolize?
Blushing morganite engagement rings symbolize the compassion and unconditional love felt by true partners in a relationship. With its gentle energy, morganite is a perfect stone for wearers who want to attract love, joy and inner peace into their lives.
What to Look for in a Morganite Engagement Ring
Beholding this on-trend coloured stone, you will fall in love with your ideal morganite engagement ring when encountering its ethereal lustre. As you explore morganite engagement rings to find your 'forever ring,' here are some characteristics to note.
Colour

A

gemstone's colour

is a key consideration amongst engagement ring buyers. A member of the beryl family of gemstones, morganite is known for its exquisite array of dreamy pink tones, ranging from coral to blush, rose, purplish-pink and peachy pink hues. Lighter, yet just as dazzling variations of morganite are typically more accessible than their deeper, more saturated counterparts, which are more highly prized and valuable.

Cut

The

cut of a gemstone

will impact the intensity of its luminosity and overall brilliance. As a gemstone with higher translucence, morganites are typically faceted to enhance their light-reflective qualities and amplify their shine. Indications of a well-cut morganite are a symmetrical cut that features consistent sparkle across the entire gemstone with no muted or faded areas.

Shape

The shape of a gemstone refers to its outline, and it's integral in showcasing its distinctive beauty and radiance. While morganite will be stunning in many shapes, popular shapes for morganite engagement rings include, oval, cushion, round and emerald cut. The pear shape with its uniquely majestic style or the demure and feminine, heart shape are also desirable options. "Fancy shapes," which refer to gemstone shapes other than round, such as oval and cushion, are elegant options to consider for morganite, helping to enhance its lustre and depth of colour and vibrancy.

Metals

While morganite with its exquisite, pink hues will be stunning in many metal settings, the currently trending rose gold is the most popular choice, beautifully complementing its lush and rosy hues with its feminine warmth. A morganite gemstone solitaire set against rose gold epitomizes romance as a stunning token of fairytale love. Yellow gold will also gorgeously play against morganite, creating an elegant and regal look with a nod to vintage style. For a bold and eye-catching visual appeal, white gold will create sumptuous contrast against the warmer tones of morganite, highlighting the vivid colours within the stone.
Hardness & Wearability
With a hardness rating between 7.5 to 8 on the Mohs scale, morganite is a relatively harder and more durable gemstone making it a fine choice for an engagement ring and suitable for everyday wear. Although it is more hard-wearing than other gemstones, it is a softer stone as compared to diamonds that is more susceptible to signs of wear over time. Therefore, it must be treated with love and care to maintain its scintillating sparkle for years to come.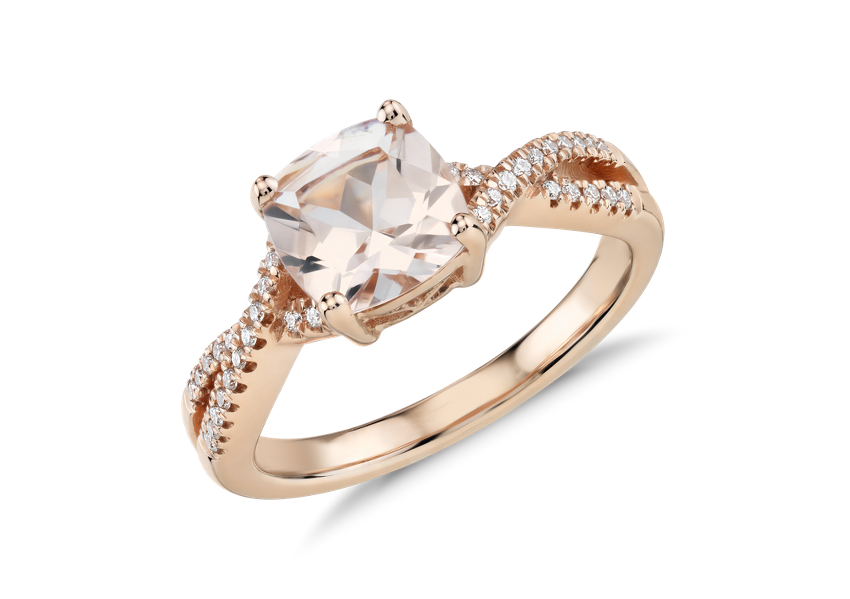 More on Colour
The glorious morganite is known to possess a quality of pleochroism, meaning that it appears to reveal different hues depending on the angle from which it is viewed. Considered a Type 1 stone, morganite is appreciated for its high clarity grading with few visible inclusions that can be seen by the naked eye.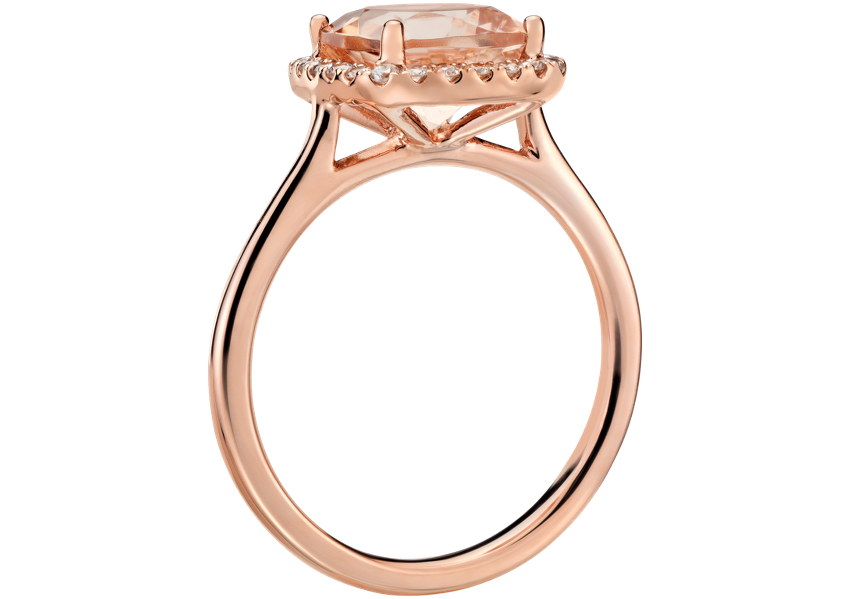 Setting
Many options of ring settings will beautifully complement and work well with morganite, while keeping the stone safely secured. A solitaire setting for morganite is a popular choice amongst brides due to the impressive and regal statement it makes on its own. A halo of pavé diamonds will elevate its beauty for an awe-inspiring, feminine look. Although morganite is a more durable stone compared to other gemstones, it is softer than diamonds. Bearing that in mind, you may choose to consider a more highly protective setting that offers additional support to keep the stone in place such as the bezel or claw setting.
Accent Diamonds or Gemstones
Enhance the beauty of your morganite engagement ring, while showcasing your personal style with various accent designs. Create a stunning statement with scintillating sparkle with a halo of pavé diamonds surrounding an exquisite morganite solitaire. Elevate its lustre and majesty with a second halo for added sparkle. A pavé band is the beautiful, shimmering complement to either a morganite solitaire or centerpiece with halo.
For an exquisite play of colour and light, consider coloured gemstones accents. True romantics will love the awe-inspiring glow of pink sapphire against the blushy morganite. For a one-of-a-kind statement, a translucent stone like aquamarine will elegantly complement the irridescence of morganite, while still creating a stunning contrast of colour.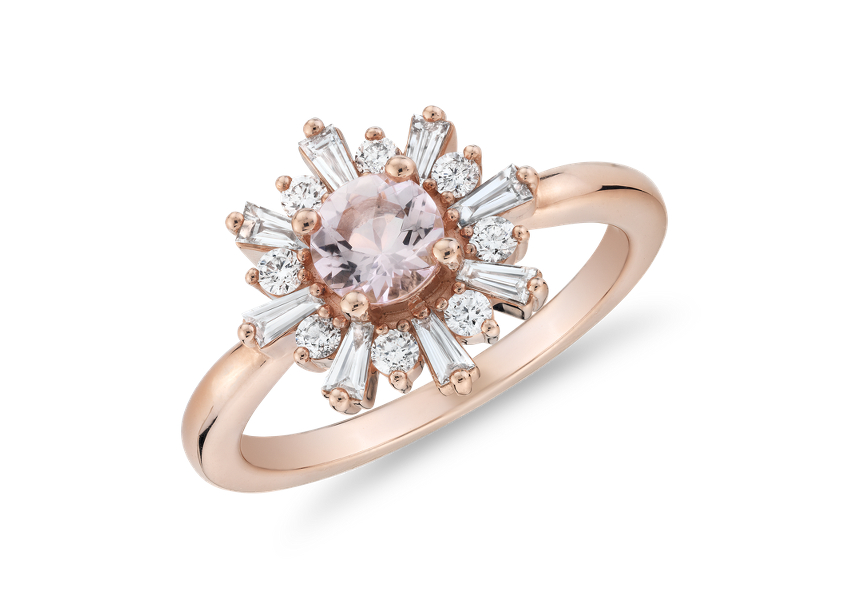 Style
Create a gorgeous expression of your love with a morganite engagement ring that speaks to your personal style. From timeless classics that epitomize romance to bold style statements, your ideal morganite engagement ring will enrapture your heart.
Maybe you're a demure bride with simple taste who will appreciate the elegant beauty of a round morganite solitaire, subtly accented by a delicate, twisted vine design. For a captivating look that exudes femininity, you may enjoy a morganite centerpiece enhanced by a starburst of baguette diamond accents.
Sophisticated brides will adore the stately majesty of an emerald cut morganite solitaire. For a nod to vintage style that evokes the epic, nostalgic romance, you will love a morganite centre stone set in glittering rose gold, highlighted by intricate, milgrain accents.
Morganite Engagement Ring Buying Tips
A representation of the unique and special love between you and your partner, an engagement ring is a profoundly meaningful purchase that you will treasure forever. As you search for
the engagement ring that captures your heart
, here are some things to keep in mind.
Know Your Budget

Set your budget before you shop to ensure you find a price point that is comfortable for you. Morganites that feature deeper pinks with more intense saturation of colour are more costly than just as dazzling, lighter and more translucent variations.

Know Your Ring Size

As a treasured token you will want to wear for the rest of your life, it is crucial that you

determine your ring size

prior to making your purchase to ensure that your ring will fit you comfortably.

Understand the Care Your Morganite Needs

While morganite is a relatively more hard-wearing gemstone, it is still critical to take the proper precautions to protect it from everyday wear and tear with

proper gemstone care and cleaning

to help maintain its exquisite shine for decades to come.

Consider Personalizing Your Ring

Capture your dream look by

personalizing

your morganite engagement ring with an engraving, gemstone accents or a unique, mixed-metal band to elevate its beauty and showcase your style.

Choose a Reputable Retailer

Choose a trustworthy retailer like us, offering only the highest quality selection of gemstones. Look out for detailed product descriptions and a fair return policy in a reputable retailer
Explore Education by Category
Only at Blue Nile
When it comes to celebrations we strive to make your experience as brilliant as our jewellery with the perfect pieces for every occasion.
Amazing Value
The highest-quality design at a great price.
Peace of Mind
30-day returns, diamond price-match guarantee and more.
Expert Guidance
The original online jeweller since 1999.
Inspiring Assortment
The perfect pieces for every occasion.