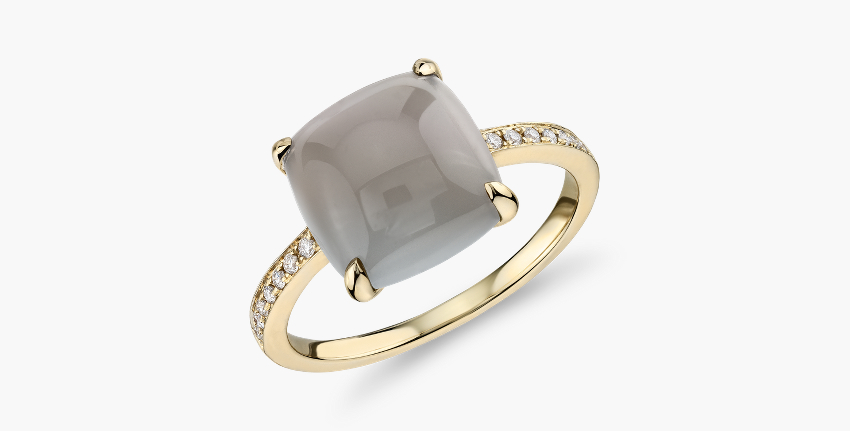 Moonstone Engagement Ring Guide
With its ethereal glow as enigmatic as the moon itself, the
moonstone
has captivated hearts throughout history. Immersed in mystical significance, the moonstone is associated with enhanced intuition, encouraging deeper compassion and empathy and awakening feminine energy. A sublime choice for an engagement ring, the moonstone is a stunning option amongst artistic, bohemian or eclectic brides who appreciate a uniquely exquisite expression of their love.
History & Mythology of Moonstone
Different cultures have admired the magical moonstone since ancient times. Romans believed the stone was born from the rays of moonbeams, and Hindu Mythologyology also deems that the stone is formed from the moon. In India, the moonstone is ordained with sacred meaning and is called the "dream stone.
MOONSTONE QUICK GUIDE
PRIMARY COLOUR
SECONDARY COLOURS
COMMON SHAPES
What Does a Moonstone Engagement Ring Symbolize?
The official
birthstone for the month of June
, the moonstone also marks a 3rd wedding anniversary. Symbolic of new beginnings and believed to enhance romance in relationships, it is a perfect gemstone to represent a couple's special bond as they embark on a new chapter of love and adventure.
What to Look for in a Moonstone Engagement Ring
You will fall in love with your perfect moonstone engagement ring when you encounter its captivating radiance. As you explore moonstone engagement rings to find your 'forever ring,' here are some things to keep in mind.
Colour

The

colour of a gemstone

is a crucial factor of consideration for engagement ring buyers. Moonstone's colours exude a scintillating kaleidoscope of hues including yellow, grey, green, blue, peach and pink. Stunning variations of moonstone include rainbow moonstone with a milky appearance that radiates a rainbow-like effect of colour when exposed to light. Pink moonstone features dreamy, rosy hues ranging from honey and beige to peach with a white sheen.

Cut

The cut of a gemstone is key to revealing its alluring hues and irridescence. In a moonstone, the cut is especially important in protecting the stone from damage, as well as displaying its magical play of colour and light.

Moonstones are usually shaped into a cabochon cut, which features a convex, rounded top with a flat bottom. Higher profile cabochons reveal more sheen and lustre within the stone, heightening its brilliance and enhancing its value. Faceted moonstones are also desirable cuts of the stone, enhancing its shimmer and disguising inclusions that may be present in the stone.

Shape

The shape of your moonstone engagement ring, referring to the outline of the stone, is integral in showcasing its lustre and shimmer. Popular shapes for moonstone engagement rings include round, oval and pear cuts. Other coveted shapes are marquise, square, teardrop and hexagonal.

Metals

With its opalescent glow, moonstone will play beautifully against many metals. A moonstone solitaire set in white gold or silver creates a modern vibe that resembles the look of a diamond engagement ring, but with moonstone's characteristic rainbow glow. Warmer toned metal such as yellow gold intensify the rosy and peach hues within the stone. If you enjoy a romantic or vintage aesthetic, rose gold offers a stunning, femninine look with nostalgic appeal.
Hardness & Wearability
With a hardness rating between 6 and 6.5 on the Mohs scale, moonstone is considered to be a more delicate gemstone. As a softer stone, it is not well suited to everyday wear, but it is ideal for showing off its magical glow on momentous occasions.
The moonstone would be an alluring choice among brides who work in hands-on-careers such as chefs, doctors or artists who would only sport their moonstone engagement rings outside of work or at special events. Treat your moonstone engagement ring with love and care to protect it from wear and tear, so it will retain its mesmerizing shine for years to come.
More on Colour
The exquisite moonstone is known for possessing a quality of adularescence, meaning that its different layers create a scattered effect of light that reveals an awe-inspiring glow from below the surface of the stone. Inclusions in the moonstone create a gleaming play of colour and light that add to its value. Highly prized variations of moonstone cast a blue sheen with a nearly colourless body and flawless clarity. Rare forms of the stone are known for their unusually mesmerizing patterns of light. Refracted rays of light create a star-like effect glimmering on the surface of the stone in moonstones with an asterism pattern. Cat's eye moonstones are known for their single vivid line of light that evokes the slits of a real cat's eye.
Setting
As moonstone is a more delicate stone, it is crucial to choose a setting that will help protect it from damage. We recommend protective settings such as the bezel which will keep the stone securely in place surrounding this softer stone with support.
Accent Diamonds or Gemstones
Amplify the beauty of your opal engagement ring and express your unique personal style with various accent designs. A halo of diamonds will dazzle a moonstone solitaire at centre and a pavé band will add even more scintillating sparkle.
As an alternative to diamond accents, coloured gemstones will create an elegant look when paired with moonstone. Vivid gemstones like amethyst or sapphire will be eye-catching against a dreamy moonstone at centre.
Style
Which style of moonstone engagement ring speaks to you? From timeless and romantic, to eclectic or statement-making, a wide range of styles will complement the alluring beauty of your moonstone centerpiece.
Brides who favour a glamorous and attention-getting look will love a majestic moonstone solitaire in a square shape surrounded by a halo of glittering diamonds that is sure to keep all eyes on you.
For boho brides, a faceted moonstone with an irregular shape, creates a natural and earthy, one-of-a-kind appeal.
For a dramatic aesthetic with a nod to art deco style, you may enjoy a teardrop moonstone amid a channel of marquise stones underneath or surrounded by baguette stone accents.
Moonstone Engagement Ring Buying Tips
One of the most meaningful and major purchases you will make in your life, an engagement ring is something you will cherish forever, symbolizing the unique and special bond between you and your partner. As you're searching for your
ideal engagement ring
, here are some things to keep in mind.
Know Your Budget

Set your budget before you shop to find a comfortable price point. Moonstones with a more translucent body colour and a heightened adularescence of blue hues are more highly prized and more costly, while other just as beautiful, translucent variations tend to be more modest in price so you can choose a moonstone engagement ring that suits your budget.

Know Your Ring Size

As you will adore your engagement ring forever, it is crucial that you

know your ring size

to ensure that your ring will fit you comfortably. Because moonstone is a softer stone, it is crucial that you get a perfect fit to prevent the ring from snagging or slipping, which could expose it to potential damage.

Understand the Care Your Moonstone Needs

As a more delicate gemstone, moonstone must be treated with the

proper gemstone care

and cleaning precautions to protect it from wear and tear so it will sparkle for decades to come.

Consider Personalizing Your Ring

Consider

personalizations

to make your moonstone engagement ring uniquely yours with a one-of-a-kind style that captures your desired look. You can opt for a mixed-metal or hand-carved band, add accent stones, or include a personalised engraving.

Choose a Reputable Retailer

Choose a trustworthy retailer like us, who values honesty and integrity with the highest quality selection of gemstones available on the market. Detailed product descriptions and a fair return policy are features you should seek in a reputable retailer.
Explore Education by Category
Only at Blue Nile
When it comes to celebrations we strive to make your experience as brilliant as our jewellery with the perfect pieces for every occasion.
Amazing Value
The highest-quality design at a great price.
Peace of Mind
30-day returns, diamond price-match guarantee and more.
Expert Guidance
The original online jeweller since 1999.
Inspiring Assortment
The perfect pieces for every occasion.