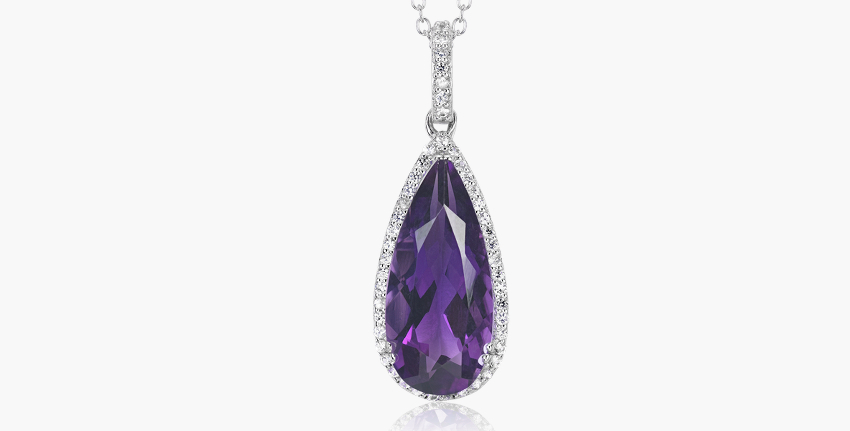 February Birthstone:
Amethyst
Deep and mysterious, the February birthstone, amethyst, bestows a majestic and regal elegance upon its wearers. A favourite among royals and religious figures, the amethyst's rare beauty and mesmerizing blend of violet and red hues has been prized for centuries. Dive deeper into this beguiling gemstone to uncover the hidden treasures of its sparkling history. Learn about amethyst birthstone meanings and find the perfect gemstone jewellery.
A Mystic Fascination
A beginning of amethyst fascination originates in ancient Greece. The name, amethyst, traces its origins to the Greek word, amethystos, which means "cure for drunkenness." This, in addition to its grape-like purple colour, explains its association to the Greek wine god Bacchus.
Amethyst's Birthstone History
Appearing as the February birthstone in both modern and traditional lists, amethyst exudes an exquisite air of mystic allure and luxury. Ancient Egyptians donned amethyst amulets to enhance prayer and safeguard against harm. Believing it would increase focus and aid in their safety, medieval soldiers also wore the amethyst gemstone as they prepared for battle. Beloved among the nobility and regal, amethyst gemstones have been featured in the British crown jewels and were a favourite of Catherine the Great of Russia.
A Symbol of Spirituality and Transformation
Every gemstone has special meaning
. Amethyst is a meditative stone rich in metaphysical properties. Many believe it helps awaken inner creativity and evoke inspiration. According to mystical legend, the February birthstone is a token of defense against dark thoughts, eliciting intellect and wit in its wearer. Associated with peace, balance, and courage, many believed that amethysts served as a remedy for insomnia, also alleviating pain. Today, Buddhists commonly use amethysts in Tibetan prayer to elevate spiritual practices.
Amethyst Birthstone's Connection to February
The two zodiac signs for February, Aquarius and Pisces, have ties to the amethyst's symbolism. The quick-thinking Aquarius connects to the purple gemstone's associations to wit and intelligence. Pisces, a sign linked to emotional sensitivity, can draw protection from the amethyst.
February Birthstone Meaning
Throughout history, the amethyst gemstone has had many meanings and symbolism. Ancient Greeks associated this wine-coloured gem with Bacchus. It was believed that wearing amethysts could increase wit and help the wearer maintain sobriety. Today, February's birthstone is believed to symbolize purity of spirit and protection. As the February gemstone, amethyst brings an additional meaning of strength and self-reliance.
Gifting Inspiration for the February Birthstone
Blue Nile's range of striking amethyst jewellery makes a special gift for someone, or even for adorning yourself!
Keep Your Amethyst Jewellery Looking Beautiful for a Lifetime
Amethyst is durable enough for daily wear, featuring a hardness of 7 on the Mohs scale. Still, it is important that you properly care for your amethyst jewellery, to protect against scratches and ensure it retains its radiance for years to come.
To keep your amethyst jewellery in pristine condition, use mild soap and water on a soft brush to gently clean. Avoid excessive heat and exposure to intense light.
We are happy to offer complimentary cleaning and repair services with your purchase. Learn more on how to care for gemstone jewellery in our guide.
Buying Tips
When buying February birthstone jewellery, consider which hues of purple amethyst best fit your budget. Lighter shades of this February gemstone will be priced lower than deeper hues. All shades of amethyst are valued for their beautiful colour and unique properties.
Learn More About Gemstones
Amethyst jewelry's exquisite style will last a lifetime, and with our selection of the finest pieces, you're sure to find something you'll love. Learn about our other gemstone jewellery options in our comprehensive gemstone guide.
Explore Education by Category
Only at Blue Nile
When it comes to celebrations we strive to make your experience as brilliant as our jewellery with the perfect pieces for every occasion.
Amazing Value
The highest-quality design at a great price.
Peace of Mind
30-day returns, diamond price-match guarantee and more.
Expert Guidance
The original online jeweller since 1999.
Inspiring Assortment
The perfect pieces for every occasion.