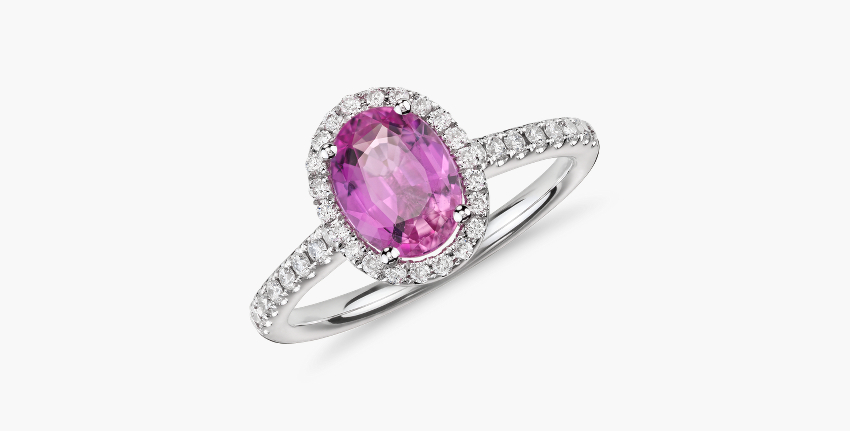 Pink Sapphire Engagement Ring Guide
Glamorous pink sapphire is reminiscent of summer sunsets and tropical flowers in full bloom. These romantic gems symbolize peace between lovers, wisdom amid hardships and intense passion. Pink sapphires are believed to hold divine powers which protect the wearer from harm.
History & Mythology of Pink Sapphires
Rosy and romantic, pink sapphires evoke feminine beauty and have been cherished as symbols of love throughout time. The custom of exchanging sapphire engagement rings as tokens of commitment dates back to Ancient Rome. Later in the medieval period, sapphires were believed to be a test of one's truthfulness: if the colour of the sapphire remained strong, its wearer was a sincere person.
SAPPHIRE QUICK GUIDE
PRIMARY COLOUR
SECONDARY COLOURS
COMMON SHAPES
What Does a Pink Sapphire Engagement Ring Symbolize?
A time-tested symbol of love and commitment, pink sapphire rings are known to amplify passion and truthfulness in their wearers. Sometimes called the "Intelligence Stone", pink sapphires boost knowledge and wisdom. The romantic blush of pink sapphires are a meaningful and modern engagement ring choice.
What to Look for in a Pink Sapphire Engagement Ring
Pink sapphire is a beautiful balance of timeless elegance and modern expression, worn by the likes of Queen Elizabeth, Grace Kelly and Lady Gaga. Keep these points in mind while looking for pink sapphire engagement rings.
Colour

The most important factor when choosing a pink sapphire is the

gemstone's colour

. Pink sapphires come in many luscious shades, from the palest blush to striking hot pink. All pink sapphires are rare but the rarest among them is the stunning Padparadscha sapphire, named for the exquisite orangey-pink lotus blossoms that these gems emulate.

Cut

The

cut of a gemstone

is what gives it symmetry and shows off the stone's colour and brilliance. To achieve maximum sparkle in your pink sapphire engagement ring, choose a radiant or mixed cut. These cuts enable generous quantities of light to enter the gemstone, allowing the sapphire to glisten unabashedly.

Shape

A gemstone's shape is the outline you see when looking down at it. Any shape you love will compliment the pink sapphire's radiance, be it an eye-catching teardrop or show-stopping emerald shape. Popular sapphire engagement ring choices are oval, round and cushion shapes.

Metals

Which metals are you most attracted to? With pink sapphire, feel free to go with whatever your heart desires. Pink sapphires are fitting for many different tones and look just as gorgeous against white gold or platinum as they do on rose or yellow gold bands.
Hardness & Wearability
Because of its symbolism and durability, pink sapphire is an excellent choice for engagement rings and bridal jewellery. Pink sapphires garner a 9 on the Mohs scale of hardness, meaning their hardness is second only to diamonds.
As with all gemstones, pink sapphires should be worn with care, but their resistance to cracks, chips and scratching makes these rosy gems a smart and stylish choice for everyday wear. Learn more about choosing sapphires vs. diamondsfor an engagement ring.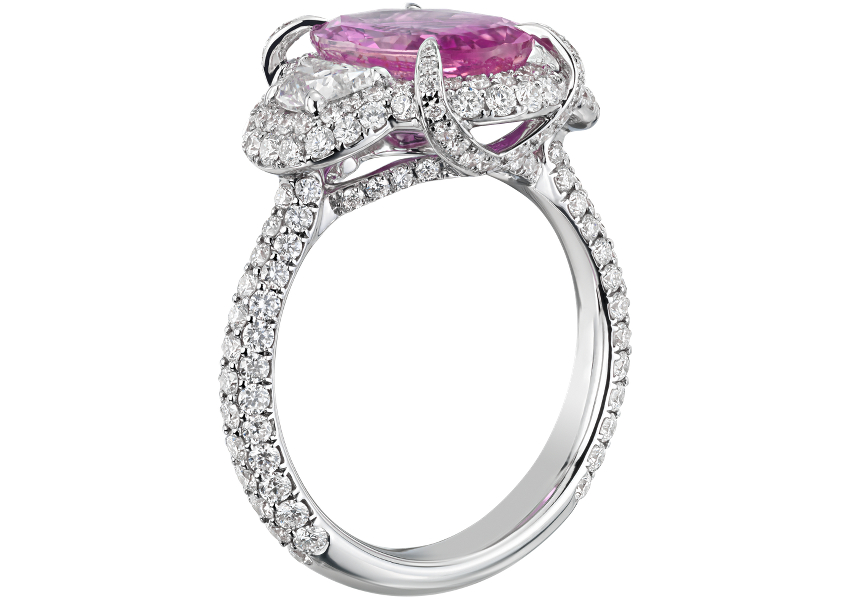 Setting
The setting is what holds your engagement ring centre stone securely in place. For the durable pink sapphire, the setting you choose is all about personal preference and drawing attention to the gemstone. The popular claw setting holds the gem aloft on metal prongs, providing optimal exposure for your pink sapphire as it sparkles on your finger.
Accent Diamonds or Gemstones
Accent diamonds or gemstones benefit your ring by adding style and accentuating the centre stone. An engagement ring with a pavè band is a wonderful accent for pink sapphires, as the addition of many tiny stones attracts more light to play off your gemstone for extra brilliance.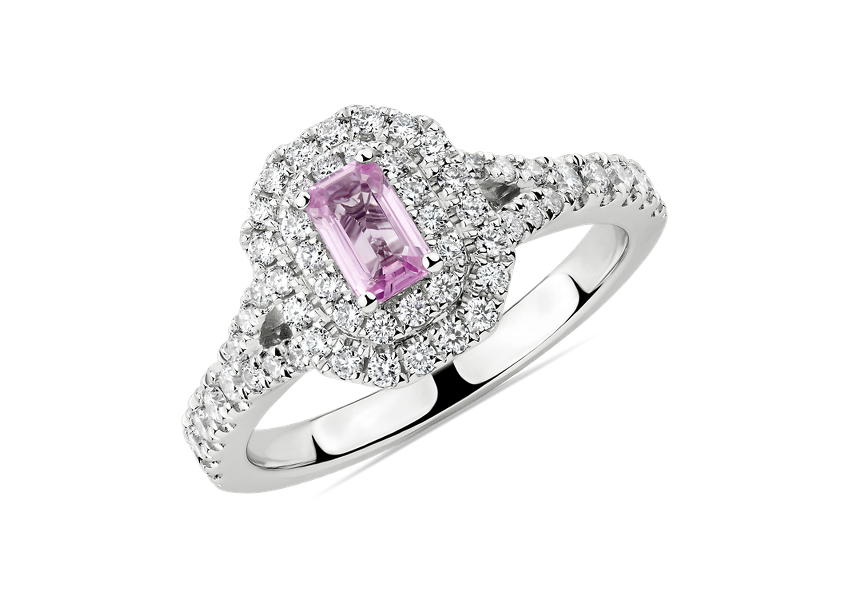 Style
What does your
gemstone say about you
? The style of your engagement ring reflects who you are and what your personality is like. For those who favour minimalism and elegance, a striking solitaire engagement ring shows off the beauty of a classic oval-shaped pink sapphire. If you love standing in the spotlight and having all eyes on you, an exquisite radiant-cut hot pink sapphire surrounded by a halo of pear-shaped diamonds might be more your style.
Pink Sapphire Engagement Ring Buying Tips
We want to help you
pick an engagement ring
that's an expression of your love and commitment to your partner. Here are a few tips to consider while browsing pink sapphire engagement rings.
Know Your Budget

Determine your ring budget before you start shopping. Set aside enough money to ensure that you find a dazzling pink sapphire engagement ring within your price point.

Know Your Ring Size

Prepare for buying a ring by knowing your ring size first. Our

ring sizing guide

has all the tips you need for measuring at home.

Understand the Care Your Pink Sapphire Needs

Gemstones require regular care to stay in tip top condition. Read more about

proper gemstone care and cleaning

for information on caring for your pink sapphire engagement ring.

Consider Personalizing Your Ring

Make your engagement ring one of a kind, just like your love. Explore different settings and accent stones, mix your metals, or have your ring engraved to make it extra special — these and other

personalizations

make your ring absolutely unique.

Choose a Reputable Retailer

Choose a retailer who values honesty, quality and has your best interests in mind, like we do. Check for detailed product descriptions, a fair return policy and the highest quality gemstones.
Explore Education by Category
Only at Blue Nile
When it comes to celebrations we strive to make your experience as brilliant as our jewellery with the perfect pieces for every occasion.
Amazing Value
The highest-quality design at a great price.
Peace of Mind
30-day returns, diamond price-match guarantee and more.
Expert Guidance
The original online jeweller since 1999.
Inspiring Assortment
The perfect pieces for every occasion.