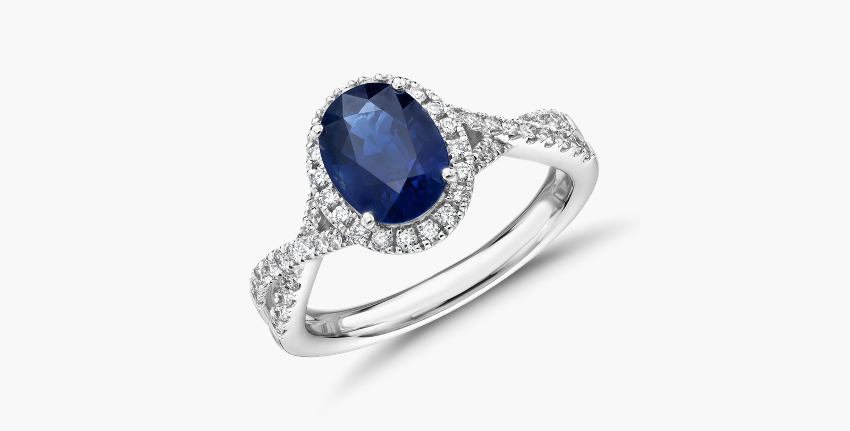 Sapphire Engagement Ring Guide
Regal and resplendent in its rich hues and lustrous shimmer, the stunning
sapphire
gemstone has been favored by royals throughout history. Beloved by many cultures since ancient times, many believed that its signature blue tone symbolized the celestial heavens.
History & Mythology of Sapphire
Considered to possess great mystical significance, many wore ancient sapphire talismans to enhance strength, aid in healing and guard against illnesses. Considered part of the "Big Four" of precious jewels, sapphires are amongst the most valuable and desirable gemstones in the world alongside
rubies
,
emeralds
and diamonds. One of the most famous sapphire rings ever worn was the awe-inspiring 8 Ct. sapphire engagement ring originally donned by Diana Princess of Wales, now worn by Duchess of Cambridge Kate Middleton.
SAPPHIRE QUICK GUIDE
PRIMARY COLOUR
SECONDARY COLOURS
Deep Blues

Yellows

Greens

Purples
COMMON SHAPES
BIRTHSTONE MONTH
September
Mineral:

Corundum

Origins:

Kasmir, Myanmar, Sri Lanka, Australia, Thailand, Cambodia, Madagascar, United States (Montana)

Symbols:

Good Fortune, Romance

Properties:

Wisdom, Wealth

Durability:

9
Enhancements
Heated and/or infused to improve colour and clarity
What Does a Sapphire Engagement Ring Symbolize?
A gorgeous choice for an engagement ring, sapphire is believed to encourage harmony and understanding between lovers and signifies their eternal bond of devotion to one another. Sapphire is also associated with deepened wisdom and good virtue, attracting wealth and shielding its wearer from envy and infidelity. The official
September birthstone
, the exquisite sapphire also marks a 45th wedding anniversary.
What to Look for in a Sapphire Engagement Ring
A striking "something blue" and awe-inspiring engagement ring in one, your ideal sapphire engagement ring will set your heart ablaze when you encounter its radiance. As you peruse sapphire engagement rings to find the one, here are some characteristics to keep in mind.
Colour

A key factor of consideration for engagement ring buyers is the

gemstone's colour

. The stunning sapphire is best known for its vibrant blue colour that ranges from darker blue to violet blue hues. However, the gorgeous gemstone also comes in an array of tones known as 'fancy sapphire colours,' including pink, orange, yellow, green, purple and violet. The most highly prized and coveted sapphires feature more vivid and deeper saturation of colour.

Cut

A properly

cut gemstone

will highlight the entrancing colour and radiance of the stone. While many cuts for sapphire will suit the gemstone beautifully, the crown (which refers to the top of the stone) should be symmetrical in its cut, with the top most point evenly centred in its setting to enhance its reflective qualities and lustre. Examples of popular cuts for sapphire include the cabochon cut which elevates the twinkle of the stone with its rounded, dome cut.

Shape

The gemstone's shape (in other words, the stone's outline) you choose for your engagement ring is key to reveal its brilliance. While the sapphire comes in many desirable shapes, it is crucial to look for consistent colour and sparkle throughout the stone. Oval is a fashionable shape for sapphire showcasing its vivid hues. Princess Diana's majestic, oval shaped sapphire engagement ring is credited for creating a surge in popularity of the oval shaped sapphire. Other elegant shapes include heart, marquise, pear and princess.

Metals

With its gorgeous array of tones, sapphire will complement many metals. A blue sapphire solitaire plays beautifully against a white gold or silver for a timeless appeal that reveals the vivid hues of the stone. True romantics will love the way the warm hues of gold or rose gold toned metal enhance the dreamy glow of pink sapphire.
Hardness & Wearability
Featuring a hardness rating of 9 on the Mohs scale, sapphire is one of the harder gemstones, second to only diamonds in its toughness and durability. Therefore, it is an excellent choice for an engagement ring, one which you can enjoy every day. Our
Sapphire vs Diamond Guide
offers more information about the differences between these two beautiful gemstones. Still, you must take the proper precautions to treat your sapphire engagement ring with love and care to maintain its gorgeous shimmer and brilliance for years to come.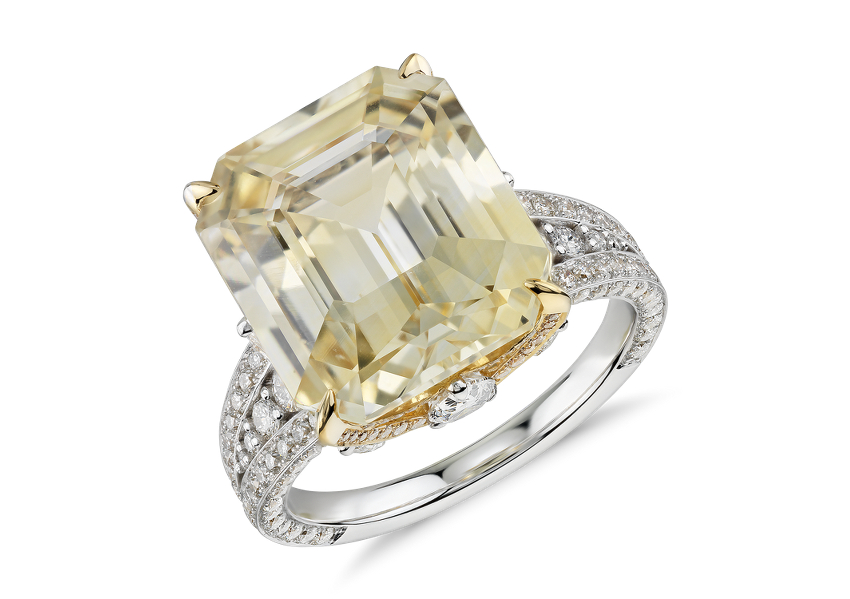 More on Colour
There are several varieties of this majestic gemstone, so you are sure to find one that suits your aesthetic. The romantic bride will love the blushing, dreamy hues of pink and purples sapphires. The padparadscha sapphire is one of the most rare and highly valued sapphires known for its shimmering pink and hint of orange hues reminiscent of a lotus blossom or a sunset. In fact, the name padparadscha originates from Sanskrit, referring to the vibrant colours found in the lotus blossom. To discover more about the alluring pink sapphire, see our
pink sapphire engagement rings
page. Brides with eclectic taste will love the bold and unusual colour varieties of yellow and orange sapphires. Orange sapphires gleam with rich, golden mandarin hues, while yellow sapphires glow with their luminous, lemony yellow to deeper saturated tones.
Setting
With sapphire being one of the harder and durable gemstones, you can rest assured that many settings will complement its beauty while keeping the stone safely secured. Claw settings are a popular choice for sapphire, allowing admirers to appreciate it from all angles, creating an alluring luminosity. Sapphires with art deco-inspired designs often feature a bezel setting for nostalgic appeal. For a modern, edgier vibe, a claw setting will also elegantly highlight the sapphire gemstone.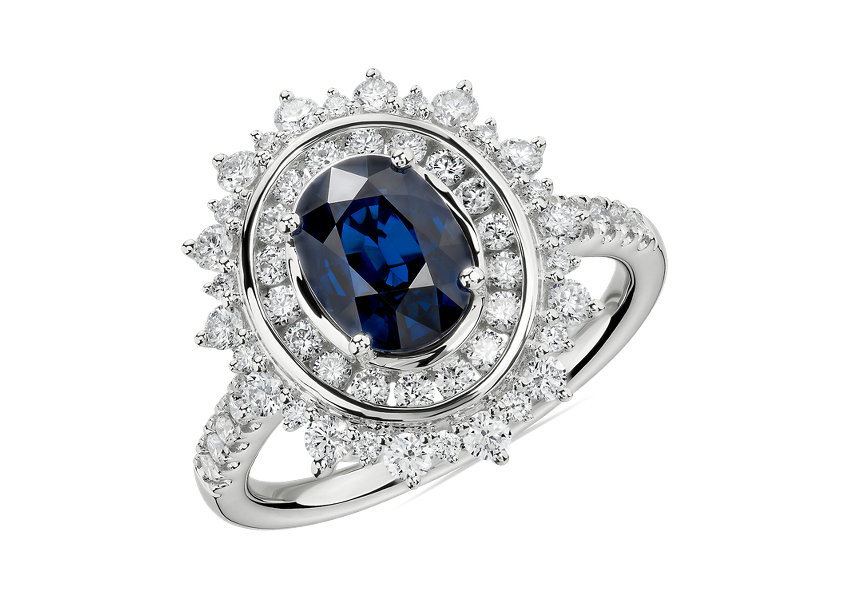 Accent Diamonds or Gemstones
Elevate the dazzle of your sapphire engagement ring and showcase your personal style with various accent designs. For a regal look that evokes the majestic elegance, a halo of brilliant cut diamonds will stunningly dazzle a sapphire solitaire at centre. A double halo surrounding a sapphire centerpiece creates an entrancing sunburst-like effect.
Choose a pavé band for an added dash of scintillating lustre. For an exquisitely bold play of colour and light, coloured gemstones will create a captivating look that will surely keep all eyes on you. Emerald's richly vibrant hues gorgeously complement sapphire or rubies and offer an eye-catching look fit for royalty.
Style
Which style of sapphire engagement ring captures your heart? Create a breathtaking expression of your love that speaks to your personal style. For timeless appeal, you may enjoy an oval or round sapphire solitaire decorated with a halo of sparkling diamonds set on a white gold band. Sophisticated brides will be captivated by the dramatic aesthetic of an emerald cut sapphire centerpiece for an elegant and eye-catching look. Boho brides will fall in love with a glittering sapphire cut into a unique, marquise shape set upon a gleaming gold band. Brides who favour the epic romance of vintage styles will love a sapphire solitaire enhanced by delicate milgrain accents that offer nostalgic vibes.
Sapphire Engagement Ring Buying Tips
An exquisite expression of the love and commitment between you and your partner, an engagement ring is a deeply meaningful purchase that you will cherish forever. As you search for your
ideal engagement ring
, here are some things to keep in mind.
Know Your Budget

It's crucial that you set your budget before you shop to find a price point that is comfortable for you. Sapphires with elevated, vibrant hues are highly valued and therefore significantly pricer than lighter, more translucent sapphires which are equally beautiful variations.

Know Your Ring Size

As a token you will treasure forever, it is critical that you

determine your ring size

before you shop to ensure that your ring will fit you comfortably.

Understand the Care Your Sapphire Needs

While sapphire is a harder, more durable gemstone, it is still crucial to treat your sapphire with the

proper care and cleaning

to maintain its stunning radiance for decades to come.

Consider Personalizing Your Ring

Have fun capturing your desired look by

personalizing

your sapphire engagement ring with an engraving, gemstone accents or a unique, mixed-metal band to enhance its beauty and showcase your style.

Choose a Reputable Retailer

Choose a trustworthy retailer, like us, that you can rely on for the highest quality selection of gemstones. Look out for in-depth product descriptions and a fair return policy in a reputable retailer.
Explore Education by Category
Only at Blue Nile
When it comes to celebrations we strive to make your experience as brilliant as our jewellery with the perfect pieces for every occasion.
Amazing Value
The highest-quality design at a great price.
Peace of Mind
30-day returns, diamond price-match guarantee and more.
Expert Guidance
The original online jeweller since 1999.
Inspiring Assortment
The perfect pieces for every occasion.