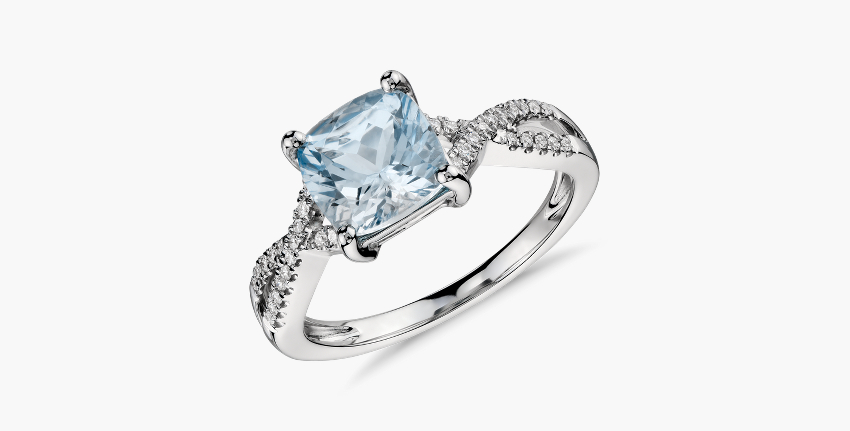 Aquamarine Engagement Ring Guide
With its majestic luminosity and alluring, oceanic hues,
aquamarine
evokes the magical beauty of the sea. It is believed that aquamarine encompasses the essence of the ocean from the serenity of calmer currents to the exhilaration of higher tides. In fact, its name is derived from the two Latin words, aqua marinus which translates to "water of the sea."
History & Mythology of Aquamarine
According to mystical legends, aquamarine originated from the underwater treasure chests of sea sirens. Ancient mariners would wear aquamarine talismans to protect them as they voyaged across tumultuous waters. Also associated with peace and harmony, aquamarine is believed to heal broken hearts, deepen the connection between lovers and cultivate happiness in marriage.
AQUAMARINE QUICK GUIDE
PRIMARY COLOUR
SECONDARY COLOURS
COMMON SHAPES
Enhancements
Heated to improve colour and clarity
Similar Gemstones
What Does an Aquamarine Engagement Ring Symbolize?
A stone of trust and truth, aquamarine is deemed to foster wisdom in its wearers, helping them discover inner truth and cleanse negative feelings with its reflective qualities.
With its stunning irridescent and aquatic tones, aquamarine is both a timeless classic and trendy option for modern brides, making it a sublime choice for an engagement ring. The official birthstone for the month of March, the exquisite aquamarine marks a 19th anniversary.
What to Look for in an Aquamarine Engagement Ring
With its shimmering, blue hues and captivating sparkle, your ideal aquamarine engagement ring also makes a perfect "something" blue." As you browse
aquamarine engagement rings
to find your "forever ring," here are some characteristics to note.
Colour

The

colour of a gemstone

is a key factor to consider when purchasing an engagement ring. The gorgeous aquamarine is known for its signature blues ranging from deep blue, to cyan blue and greenish blue tones. Aquamarines that feature rich and intensely saturated depth of colour are more highly prized than just as beautiful, pastel variations that tend to be more modest in price. As aquamarine is a lighter-coloured stone, any imperfections that are present may be more visible, so look for stones without any inclusions that can be seen by the naked eye.

Cut

The cut of a gemstone is key to showcasing its lustre and depth of colour. When purchasing an aquamarine engagement ring, look for a cut graded as excellent, featuring consistency of colour and shine throughout the stone without any dull or washed out areas. Deeper cuts such as Barion and emerald cuts will help enhance the stone's sparkle. Lower crown settings elevate aquamarine's luminosity, while higher crowns amplify the intensity of its rich colour.

Shape

The gemstone's shape (in other words, the stone's outline) is integral to revealing its exquisite radiance. While aquamarine will be sublime in a variety of shapes, emerald cuts, round or oval brilliants are popular, helping to maximise the stone's beauty and luminosity.

Metals

With its alluring and ethereal shimmer, aquamarine will play beautifully against a variety of metal settings. Icy blue variations of aquamarine will be gorgeously enhanced by the cooler tones of white gold or silver for a modern and sophisticated look. Yellow gold with its warmer hues will be ideal with aquamarines that feature more greenish blue hues, helping enrich the color's vibrancy. For a uniquely feminine style, rose gold with its dreamy pink hues creates a mesmerizing, romantic glow against radiant aquamarine.
Hardness & Wearability
With a rating between 7.5 to 8 on the Mohs scale, aquamarine is relatively resilient and hard-wearing as compared to many other gemstones, and is therefore suitable for everyday wear. A fine choice for an engagement ring, it is still crucial that you treat your aquamarine gemstone with love and care to ensure it maintains its glorious lustre for decades to come.
Setting
The stone's setting is crucial to keeping it secured safely in place, while maximizing its distinctive beauty. Open-back settings such as claw or "invisible" settings are popular for aquamarine, helping it stay safely secured while allowing more light to enter the stone, creating a captivating shine when viewed at any angle. If you seek a more protective setting, a tension setting will help support the stone, while enabling more light to enter and enriching its brilliance.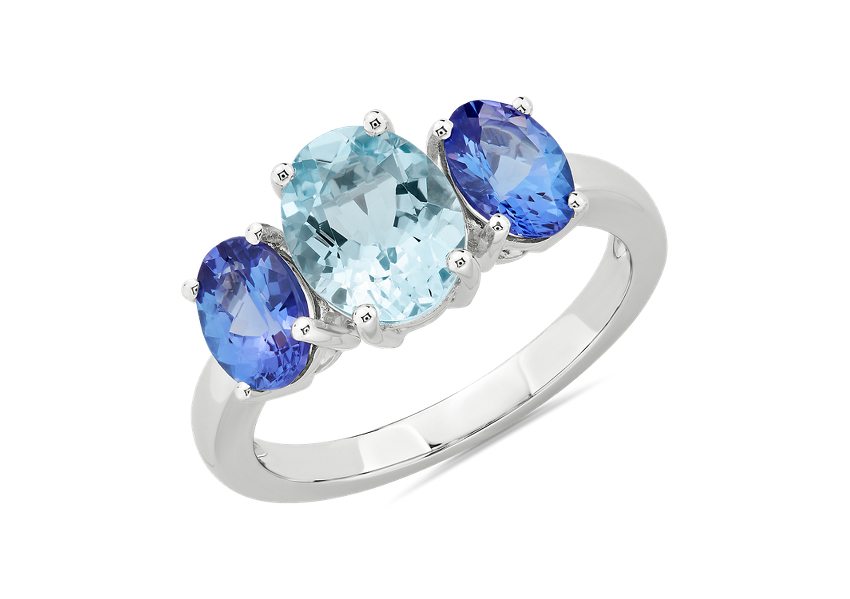 Accent Diamonds or Gemstones
Accent designs will highlight your personal style while elevating the sumptuous beauty of your aquamarine engagement ring. For added dazzle, a halo surrounding an aquamarine centerpiece will stunningly enhance its shimmer for a look of timeless elegance.
To boost the stone's sparkle further, consider a second halo and add a pavé diamond band for a glimmering, regal statement piece. For a touch of vintage style, milgrain accents will create a look of nostalgic charm that hopeless romantics will adore.
For an alluring play of light and colour, try coloured stone accents to heighten the beauty of your aquamarine engagement ring. Lush morganite with its rosy, dreamy glow will create an exquisite look accompanied by luminous aquamarine. For a touch of drama, rhodolite with its siren red hues will be beguiling against irridescent aquamarine. Tanzanite accents on either side of a gleaming aquamarine centerpiece will enhance its majesty with their complementary, icy blue hues.
Style
What style of aquamarine engagement ring captures your heart? Create an exquisite expression of love that speaks to your personal style.
For brides who favour a look of sophisticated elegance, an aquamarine solitaire centre stone is simply breathtaking set on a pavé diamond band. An emerald cut aquamarine centerpiece creates a regal look when accompanied by shimmering diamond accents on either side set on a glimmering white gold band.
For bold brides, a stunning pear shaped aquamarine glowing from the centre of a double halo creates an eye-catching look that will dazzle any room you enter. For bohemian or eclectic brides, a glistening aquamarine surrounded by a celestial, star shaped diamond halo set on a yellow gold band will highlight its mesmerizing quality.
Romantic brides will fall in love with a shimmering round aquamarine centre stone enhanced by vintage-style milgrain accents with a filigree rose gold band.
Aquamarine Engagement Ring Buying Tips
A profoundly meaningful purchase you will treasure forever, an engagement ring is an exquisite representation of the unique and special love between you and your partner. As you search for your
perfect engagement ring
, here are some characteristics to keep in mind.
Know Your Budget

It is critical that you set your budget prior to making your purchase to ensure that you find a price comfortable for you. Note that more richly saturated variations of aquamarine are higher valued and pricier than just as brilliant, more translucent coloured forms of aquamarine.

Know Your Ring Size

An engagement ring is a precious token that you will wear forever, so it is crucial that you

determine your ring size

before you shop to ensure that your ring will fit you comfortably.

Understand the Care Your Aquamarine Needs

Every gemstone needs

proper care and cleaning

. While aquamarine is a relatively more durable gemstone, it is still critical to treat your aquamarine ring with love and care to protect it from potential damage and help ensure it maintains its exquisite shine for years to come.

Consider Personalizing Your Ring

Capture your dream look while elevating the allure of your aquamarine engagement ring with

personalizations

such as an engraving, gemstone accents or a unique, mixed metal-band that speaks to your personal style.

Choose a Reputable Retailer

It is imperative that you choose a trustworthy retailer, offering the highest quality selection of gemstones. Indications of reputable retailers are in-depth product description and a fair return policy.
Explore Education by Category
Only at Blue Nile
When it comes to celebrations we strive to make your experience as brilliant as our jewellery with the perfect pieces for every occasion.
Amazing Value
The highest-quality design at a great price.
Peace of Mind
30-day returns, diamond price-match guarantee and more.
Expert Guidance
The original online jeweller since 1999.
Inspiring Assortment
The perfect pieces for every occasion.