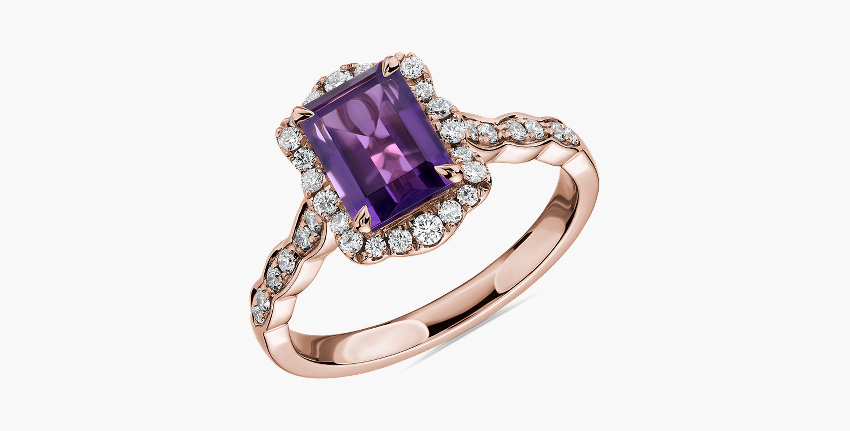 Amethyst Engagement Ring Guide
With its enigmatic, rich purple tones,
amethyst
has been a well-known and beloved gemstone throughout history. This gemstone has been a favourite amongst monarchs for centuries, even serving as a symbol of royalty during the Renaissance.
History & Mythology of Amethyst
Ancient Greeks believed that amethyst evoked a striking resemblance to wine with its deep, violet hues attributing to the origins of its name. Also considered a stone of healing and protection, amethyst was worn by medieval soldiers to guard against danger as they went into battle.
AMETHYST QUICK GUIDE
PRIMARY COLOUR
SECONDARY COLOURS
Reddish Purple

Lilac

Deep Purple
COMMON SHAPES
Mineral:

Quartz

Origins:

Africa, South America

Symbols:

Wealth, Healing, Spirituality

Properties:

Balance, Peace

Durability:

7
Enhancements
Heated to improve colour
Similar Gemstones
Citrine

Pink Sapphire

Rose Quartz
What Does an Amethyst Engagement Ring Symbolize?
Today, amethyst is believed to enhance intelligence and wisdom, shield its wearer from evil thoughts and promote positive and pleasant dreams. An extraordinary choice for an engagement ring, this gorgeous gemstone portrays an expression of love, life-long harmony and commitment.
What to Look for in an Amethyst Engagement Ring
An exquisite alternative to diamond engagement rings, amethyst is a sublime choice for those who dare to stand out with a uniquely majestic style. This gemstone is sure to capture your heart once you encounter its mesmerizing, luminous glow. As you explore amethyst engagement rings to find your forever ring, here are some things to take note of.
Colour

A

gemstone's colour

is a crucial factor of consideration for engagement ring buyers. The striking amethyst is known for its deep purple tones, featuring a range of lighter, more translucent variations, to ravishing reddish purple shades of violet and darker tones. The more intense and vibrant its saturation of colour, the more prized and valued an amethyst is.

Cut

A

gemstone's cut

accentuates its overall luminosity and richness of colour. When searching for your ideal amethyst engagement ring, look for indications of a well-executed cut that features symmetry and consistency in colour with no visible inclusions. Amethyst should be faceted in a manner that allows light to easily travel through the stone and refract back out.

Shape

The shape of a gemstone plays a key role in displaying its mesmerizing beauty and radiance. While amethyst is dazzling in a variety of shapes, more popular shapes for amethysts include round, oval, pear, emerald, triangle, marquise and cushion. Emerald cut is especially desired for larger cuts of amethyst, revealing the vivid depths of colour within the stone.

Metals

A variety of metal settings will beautifully elevate the elegance of your amethyst engagement ring. Cooler toned metals such as white gold, silver or platinum will enhance the bluish tones in amethyst for a look that exudes a modern, yet timeless, appeal. Warmer toned metals like rose gold or yellow gold highlight the vibrancy of the amethyst's purple colour, creating a dreamy allure that evokes vintage-style qualities.
Hardness & Wearability
Amethyst has a rating of 7 on the Mohs hardness scale, meaning it's resilient enough for everyday wear and a fine choice for engagement rings. While it's more durable than some other gemstones, it's still important to take proper care of your amethyst engagement ring to ensure it maintains its brilliant sparkle for decades to come.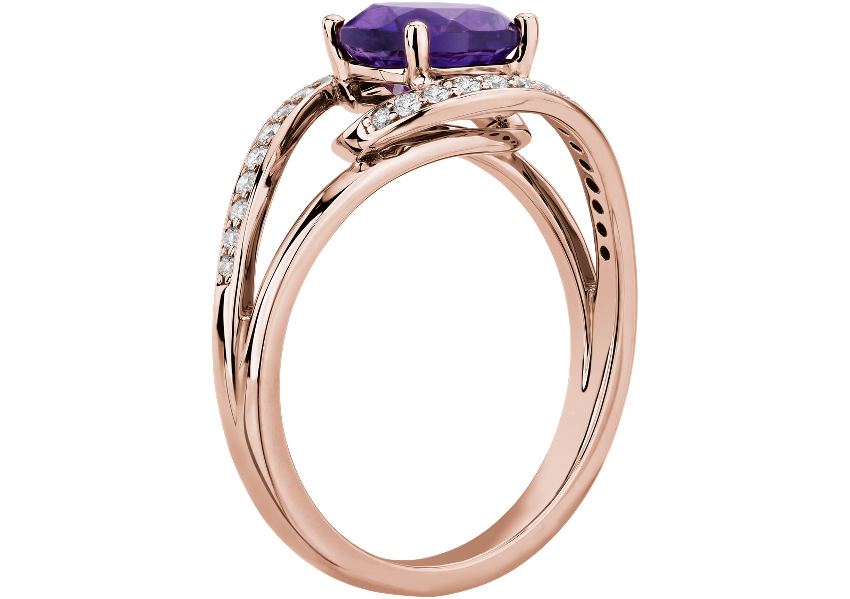 Setting
The ring setting ensures the gemstone stays secured in place while highlighting its sparkle and distinctive beauty. Because of amethyst's durability, many different setting options, such as bezel or claw settings, will nicely complement the gemstone while also keeping it secured.
Accent Diamonds or Gemstones
Create a majestic expression of the love between you and your partner that displays your personal style with various accent designs. While amethyst creates a regal statement on its own in a solitaire setting, you can also consider adding a halo of diamonds to emphasise its luminosity. For even more shimmer, add a pavé diamond band to boost your amethyst's lustre and brilliance.
Amethyst, with its intense purple tones, pairs beautifully with other coloured gemstones, such as blue topaz, for a stunning alternative to clear stone accents. For a more stark contrast, choose ruby stone accents to enhance the vibrancy of amethyst's purple tones.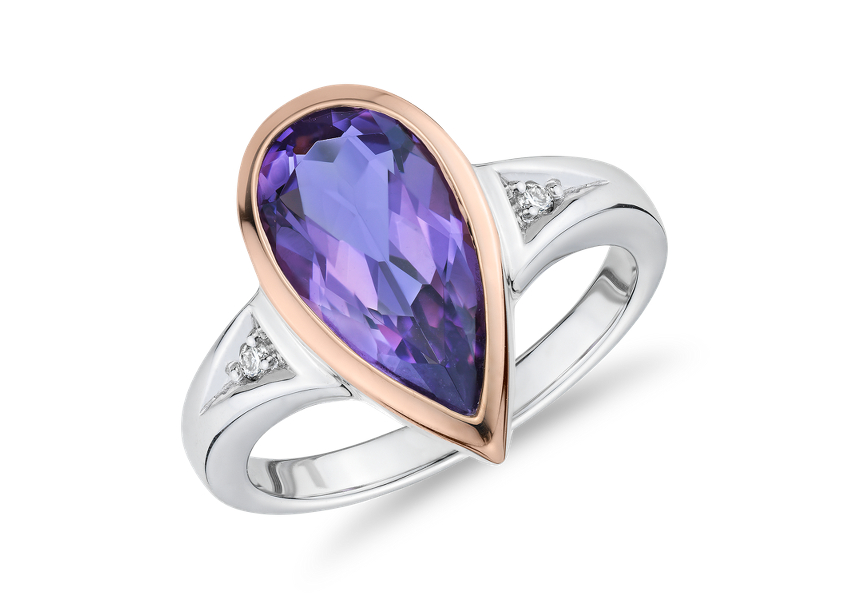 Style
Capture a look that symbolizes the special bond between you and your partner and showcases your personal style. For a simple and sophisticated look, consider an emerald cut amethyst solitaire set on a gleaming gold band, or show off an amethyst enhanced by baguette diamonds on either side for a bold and eye-catching style statement.
For a more vintage-style appeal, choose an amethyst centerstone against a split-shank rose gold band studded with pavé diamonds. Alternatively, display your one-of-a-kind aesthetic with a mesmerizing, two-toned pear shaped amethyst centre stone set in gold.
Amethyst Engagement Ring Buying Tips
Serving as a romantic representation of the love and commitment between you and your partner, an engagement ring is a major purchase with profoundly deep meaning. It's our desire to help you choose an engagement ring help you find one you will treasure forever.
As you search for your amethyst engagement ring, here are some characteristics to keep in mind.
Know Your Budget

Determine your engagement ring budget before you begin shopping. More richly saturated variations of amethyst are more highly prized and expensive than translucent forms of amethyst, which are just as elegant.

Know Your Ring Size

An engagement ring is a keepsake you will cherish and wear forever, so it's important you

determine your ring size

prior to making your purchase to ensure your amethyst engagement ring fits comfortably.

Understand the Care Your Amethyst Needs

Consider Personalizing Your Ring

Elevate the beauty of your amethyst engagement ring while capturing the look of your dreams with

personalizations

such as an engraving, coloured gemstone accents or a mixed-metal band that speaks to your individual style.

Choose a Reputable Retailer

It's imperative you find a trustworthy retailer to be certain you're getting the highest quality selection of gemstones and service. Indications of a reputable retailer are in-deth product descriptions and a fair return policy.
Explore Education by Category
Only at Blue Nile
When it comes to celebrations we strive to make your experience as brilliant as our jewellery with the perfect pieces for every occasion.
Amazing Value
The highest-quality design at a great price.
Peace of Mind
30-day returns, diamond price-match guarantee and more.
Expert Guidance
The original online jeweller since 1999.
Inspiring Assortment
The perfect pieces for every occasion.