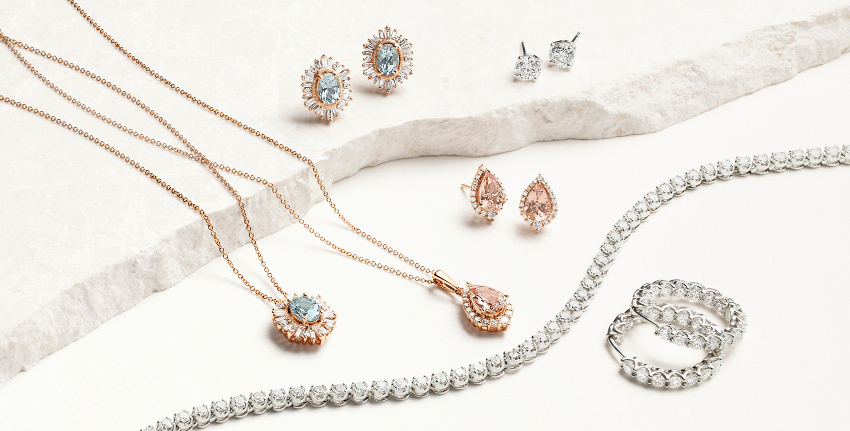 jewellery
For Life's Most Joyful Occasions
Mark the moments with classic styles made to be cherished forever.
Make Style Effortless
Lab grown diamonds offer an affordable alternative for sparkle—making brilliant style effortless.
The perfect pieces for every moment.
Whether you're treating yourself or celebrating something special, our inspiring selection of high-quality designs means you'll always find just the right thing.
Design Your Own Jewellery
Bring your moment to life with a handcrafted design. Our expert artisans will pour their passion into every detail of your beautiful custom piece. Find your style below.
"Love this necklace!"
I bought this necklace for my granddaughter's graduation! It is beautiful and she LOVED it!! Thank you so much for the quick shipping and the quality product. I will buy from Blue Nile again! GREAT experience.
— Kim F., Blue Nile Customer
Handcrafted in Seattle
Our highly skilled artisans exceed industry standards with sparkling GIA-graded natural diamonds, the finest-quality materials and outstanding engagement ring design at an amazing value.
Top Questions and Answers About Jewellery
While fine jewellery is made with precious metals and high quality gemstones, costume jewellery is made from less valuable, synthetic materials, including plastic and metal plating. In terms of price, fine jewellery is a bigger investment than costume jewellery and won't lose its value over time. With proper care, fine necklaces, earrings, bracelets and rings will far outlast costume pieces.

Fine jewellery is always a good investment, because quality gemstones and precious metals like gold, silver and platinum typically increase in value over time. Fine jewellery is also a good sentimental or heirloom investment—many people who purchase fine jewellery never sell it, but rather pass it down through generations.

The term "fine jewellery" means that a piece is made of genuine gemstones and precious metals like gold, silver or platinum, like a timeless strand of pearls, a stylish gold cuff bracelet or a set of diamond stud earrings.

Our "fashion jewellery" is made of the same fine-quality gemstones and metals, but is designed with the latest trends and contemporary style in mind. Fashion jewellery pieces might include an oversized ruby cocktail ring, a diamond bolo bracelet or a pair of emerald huggie hoop earrings.
Explore Jewellery by Category
Meet With Our Experts
Experience our inspiring jewellery assortment up close. Get expert guidance by scheduling a virtual appointment.