This Year's Leading Lab Grown Diamond Gifts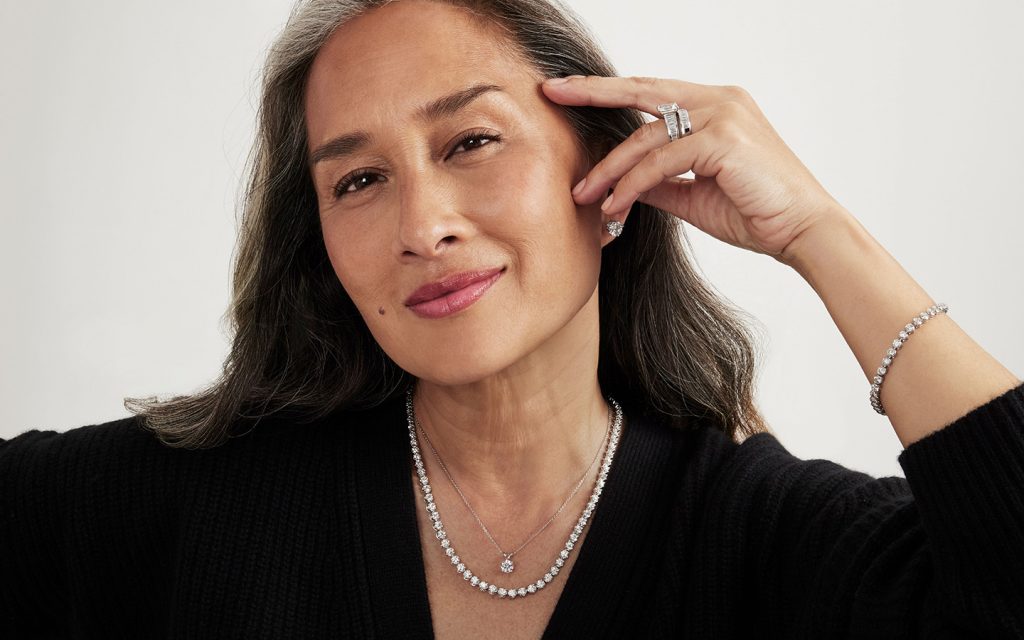 Lab grown diamonds are just as brilliant, durable and scintillating as natural diamonds. These popular lab diamonds are at the top of many holiday wish lists. Jewelry featuring lab diamonds brings greater affordability without compromising on luxury and style. 
Ready to give the gift of lab grown diamond jewelry this holiday season? We're sharing some of our favorite lab grown diamond gifts that everyone can enjoy. 
Why Choose Lab Grown Diamond Jewelry Gifts?
There are many different holiday gift ideas for 2023, with lab diamonds offering the perfect fit for budget friendliness and durability. Lab diamond jewelry gifts can be worn year after year. Best yet, we offer a wide selection of lab grown diamond jewelry gifts to fit many different budgets. These gems are more affordable than natural stones, but they are just as impressive. Many of our larger lab diamonds include IGI or GIA certification. 
A lab grown diamond gift brings endless brilliance that can be enjoyed long after the holidays have ended. 
Lab Diamond Holiday Gifts
No matter your budget, there's a lab grown diamond gift that's sure to impress. Explore designs in platinum, yellow gold, white gold or rose gold with lab diamonds of varying sizes and shapes. 
Choose from lab grown diamond anniversary bands, eternity bands, fashion rings and more. Make sure to check the gift recipient's ring size to find the right fit.
Seven Stone Emerald Lab Grown Diamond Ring In Platinum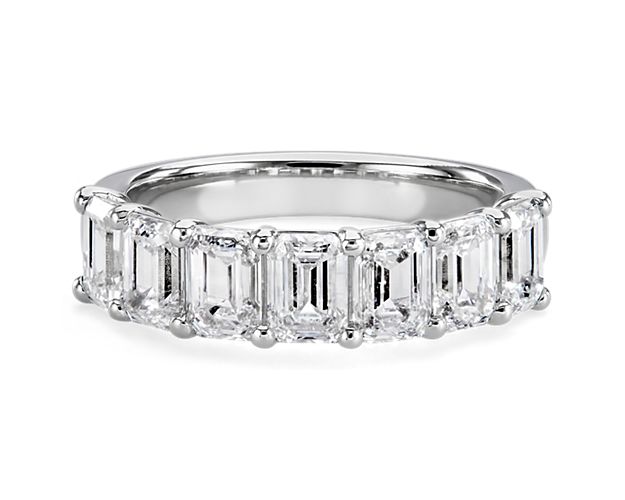 This seven stone lab diamond ring features emerald-cut gems arranged for exceptional sparkle. Set in platinum, it makes a memorable gift. It can be worn as a wedding band, an anniversary ring or a fashion ring. 
Lab Grown Diamond Two Tone 5-Stone Men's Band In 14k Yellow Gold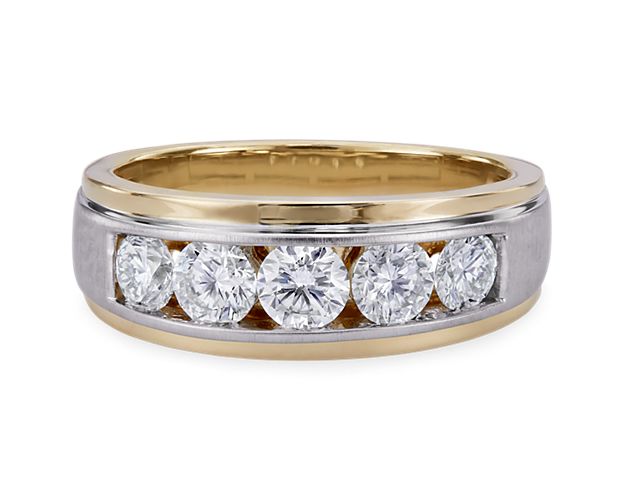 With two-tone depth and channel-set lab diamonds, this ring makes an excellent wedding band or fashion style. It's a popular men's ring that highlights the beauty of lab diamonds.  
Lab Grown Cushion Shape Diamond Eternity Ring In 14k Yellow Gold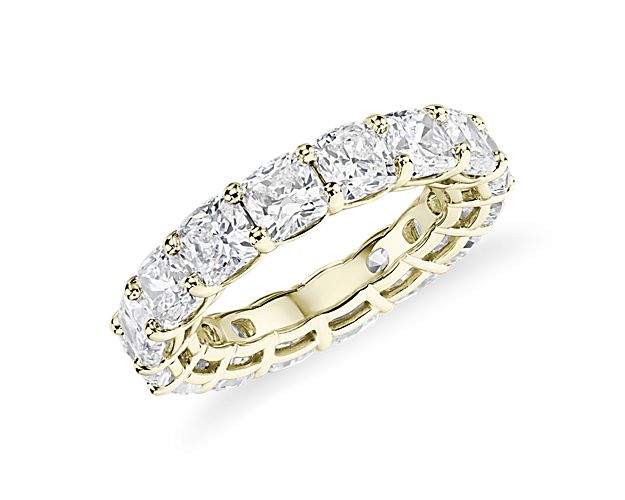 Eternity styles are popular lab grown diamond holiday gifts and this ring showcases what makes these styles timeless. Showcasing an endless circle of cushion cut diamonds, this band is perfect for any stack or all on its own. 
Lab Grown Oval Shape Diamond Eternity Ring In 14k Rose Gold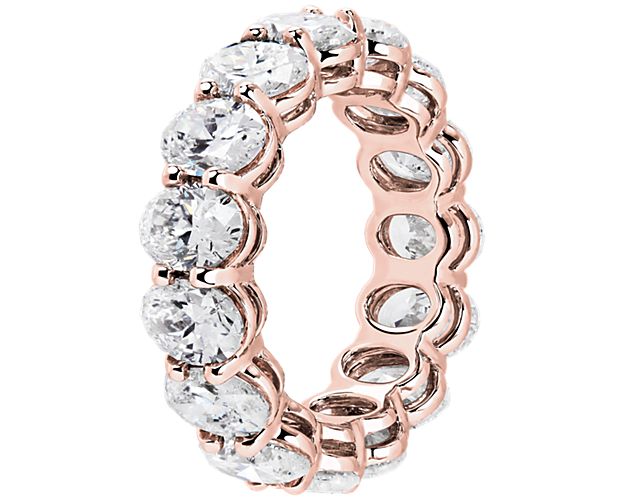 Give the gift of romantic rose gold and contemporary oval-shaped lab grown diamonds with this eternity ring. The soft rose gold setting makes it a unique piece. 
A lab diamond necklace makes the perfect gift for men and women of all ages. Choose styles with pendants, graduated gems, solitaire diamonds or eternity necklaces. Pieces are available in popular gold shades including white, yellow and rose gold. 
Lab Grown Diamond Circle Pendant In 14k White Gold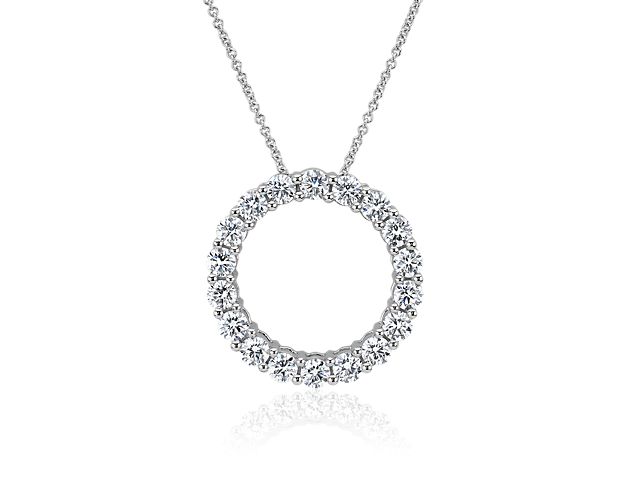 This classic diamond circle pendant offers timeless style. Set in white gold, it's durable for daily wear. It can be worn on its own or layered with other necklaces. 
Lab Grown Diamond Heart Pendant In 14k Yellow Gold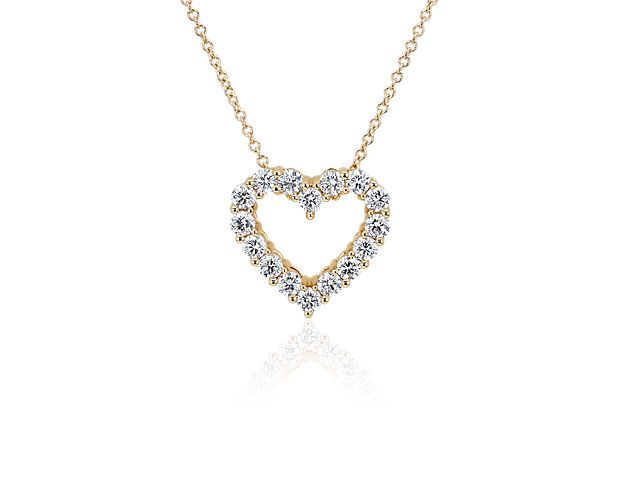 Lab Grown Diamond Cross Necklace In 14k White Gold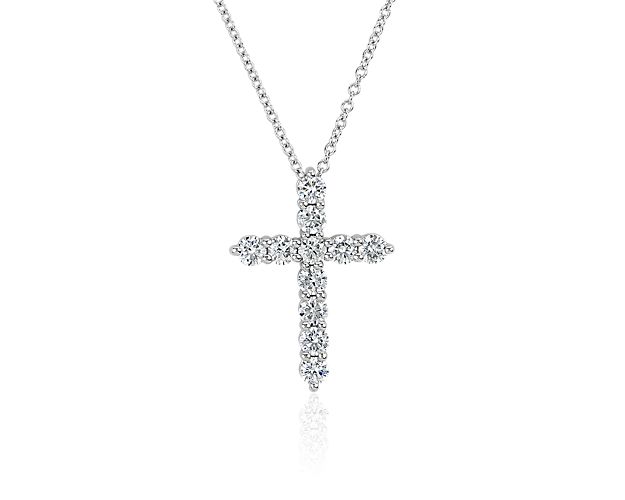 Give a meaningful lab grown diamond gift this season with a sparkling diamond cross pendant set on a white gold chain. 
Lab Grown Diamond Eternity Necklace In 14k White Gold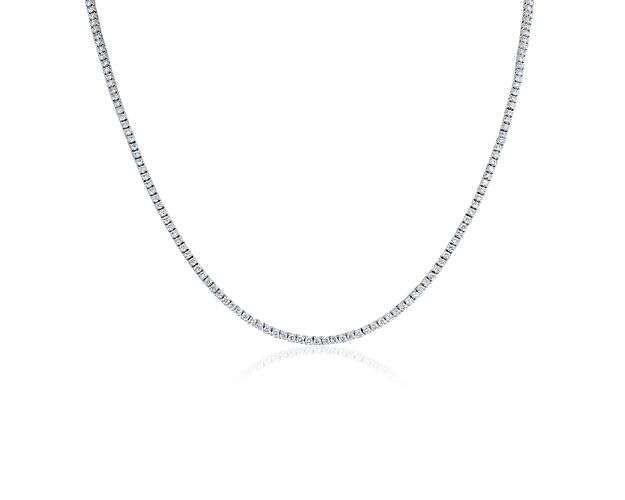 Endless brilliance sets this eternity necklace apart as one of the most impressive diamond jewelry gifts. With its safety clasp, it's easy to enjoy the gift without worry. This necklace is sure to be an instant favorite for those lucky enough to receive it this holiday season. 
Lab Grown Round Diamond Three Stone Pendant In 14k White Gold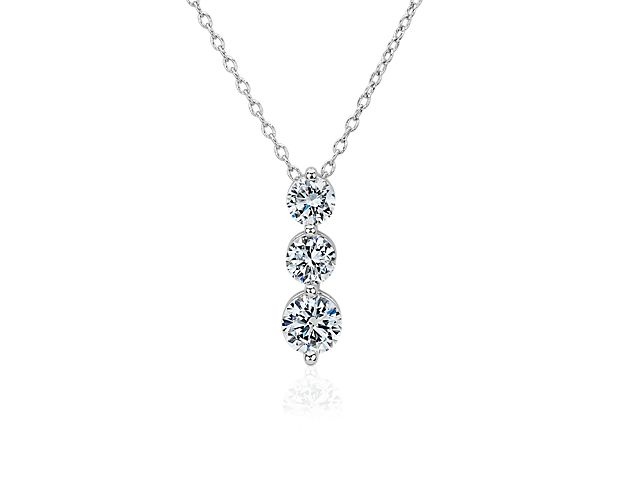 A graduated diamond pendant necklace can represent the past, the present and the future. It can also simply serve as a stylish design, all depending on the wearer's style. 
From streamlined studs to eye-catching hoops and dangling drop designs, there are many lab grown diamond earrings on this year's holiday wish lists. 
Lab Grown Diamond Eternity Hoop Earrings In 14k White Gold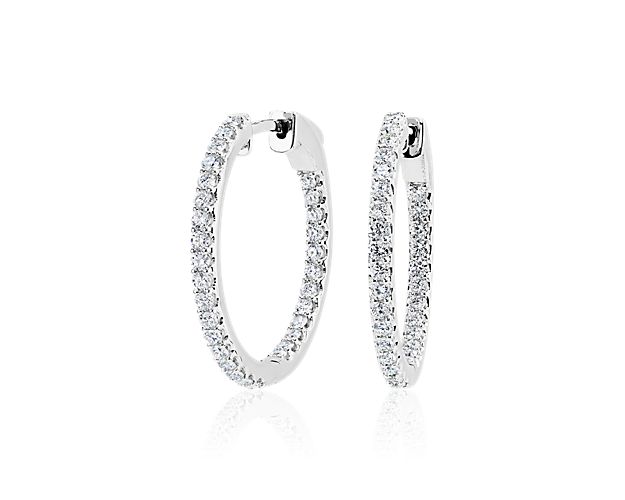 A pair of hoops with lab grown diamonds can match any outfit. Set in classic white gold, these hoops allow their channel-set gems to shine. The forward-thinking setting style ensures that the wearer's new diamonds will always face the day with brilliance on each ear. 
Lab Grown Diamond Channel Hoop Earrings In 14k Yellow Gold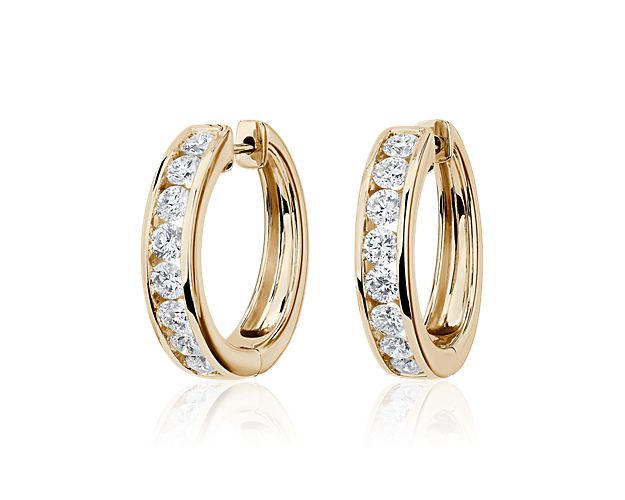 For softer sparkle, opt to give the holiday gift of lab diamond hoops in yellow gold. These earrings are smaller but still bring the hoop look with yellow gold contrast. They combine the soft shine of gold with the effortless brilliance of diamonds. 
Lab Grown Diamond Double Row Drop Earrings In 14k White Gold
Some diamond gifts are designed to steal the show, especially when they feature cascading gems. These double row drop earrings feature a total of 4 carats of brilliant lab diamonds. They're ideal for dramatic looks or as statement jewelry. 
Bring encircling brilliance to your holiday gifts with lab grown diamond bracelets set in gold or platinum. Our popular styles include tennis bracelets and bangles, all with lab gems.
Lab Grown Diamond Channel-Set Bangle Bracelet In 14k White Gold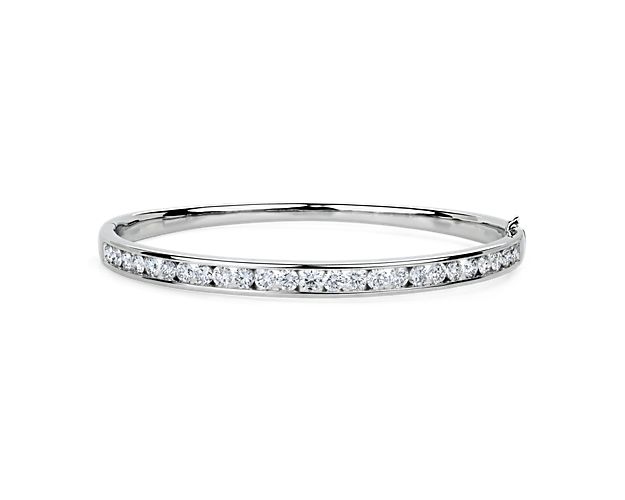 Channel-set lab diamonds bring 3 carats of brilliance to this white gold bangle. With a secure closure and safety clasp, this bracelet brings easy wear. It can be worn on its own or stacked with other bracelets.
Lab Grown Diamond Pavé Bangle Bracelet In 14k White Gold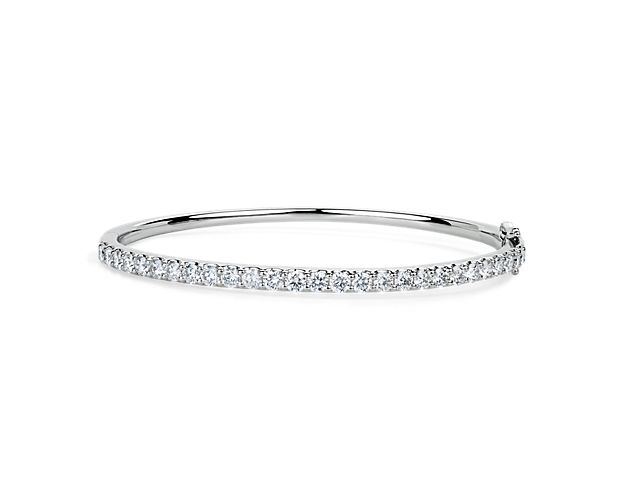 Lab Grown Diamond Tennis Bracelet In 14k White Gold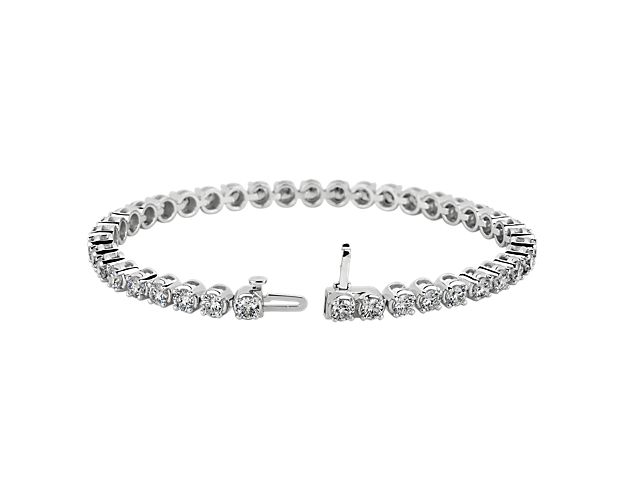 Holiday Shopping with Blue Nile
When it comes to gift giving, lab diamonds are meaningful presents that bring long-lasting brilliance. Lab diamond gifts add timeless elegance to any jewelry wardrobe. 
We make it easy to find the perfect gift for anyone on your list. You can browse our full selection online, or you can view our popular styles in person at one of our local jewelry stores.