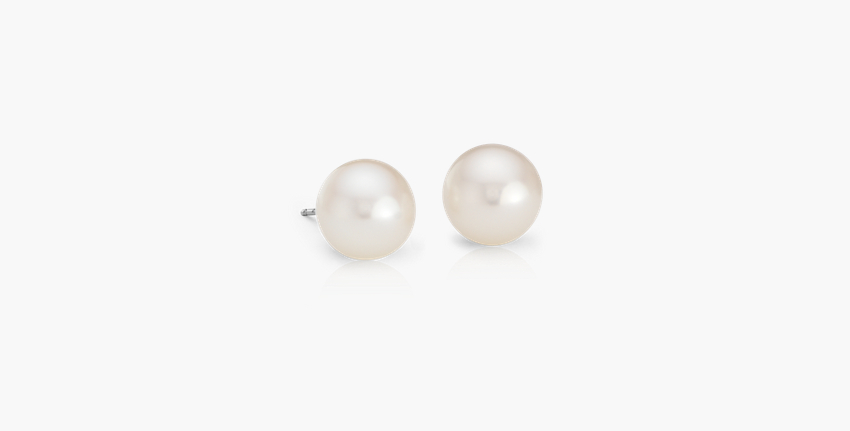 Freshwater Pearl Guide
When it comes to lustrous colours and unique shapes, freshwater pearls take the prize. Delicate cream, white and light pink hues thrill pearl lovers, while their range of round and oval shapes makes a statement
What Are Freshwater Pearls?
True to their name, freshwater pearls are born in rivers, lakes and streams across China and the United States. Each freshwater pearl mussel is capable of producing multiple gems at once, creating versatile, affordable and stunning pearls to wear and cherish.
What Sets Freshwater Pearls Apart?
Almost all pearls on today's market, including freshwater pearls, are cultured pearls, which are equally as beautiful as natural pearls, much more plentiful and more affordable. To cultivate freshwater pearls, skilled technicians implant a small piece of tissue, called the nucleus, in the mussel to begin the cultivation process. The mussel coats each nucleus with layers of glossy nacre, producing alluring freshwater pearls. What sets freshwater pearls apart from others is their range of shimmering colours. The naturally diverse environments where they're created give freshwater pearls a range of colours you don't usually think of when you consider pearls, including silvery white, striking pink, lavender and orange.
What to Look for in a Freshwater Pearl
Freshwater pearls are exquisite in any type of jewellery. Pearl fans choose their gems based on the attributes they personally find most appealing.
Size

Freshwater pearls range from small to moderately sized, usually falling between 3 mm and 12 mm. Larger pearls are typically more expensive and are measured by size rather than weight to ensure a fair price. While larger pearls command a higher price, any size looks captivating when set in the right piece of jewellery.

Colour

Coveted for their stunning range of soft colours, you'll find freshwater pearls in an array of colours. Cultivated mollusks create these colours naturally, delivering shimmering pearls with intense body colour. Pearls with rich colours typically command a higher price, as they are somewhat rarer than white and cream.

Shape

While perfectly round pearls are the most valuable, freshwater pearls are popular for their range of off-round and oval shapes. These unique designs make freshwater pearls a popular choice for accent pieces like pendants and earrings, while more expensive round freshwater pearls make beautiful pearl strands.

Lustre

Known for their satiny lustre, freshwater pearls give a softer glow than their saltwater counterparts. Look for a clean surface with no scrapes or markings to find the best value.

We offer a wide selection of freshwater pearls to suit every price point. While certain styles like large, round pearls may be the most valuable, deciding which styles, shapes and colours you'll wear in your favourite jewellery is purely a matter of taste.
How to Choose Freshwater Pearl Jewellery
Whether pearls are your
June Birthstone
, or you simply love their elegance, begin your freshwater pearl jewellery journey using a few simple buying tips
Determine Your Budget

If affordability is key for you, freshwater pearls are a great option, since they're generally less expensive—but no less gorgeous—than other pearl types.

Shop by Style

There's no one-size-fits-all for pearls. Finding the right size, shape and colour depends on the jewellery style. Round, matching pearls work best for strands, while baroque and off-round shapes make a charming statement as drop earrings and pendants.

Find a Retailer You Trust

You should always feel confident knowing you'll love your jewellery purchase. We make it easy with

free 30-day returns

, so you can always upgrade if you find a colour or size you love even more.
How to Care for Freshwater Pearls
Keep your jewels looking like new for generations by properly caring for your pearls.
When you're getting ready, put your pearls on last, since they can be damaged by body and hair care products.
Wipe your pearls with a soft cloth after you wear them.
Store them flat in a soft cloth bag to prevent scratches.
Learn More About Pearls
We love freshwater pearls for their signature shapes and pastel hues. Ready to discover what makes all of our pearl types special? Learn more about South Sea pearls, Tahitian pearls and Akoya pearls to find out why there's something to treasure in every pearl.
Explore Education by Category
Only at Blue Nile
When it comes to celebrations we strive to make your experience as brilliant as our jewellery with the perfect pieces for every occasion.
Amazing Value
The highest-quality design at a great price.
Peace of Mind
30-day returns, diamond price-match guarantee and more.
Expert Guidance
The original online jeweller since 1999.
Inspiring Assortment
The perfect pieces for every occasion.