This purple gemstone ranges in hue from violet to lavender, wine to raspberry, and has been worn as adornment by royalty and religious leaders for thousands of years.
There are many myths and legends surrounded gemstones that over time became associated with birth months, but amethyst has one of the most fantastical. Derived from the Greek word amethystos, which means, "not intoxicated", and equated with Dionysus (the Greek god of wine known as Bacchus in Roman mythology), the stone was thought to protect the wearer against drunkenness. Chalices were often made from the stone, as were engraved medallions, worn to keep a clear head. Wishful thinking, indeed…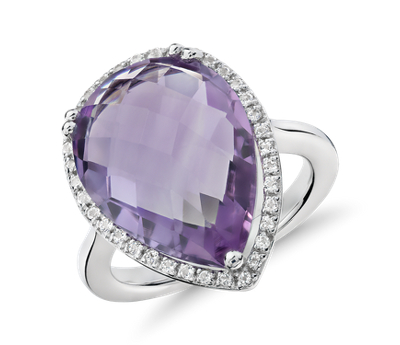 History also recounts that St. Valentine wore a carved amethyst amulet and that during the Middle Ages, the stone was given as a token of love and good fortune, perhaps solidifying it as the birthstone for the most romantic month of the year. Tibetan prayer beads are made out of amethyst, as are episcopal rings worn by Roman Catholic bishops.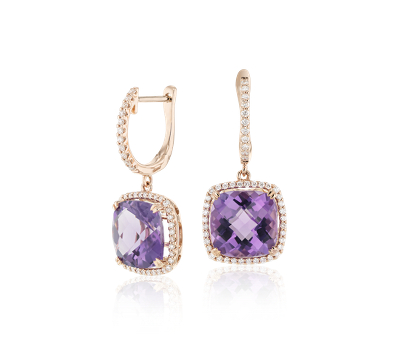 In the past amethyst was a very rare stone and considered on par with emerald, ruby, and sapphire in terms of value. Many crown jewels contain stunning amethyst pieces, including the Kent demi-parure, a matching set of diamond and amethyst pendants, earrings, necklaces, and brooches found in the collection of Queen Elizabeth of England. Once large deposits of amethyst were found in Brazil and Zambia, the stone became easy to procure, more widely available, and less expensive.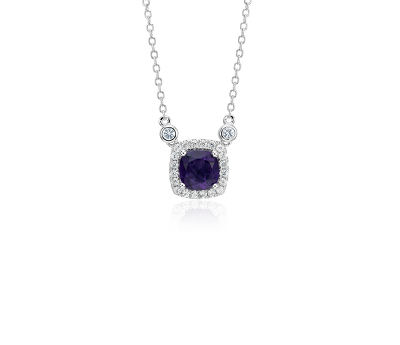 Amethyst is a beautiful stone, and you don't have to be a February native to enjoy it. We definitely do.
Gemstones have been imbued with spiritual meaning for eons, dating back to the breastplate of Aaron that contained 12 gemstones representing the signs of the zodiac and the tribes of Israel. The modern birthstone list was established by the National Association of Jewelers in 1912, with a few updates over the years.