The Ultimate Guide to Layering Necklaces & 8 Styling Tips
One of the many reasons we love layering necklaces is the chance for personal expression. Plus, wearing multiple pieces at once lets you enjoy more of your jewelry collection—and who doesn't love that? Here are our top tips for creating a great layered look.
Fashion trends come and go, but the look of layering necklaces has maintained popularity for years. Today, layering multiple necklaces at the same time is known by many names including a layering look, a neckline stack or even a neck mess. No matter what you choose to call this ever-trendy jewelry style, you can have fun mixing, matching and even purposely mismatching all types of necklaces for a look that's all your own.
Wearing jewelry should be a fun form of self-expression in which you can let your personality shine. Necklace layering is an excellent way to combine your style, symbolic jewelry, birthstone jewelry and any other necklaces into one cohesive look that's uniquely you. Ready to start layering on personalized style? Explore our Guide to Necklace Layering to get started!
Finding Inspiration & Picking Necklaces to Layer
Before you start picking out necklaces for your own personal stack, it's important to decide what kind of look you'll build. With so many types of necklaces and even custom options to choose from, there are a lot of directions you can choose for your neckline stack. Are you a fan of more understated jewelry or monochromatic looks? Perhaps you'd prefer to mix and match metals with both gold and silver layered necklaces. We suggest taking a look at your favorite celebrity necklace stack styles or stacked jewelry styles that have been tagged on social media to start gathering inspiration.
Our jewelry experts are also here to help you put together the right stack for your own style! We can help you choose the perfect pieces with online assistance or at one of our many jewelry store locations. Many necklace stacking newbies often pick one dominant metal and build their stack from there, such as focusing only on necklaces in their favorite shade of gold for their first layering necklace look.
Expert Tips for Building Your Layered Necklace Look & How to Layer Necklaces
Now that you've put together some of your favorite necklace layering looks, it's time to start thinking of your own stack. Here are our top tips for building your neckline stack, complete with links to some of our favorite layering necklaces.
1. Combine Different Styles and Chain Types
Half the fun of layering is juxtaposing contrasting styles: modern pearls or pavé worn with contemporary motifs and geometric shapes. And don't ignore your options for choosing chains with different weights and textures: bead, cable, rolo, rope, snake, Venetian and wheat.
Mixing daintier necklaces with thicker gold chains is one of the best ways to create visual variety in your neck stack. This creates a stylistic conversation between the pieces, with a timeless gold chain bringing a classic look and a pendant necklace adding a contemporary touch. Mixing chain types in your layered necklaces isn't just smart style-wise, it also helps reduce tangling.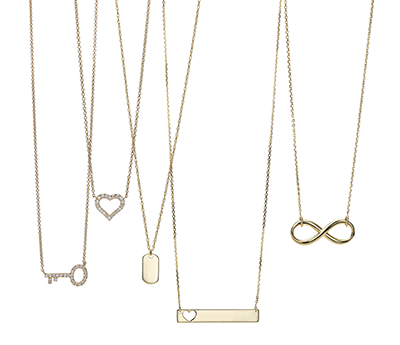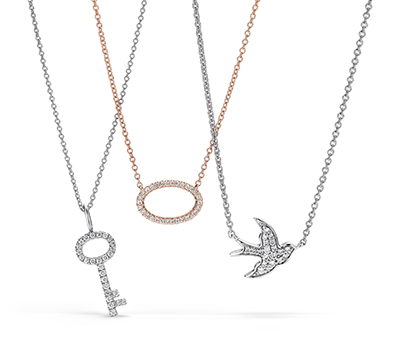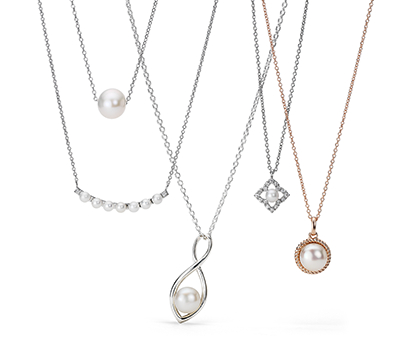 2. Layer it Up with Different Lengths
This is one of the most fundamental aspects of building a layered necklace look. If all of your layering necklaces are the same length, you don't have a neck stack, you just have a big tangle of necklaces. By choosing necklaces of different lengths, you can achieve a cascade effect that allows each piece to stand out on its own.
If you have a few favorite pieces that are the same length, you can use chain extenders to make them different lengths. You can also have some necklaces shortened if needed. To get started, pick a piece that falls closer to your neck and build the rest of your look from there.
Shop Necklaces by Length:
3. Add Custom Necklaces into the Mix
Your gold, platinum or silver layered necklace look can include some stacked pieces with serious personalization for a neck mess that's all yours. Bar necklaces, lockets and other engravable styles are the perfect elements to add to your stack. These pieces can offer added personality along with stylistic separation between elements of your layered necklace look.
4. Bring Color to the Party
If you're new to the world of neck stacking, it's always best to start with layering necklaces in the same metal. So if you're putting together a look by layering gold necklaces, you'll want to stick to the same color of gold to keep things simpler. You can also play with color by combining necklaces of different colors and metal types throughout your stack, such as combining yellow and rose gold necklaces in one look.
5. Play with Textures
Whether you're putting together a monochromatic necklace stack or one with different color chains, textures are another element to keep in mind. Mixing up your necklace textures is one of the best ways to create an impressive, layered necklace look. This can involve wearing a smooth silver chain alongside a gemstone-loaded diamond tennis necklace or creating another multi-textured look with pendant necklaces worn alongside hand-etched chains. Filigree details, herringbone chain patterns, pavé accents, pearls, gemstones, station chains and other textural styles can all be combined for an eye-catching necklace stack.
6. Start with Two Necklaces
Feeling a little overwhelmed putting together an entire neck mess at once? You can always start with just two necklaces and build from there. Stacking two necklaces at the same time is one of the best ways to explore this jewelry trend. Consider stacking two necklaces of similar thickness or taking a creative approach by pairing two different necklaces in a similar metal.
7. Pick a Conversation Piece & Build from There
If picking two necklaces to start your neck mess feels a little daunting, you can always start by picking one single necklace that will be the centerpiece of your stack. A complex chain or even a timeless diamond solitaire necklace can be the perfect centerpiece to build your neck stack around. Start with one necklace and pick others that complement or even contrast it to begin layering.
8. Have Fun with It!
Wearing stacked necklaces should be a fun form of self-expression. While many fashion magazines publish set rules on how to layer necklaces, the best way for you to layer necklaces is the way that you enjoy wearing your jewelry. Pick pieces you'll want to wear day after day and elements that feel expressive for you. After all, the neck stack you design should be 100% YOU!
Extra Considerations When Layering Necklaces
Tangling and durability can be considerations when you're stacking necklaces. Some chain types and styles are more fragile than others and may not lend as well to stacking as others. Pieces such as herringbone chains or pearl necklaces should be layered with lighter chains to prevent damage. If you are nervous about damaging more fragile gems or chain types in a stack, substitute those more delicate necklaces for more durable styles.
Stacking It Up
Now that you're an expert in building the perfect neckline stack, it's time to start shopping! We invite you to explore our wide selection of necklaces in various lengths, metals and styles to fit your perfect neckline stack.