Blue Nile's Guide to Ring Stacking
We've got to hand it to rings, they're the perfect accessory for self-expression, commemorating special events and simply adding style to any look. When it comes to wearing rings, it's often the more the merrier. If you're looking to branch out with ring stacking, we invite you to explore our styling suggestions, ring stack tips and how to get started with this trendy jewelry look.
What is a Ring Stack?
A ring stack is just that, a stack of several rings worn together simultaneously on the same finger. Wedding ring sets are one of the most common ring stacks you'll see, but matrimony isn't the only reason to start stacking rings. Anyone can wear their favorite rings together in a stack. Typically, this style is built by wearing two or more stacking rings at the same time.
Trendy Stacked Rings Styles
Ring stacks have been on fashion radars for years with many designers creating styles that are perfect for building together for a complete look. Celebrities have also gotten into wearing stacked rings with people such as Meghan Markle, Jennifer Lopez, Lauren Conrad, Gwyneth Paltrow, Rihanna and Jennifer Garner wearing their takes on stacked ring styles.
This often-maximalist jewelry look offers tons of flexibility when it comes to changing the look from time to time. It can also be surprisingly affordable depending on which pieces you pick to put into your stack of rings. A ring stack has serious style staying power.
How to Build a Ring Stack
Ready to start stacking? Follow these steps for putting together your very own ring stack that matches your style and can even have special meaning to you.
1. Find the Right Size
If you're stacking on a finger where you normally don't wear rings, it's a good idea to confirm that you're choosing the right size. Visit our ring size chart to find out which size best fits your stack. Most stacks focus on thinner band rings so sizing can be consistent. But if you're building a stack with more than three rings, or if the stack is covering more of your finger with the look reaching higher to your first knuckle, you may want to consider sizing up one quarter or even half a size for some of the pieces in your stack.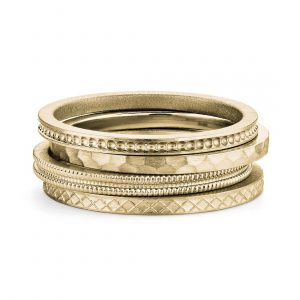 When a stacked look covers more of your finger, it can fit a bit tighter than thinner bands on their own. This doesn't mean that your fingers have changed sizes, it's simply that a thicker band or collection of bands together can sometimes fit fingers more snugly. Because of this, we recommend sizing up a quarter of a size for rings in stacks that are 5-6 mm wide or even half a size for stacks that are over 7mm wide.
2. Pick a Metal Color
When you're not sure where to start when putting a stack together, start with choosing the metal and color that fits your style. We offer stackable rings in platinum, rose gold, white gold or yellow gold. Some of the most popular options are stacks of gold rings but you should choose the metal that matches your personal style.
For those who are new to ring stacking, choosing a monochromatic metal is a great way to get started with this trend. Building a stack in one metal allows you to wear a fashionable look without worrying about mismatching. But, if you do want to purposefully mismatch, there is fun in marching to the ring of your own style.
3. Play with Textures, Gemstones and Colors
Choosing unique textures, gemstones and differing details for each ring in your stack can be a great way to create an attention-grabbing look while still matching. For example, consider stacking a braided band with a 2mm plain metal ring and an emerald ring. This kind of stack brings three different visual textures and the addition of gemstones for added color contrast.
For even more contrast, consider stacking different metal colors together. Just make sure that you're choosing rings of the same fineness so they work together for long-term wear. In popular looks, this means wearing 14k gold rings in different colors such as combining rose gold and yellow gold styles in the same stack.
As long as you're choosing looks you're comfortable wearing together, there is no wrong way to stack your rings.
4. Get Personal
Your stack of rings can be as personalized and meaningful as you'd like it to be. Some people prefer to build a stack simply for the style while others treat their stack like a charm bracelet, adding new rings to commemorate special occasions. There is no set rule on how personal your stack of rings needs to be, choose the personalization level you're comfortable with.
If you are looking to personalize your stack, there are some stylish options. Birthstone rings are popular for adding to stacks. These rings can represent a birthday or commemorate the month of a special occasion. You can also consider adding an engraved ring to the stack, or a focal point cocktail ring that represents your style.
5. Branch Out
Now that you've chosen your metal style and any personalized pieces for your stack, it's time to branch out if you'd like to take the look to the next level. This can include adding a midi ring style or incorporating the stack theme across other fingers as well. Create your complete look by wearing platinum, white gold, yellow gold or rose gold rings on additional fingers to complement your stack.
6. Build the Stack at Your Speed
Though you may be excited to wear your ring stack all at once, it is a style that you can build over time if you're working with a specific budget or looking to wear a commemorative stack. Purchase your stacked rings at your own pace, building your perfect look all at once or over time.
Which Finger is Best for Stacking Rings?
The ring finger is most traditional for stacking wedding styles such as a pear engagement ring stack or a three ring stack. When it comes to fashion rings, any finger can sport a stylish ring stack. As with all jewelry, there is no exact rule regarding which finger you should stack rings on. It's all about the look that fits your style and self-expression.
Stacking Ring Ideas
The look of stacked rings can bring a fashionable touch to any outfit. You can get started with this look by picking a faux ring stack that's taken care of the matching for you, such as this design that includes different gemstones on each row.
You can also get inspiration from other preset stacks we offer, such as this design in mixed tones or this set that offers different gemstone cuts and metal shades.
Building off the idea of these preset stacks, you can choose your own collection of stackable bands and rings by selecting one metal shade and combining different looks from there. Consider constructing your stack from gold rings of the same shade, such as a set of three gold rings to wear together. We suggest pairing a twisted band with a milgrain gold band and a baguette emerald ring for a ring stack that combines different textures and gemstones.
If you'd like to combine metal shades, we suggest playing with different tones of the same kind of metal, such as mixing pieces in rose, white and yellow gold. To keep a common theme for the different rings, choose a similar gemstone such as a diamond ring stack that builds on different bands. Even if the diamonds are in different cuts between the rings, such as a pear ring coupled with a band of pavé-set diamonds, the similarity of these gems will be the cohesion of the stack.
How Many Rings Should You Stack?
You can mix and match as many rings as you'd like for this creative jewelry look. Most people start with stacking just two rings, seeing how they enjoy the style from there. It's also very popular to build a 3 ring stack, as this allows for increased sparkle. The right number of rings is the amount you're comfortable wearing. Most people focus on stacks that are at the base of their finger, choosing the number of rings that will sit comfortably below the knuckle.
Does Stacking Rings Damage Them?
If you plan your look properly, stacking rings will not damage them. To keep your rings at their best, it's best to stack styles of the same fineness and metal types. If you choose a 14k yellow gold ring to stack, it's best to wear it with other 14k gold styles though they can be different colors of gold. If you opt to stack platinum rings, keep only platinum in the stack. Keeping your stack consistent with metal type and karat will help protect the rings.
What to Do About Gaps in Ring Stacks
As you're putting rings together to wear for this stylish jewelry statement, keep gaps in mind. Some rings, such as this split bar design, will actually create gaps intentionally. Gaps can add an extra element to any stacked ring look, especially when there are only one or two gaps. But, if you'd like to avoid gaps in your style, you can do so by selecting rings that are all the same shape, such as choosing straightforward bands without any curves. Even with perfect planning, small gaps can happen. Adding a thin band to the stack can help fill those gaps.
Ring Stacking Tips
When it comes to wearing this trendy look, there are no hard rules for how to start stacking. But for easier matching among the elements of your stacked rings, we suggest choosing one element to bring cohesion among the rings you're wearing. This can be as simple as selecting rings in the same metal or picking gemstones that bring similar visual qualities, such as choosing colorful gems of the same hue or sticking to one gemstone type for every ring. With one element tying the rings together, you're able to mix and match as you play around with different styles, textures and ring widths to construct a stack that's all you!
Keep our quick tips for ring stacking in mind:
Choose the same metal types to prevent damage. This can be all platinum rings, all silver or all gold with different colors but the same karat.
Bring a cohesive element to the mixing and matching, such as selecting different rings with the same metal color or bands of different metal shades with the same gemstone colors.
Check your ring size measurements. If you're building a thicker stack, consider sizing up some of the rings up to half a size for a more comfortable fit.
Build the stack at your own pace so you're putting together the look that best matches your style.
Start with a statement ring and build your stack around it.
If you want to avoid gaps, wear rings of varying thicknesses. Smaller thin rings are perfect for filling gaps.
When in doubt, start by wearing a faux stack to get used to this look.
The best tip for building a stylish ring stack is to have fun with it. This flexible jewelry look lends itself to personalization and unique combinations. Browse our full selection of rings to get started.