How to Style Signet Rings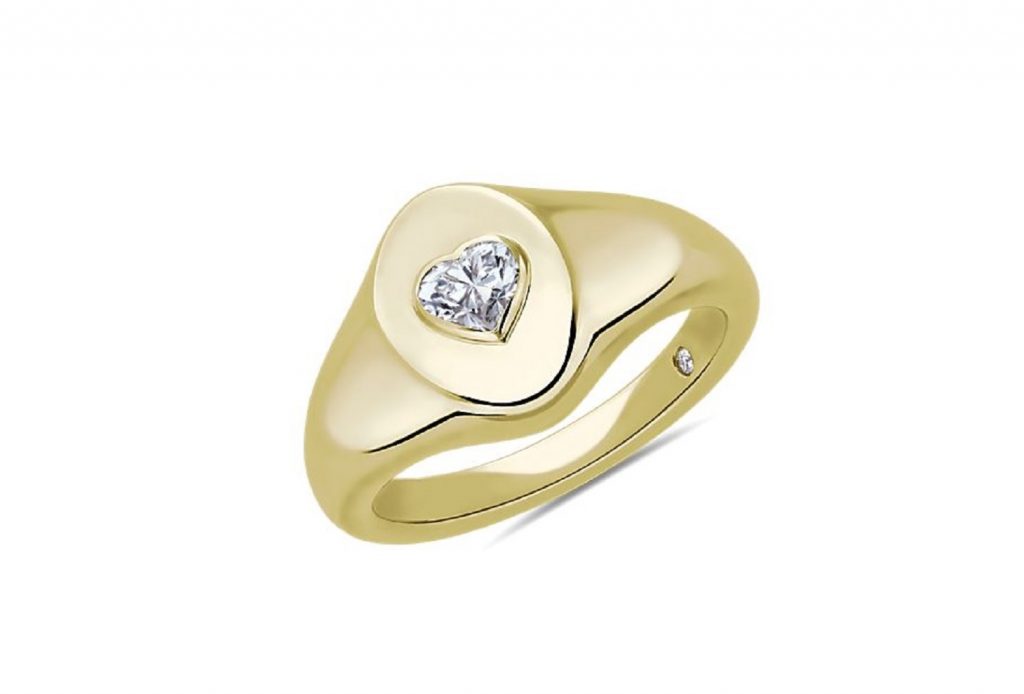 The iconic signet ring has served many roles over the years. From Ancient Egyptian times to more recent Victorian history, these rings were used to sign documents and showcase status. Antique signet rings often had family crests, the wearer's initials, religious symbols or other carvings on gemstones or precious metals. 
Today, signet rings are less about official signatures and more about their presence as jewelry that showcases personal style and unique symbolism. The signet ring is as popular as ever, with its unique shape offering the perfect jewelry look for people of all ages. Previously primarily men's jewelry, today's signet rings are modern jewelry that anyone can enjoy wearing.
It's ultimately up to you to choose how you'd like to wear your signet ring, but there are some tips to keep in mind to better understand the styling of this classic jewelry. 
A signet ring is a ring that has a flat face, usually with a seal, crest or gemstone on it. This jewelry is defined by its unique shape in which the ring's face is its largest part and focal point. The face is often circular, oval or square and can feature engravings or gemstones. Signet rings are typically crafted in gold, platinum or silver.  Throughout history, these rings have been worn by leaders and nobility.
Traditional Signet Ring Style Etiquette
These meaningful rings have been worn for centuries, from ancient times to more modern adaptations. Historic portraits and statues have depicted men's rings in signet shapes, with the subjects wearing this jewelry on different fingers. Even kings have worn signet rings over the centuries. 
If you're looking to keep etiquette in mind when wearing a signet ring, it's best to follow in the footsteps of nobility and wear this ring on the pinky finger of your non-dominant hand. With our free ring sizer, you can easily find the right fit for your signet ring. 
Modern Styles for Signet Rings
Today signet rings can be worn by anyone regardless of gender. While men often choose to keep to tradition and wear their signet rings on the pinky of their non-dominant hand, women typically choose this jewelry style as a right hand ring. 
You can wear a signet ring as the only ring on your hand or you can pair it with other jewelry. When wearing a signet ring with additional styles, choose matching materials for the other rings in your look. This can mean picking other gold rings or rings with diamonds to match your signet. 
If you are also wearing a wedding band, engagement ring or full wedding set, wearing your signet ring on your opposite hand can bring balance to your jewelry look. 
As with all jewelry, it's about your personal style above all else. You can wear your signet ring on any finger you'd like, as long as it fits comfortably and safely on your hand. Many people choose the traditional ways to wear silver and gold signet rings, but other people prefer taking their own approach to this classic jewelry.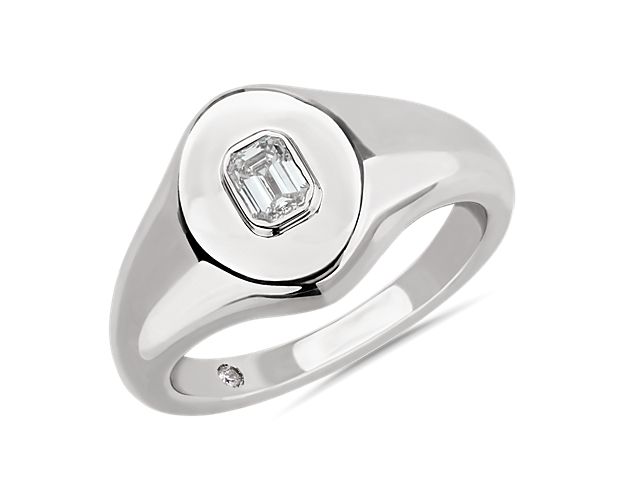 Modern signet rings focus on style, with gemstone and gold designs. Choose from rings with carved metals, intaglio gemstones or stones set in unique patterns. 
You can take a brilliant approach to the signet silhouette with a diamond-packed style, such as this diamond signet ring with a cluster of stones. 
Top Questions and Answers About Wearing Signet Rings