8 Things to Consider When Your Wedding Date is Affected by the Coronavirus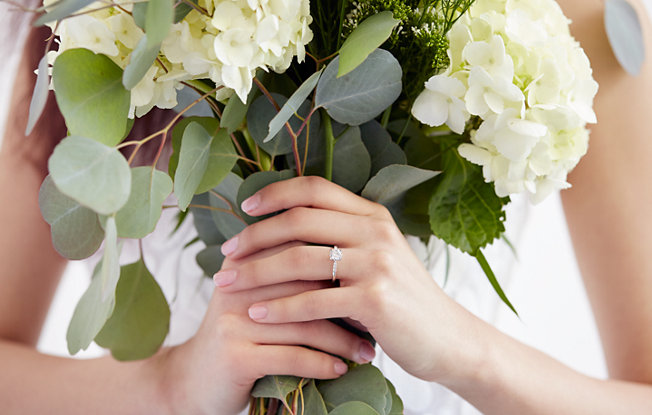 Walking down the aisle. Saying, "I do." Celebrating your special day with family and friends. Toasting with champagne. These are just a few of the exciting moments you've likely imagined as you think about your wedding day. If you're planning an outdoor event, you may even have a rain plan, but alternate plans for a worldwide pandemic?—Probably not!
With calls for social distancing and event cancellations left and right, we know the current situation with the coronavirus is keeping many couples up at night as they race to redo their plans. At Blue Nile, everything we do is centered around celebrating life's most joyful moments and that doesn't change during moments of crisis. We're here for you, and wanted to share a few things you can do to ensure your special day is still the one you've been dreaming about.
1. Consider if Your Current Wedding Date is Still Realistic
2. Read Your Contracts for Contingencies Due to Unforeseen Events
Are you thinking of changing your date? Be sure to read the contracts that you signed with all of your wedding vendors, such as your venue, florist, photographer, and caterer. There may be a contingency in place for situations when a date needs to shift. If you need to postpone, you may still have to pay, whether partially or in full, for contracted items.
3. Ask Vendors Questions About Changing Your Wedding Event Contracts
Be honest with vendors about your potential plans. Venues and photographers may only be able to take one wedding at a time, but other vendors, such as a cake artist or floral designer, may be able to squeeze you in on another day, even if they have another scheduled event. Asking vendors to clarify their contracts and asking about future open dates can help ease your mind if you have to make a switch.
4. Communicate Potential Date Changes with Your Wedding Guests
There is no doubt that your wedding guests are wondering if your plans have changed. Reach out to the people you've invited to inform them of changes or cancellations. If you're struggling to reach everyone through email or text, consider a social media update as an alternative. Your guests' schedules are likely also in flux right now, so they will undoubtedly understand and appreciate being informed. At the end of the day, your guest list is filled with people who love you and will be happy to help you celebrate on an alternative date!
5. Consider Necessary Seasonal Considerations if You Change Your Date
If you decide to move your Spring wedding to late Summer or Fall, you may have to make a few changes. The peonies you wanted will not be in season anymore, which means you will need to pick a different bloom. A new season may also necessitate adjustments in your menu or decor.
6. Update Your Wedding Site with All the Latest Information
Amid the muddle, don't forget to put the information out on your wedding website. Guests will consult your online space to know where your wedding is and how to get there. Be sure to personally contact your guests while updating your site with your current date and location, if you decide to make a switch.
7. Utilize Technology to Enable More of Your Guests to Attend
You may have guests that can't attend your big day when you shift the date. While it is hard to not have everyone you love present, you can always go the virtual route! Livestream your ceremony for the grandparents, or let your absent best man deliver his toast via FaceTime. There are ways to make it work, even under not-ideal circumstances. Some couples are opting for smaller, live-streamed ceremonies and having a reception gathering at a later date.
8. Keep Calm and Marry On
We have all heard the saying "keep calm and carry on," but we like this popular phrase with a slight twist. It's true that you may need to delay your wedding, deal with the emotions of friends and family who can't attend, and possibly pay a few fees. These things are seriously hard, but the good news is that you're marrying the love of your life! So don't forget the bigger picture, and the potential for something truly wonderful to happen (even if it's not what you originally planned).
We're hearing amazing stories from so many customers. They are sharing truly innovative and imaginative ways to go forward with their love despite the current circumstances. You will get through this, and your love will be stronger for it. Things will be OK! And, we look forward to celebrating other joyful moments with you in the future, whether it's a first anniversary, a birthday or a personal milestone. We're here for you now, and we'll be here for you then.