The Daily Sparkle: Rebekah + Drew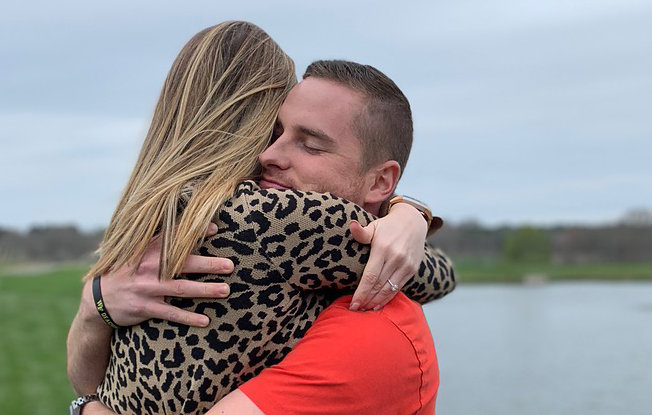 The Daily Sparkle is where we'll be sharing heartfelt stories from our customers that illustrate the enduring power of love. We're talking to so many people who are finding innovative and inspiring ways to celebrate during this uncertain time, and we are humbled and excited to help you bring your plans to life. Got a story of your own? We'd love to hear how you're celebrating. Email Joy@bluenile.com and we might just feature you in our next post.
Welcome to our next story featuring Drew and Rebekah in Winston-Salem, North Carolina.
DREW PLANS THE PERFECT PROPOSAL
"There were a few main things I had in mind when planning the proposal. First, I wanted her to be surprised, so I needed to plan something that wasn't out of the ordinary.
Second, I wanted friends with us to capture and share the moment.
Third, I wanted to keep this sealed tight by ensuring only a few people knew when the proposal was happening. The weekend of March 13th turned out to be our engagement weekend. I was supposed to work all weekend but due to COVID-19, those events were canceled. This allowed me to put plans in motion knowing I'd have limited time to use public areas.
I planned a day trip to Childress Vineyard on Sunday March 15th with two other couples we're close friends with. Leading up to that day, I was texting the two guys, Smith and Nate, to give them an idea of my plan. I needed their help to capture the moment by taking pictures.
The day at the vineyard was perfect and went exactly how I planned. We did a wine tasting, took a tour, then enjoyed the day outside on the vineyard grounds. Before heading home, each couple took pictures. We went last.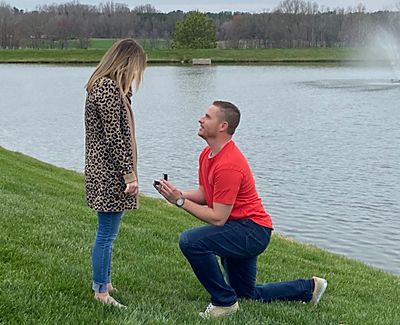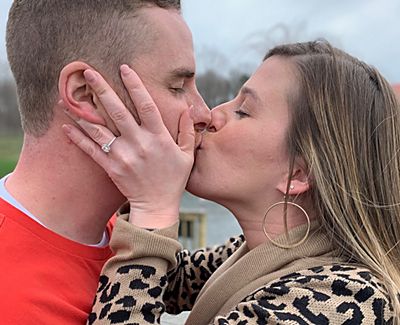 As Rebekah started to walk away, I grabbed her hand. I asked her if I could say something to which she said "No!" It made me laugh because she knew I was up to something. I told her how much I love her and that she's the one I want to spend the rest of my life with. I got down on one knee, presented the ring, and asked her to marry me. She said yes!
We began celebrating with our friends. Then we made phone calls to our families and friends. The only people who knew the proposal was happening were Smith, Nate, and Rebekah's dad (of course I asked for his blessing!) Not only did this help keep the plan a secret but it provided pure shock and excitement from family and friends when we shared the news. It was awesome!"
REBEKAH IS TOTALLY SURPRISED
"Thank goodness I have my moments of total obliviousness, because looking back on the day there were definitely a few flags that should have made me think something special was happening. Like Drew said, we were taking a photo at the vineyard and as I walked away, he grabbed my hand and I looked at him and his facial expression and voice tone had changed so I knew IT WAS HAPPENING! My first instinct was to say "no" in disbelief that he was actually about to propose. We've been together for five and half years and there were so many times I had expected it to potentially happen, so it would be just like Drew to pull it off as a complete surprise when I wasn't expecting it AT ALL!"
Congratulations Drew and Rebekah! We are so happy for you! Thanks for sharing your beautiful story with us.