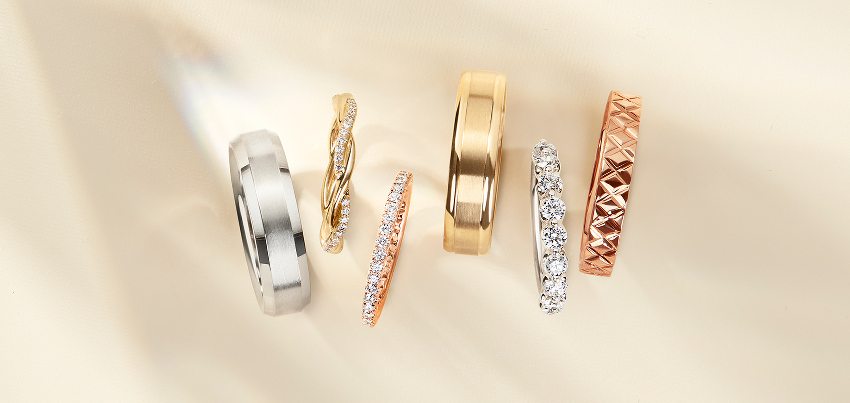 wedding rings
Celebrate Your Beautiful Bond
Your enduring love deserves a symbol that's just as beautiful—and we're here to help.
Explore Wedding Rings and Bands
Find the wedding ring that suits your style with hundreds of beautiful options for men, women and couples.
Wedding Essentials
Band Together
We're here for every type of love–eternal matrimony is one of our favorites. Whether you want to match, or do your own thing, we have the wedding rings you're looking for.
women's rings
Our Jewelry Experts on Speed Dial
Whether you want help finding the right style of ring, have a question about fit or need something special for an important milestone, our experts are here 24/7 to help.
BAND PAIRINGS
Meet Your Match
Explore our experts' wedding band recommendations paired with some of our most popular engagement ring styles.
FANCY SHAPE RINGS
How to Find Your Perfect Fit
Don't know your ring size? You can order our free ring sizer, or use our printable guide which determines your size by using another ring that you already own.
"Exactly as Expected"
His ring arrived exactly as expected, competitively priced and sized to perfection...The good luck charm in jewelry sentiment—after all, we ordered our ring as an upgrade after 10 years of marriage.
—Carolynne S, Blue Nile Customer
Top Questions and Answers About Wedding Rings
A wedding ring and a wedding band are interchangeable terms for the piece of jewelry exchanged between two people during a wedding ceremony. Both men and women wear wedding rings, which can be a simple-but-elegant solid metal band or one that's inlaid with diamonds and other luscious gemstones.

A three-band wedding ring is a set of rings that combines the wedding band and the engagement ring with a third band that's often given as an anniversary gift or a push present to celebrate a baby's birth. The engagement ring usually sits in the middle of the set, with the other two rings fitting on either side.

The price of wedding rings varies greatly, with simple bands costing as little as a couple hundred dollars and more extravagant rings costing as much as tens of thousands of dollars. But the price tag of a wedding band isn't as important as how it makes you feel. Exquisite wedding rings can be found at any price, and how much you should spend depends on your budget, preferred metal and embellishments.

A wedding ring is a symbol that's both private and public. It's a sign of love and fidelity between you and your partner, and it also signifies to the rest of the world that you're in a committed relationship. Your beautiful wedding band is a celebration of the vows that you exchange on your wedding day, and your desire to be with your partner for eternity. While your engagement ring symbolizes the promise of marriage, it's the wedding ring that makes the marriage official. Many of our customers wonder if a wedding ring should have diamonds. While we do offer many wedding ring styles that have diamonds set into the band, many of our most popular wedding rings for women and wedding rings for men are unadorned metal bands.

The wedding ring is traditionally worn on the finger next to the pinky, on the left hand. This springs from the belief in ancient Greece that the ring finger was connected to the heart by a vein of love. On the day of their wedding ceremony, many women will temporarily move their engagement ring to their right hand. Once married with their wedding ring in place, they will move the engagement ring back to the left hand, leaving the wedding ring closest to the heart.

One of the most exciting developments that we've noticed over the last several years is that more and more couples are shopping for engagement rings together—and in many cases, thinking about how their choice of engagement ring and wedding bands synchronize, both stylistically and symbolically.

Try our

wedding ring matcher

tool to find your perfect match.

A wedding ring set includes an engagement ring plus matching his-and-her bands for the groom and bride. Jewelers typically distinguish between a wedding set and a bridal set, which does not include the groom's ring. Outside of the jewelry world, most people use the term wedding set or couples rings
Explore Wedding Rings by Category
Only at Blue Nile
When it comes to celebrations we strive to make your experience as brilliant as our jewelry with the perfect pieces for every occasion.
Amazing Value
The highest-quality design at a great price.
Peace of Mind
30-day returns, diamond price-match guarantee and more.
Expert Guidance
The original online jeweler since 1999.
Inspiring Assortment
The perfect pieces for every occasion.