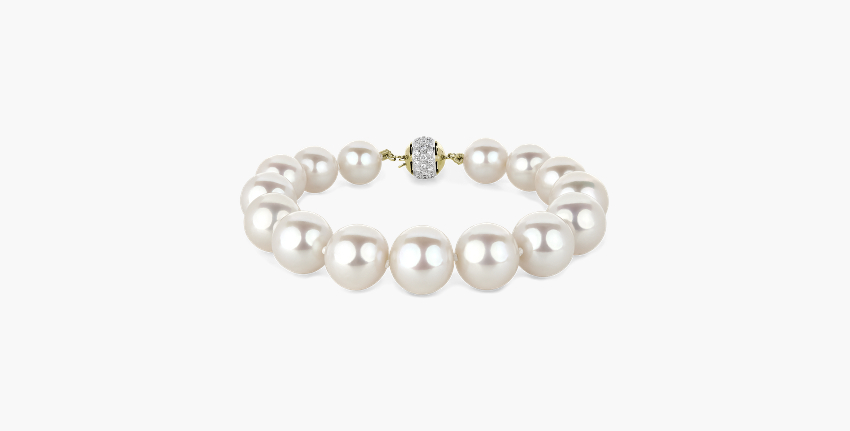 June Birthstone:
Pearl
One of the world's oldest known gems, the
pearl
, is also the birthstone for June. Natural pearls are rare gifts from oceans, seas, lakes and rivers, while equally beautiful cultured pearls are grown with the help of human intervention. Either variety comes in a diversity of colors, including white, cream, pink and green. Pearls offer many excellent options for birthstone jewelry, from heirloom-quality strand necklaces to sophisticated stud earrings.
A Gem Beloved by Generations
Pearls captured the imaginations of many ancient cultures. In China, pearls were said to come from dragons, while in the Middle East, they were seen as teardrops from heaven. Ancient Indian texts also said that pearls bestowed prosperity and long life. Over the centuries, pearls have been worn by royalty, beloved by fashion icons and passed down through generations.
Pearl's Birthstone History
Traditionally, June's birthstones included agate, turquoise and cat's eye. In 1912, the National Association of Jewelers chose pearl, along with moonstone, as the modern birthstone. A favorite of blushing brides, timeless pearl elevates June weddings or special occasions any other month of the year.
An Enduring Symbol of Purity
Every birthstone is connected to different
birthstone symbolism and meaning
. Pearls are the most commonly associated gemstones to purity and innocence due to their round shape, lustrous exterior and typical white color. They are also seen as a symbol of humility, trust, modesty and chastity.
Gifting Inspiration for the June Birthstone
Pearls are an elegant gift for commemorating important occasions. Our selection of pearl birthstone jewelry includes rings, bracelets, necklaces and earrings so that you can easily find the perfect present for every event.
Keep Your Pearl Jewelry Looking Beautiful for a Lifetime
Help your pearl jewelry retain its luxurious shine by practicing simple gemstone care.
Pearls should always be put on last, after body care products like hair spray and perfume, and wiped with a soft cloth after wear.
Keep your pearl jewelry in a soft jewelry box to protect against scratches, and store pearl necklaces flat in a cloth bag to prevent the string from stretching.
Every once in a while, be sure to clean your pearls with mild soap and water.
We also offer free cleaning and repair services to ensure that you can continue wearing your favorite pearl birthstone jewelry pieces for many years to come.
Learn More About Gemstones
Beautiful pearls are just one of the many types of gemstones that we offer in our jewelry collection. Learn about other gemstones and their gorgeous jewelry styles in our gemstone guide.
Explore Education by Category
Only at Blue Nile
When it comes to celebrations we strive to make your experience as brilliant as our jewelry with the perfect pieces for every occasion.
Amazing Value
The highest-quality design at a great price.
Peace of Mind
30-day returns, diamond price-match guarantee and more.
Expert Guidance
The original online jeweler since 1999.
Inspiring Assortment
The perfect pieces for every occasion.