Tysons Corner Showroom
Be dazzled by our Tysons Corner jewelry showroom, stocked with almost 200 pieces from our online collection ready for you to experience in person.
Our Virginia location has expert personal jewelers on hand, so you can try on everything from engagement and wedding rings to fine diamond pendants and bracelets adorned with precious gems.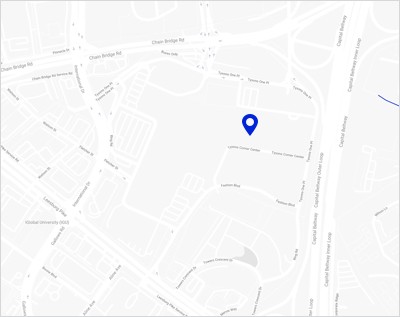 View On Map
Diamond Viewing Program
See for yourself what makes Astor by Blue Nile™ diamonds so rare and extraordinary. Schedule an appointment above, to arrange a diamond viewing with one of our experts.
About Blue Nile Tysons Corner Center
Located just outside of Washington, DC – Tysons Corner Center is Virginia's premier shopping destination for the discerning consumer. Its convenient location and a fantastic spread of shops made it the ideal space for our first VA-based outpost.
With more than 100 shops covering everything from fashion to tech, Tysons Corner Center is a beloved and reputable location for all of your shopping needs. It's not just a place to go for your retail therapy, though. From casual bites to more substantial and upscale options, the dining offering will have you salivating. The Center is constantly hosting exciting pop-up events and initiatives, from months-long summer festivals to selfie-booth competitions.
Not just shopping or eating? Tysons Corner Center also boasts a number of useful amenities including state-of-the-art AMC Theatres, Hyatt Regency Tysons Corner Center and VITA Luxury Apartments. The center has truly established itself as a hub for retail and commerce in Virginia.
Service and Product at Tysons Corner Center
The Blue Nile jewelry showroom in Tysons Corner has been designed to make your jewelry shopping experience as enjoyable and informative as possible. Our expert staff are passionate about all things sparkly and shiny, and are always happy to impart their wisdom to you.
Our convenient appointment system lets you book time in advance with a personal jeweler who can help you find the perfect pieces. Fill in the details and be greeted by a jewelry expert who can suggest the gems best aligned with your taste. We also have slots available to view our rare and exquisite Astor by Blue Nile™ diamonds -- a timeless and elegant choice.
Not sure what you're looking for? Pop in any time to browse and be inspired by the jewelry adorned with diamonds, pearls, precious metals and sparkling gems.
Look, Touch, Experience
Find your perfect match. Try on different engagement rings and wedding rings, diamond jewelry and more. You can even build your own custom ring.
One-on-One Consultation
A one-on-one experience with our Personal Jewelers in our consultation room.