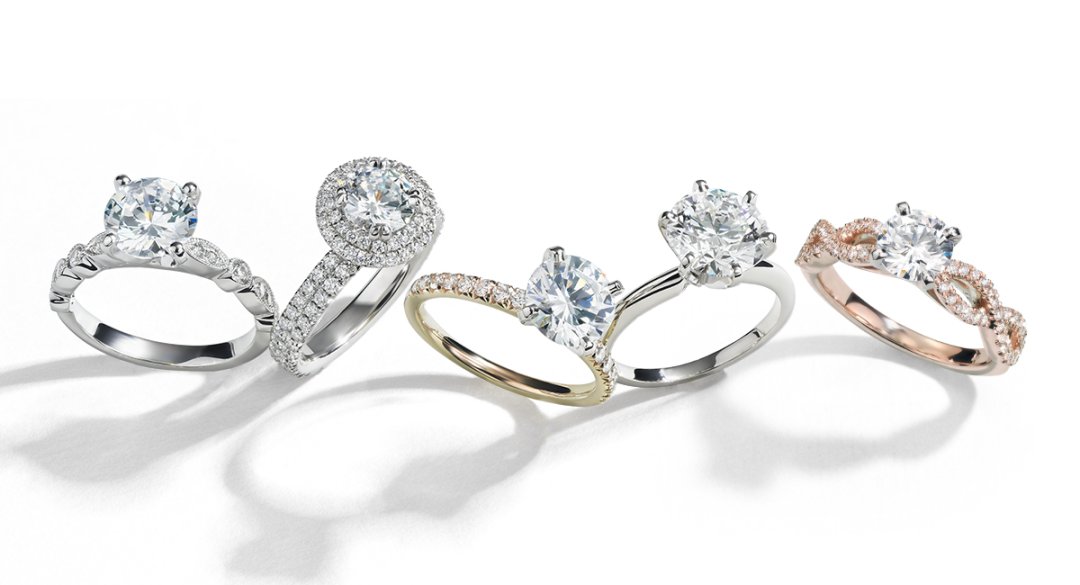 This spring our engagement ring buyers are all about metal options. Whether you're into on-trend rose gold; warm and glowing yellow gold; or sleek white gold or platinum, you have all of those options at your fingertips!
Once you've landed on the style of engagement ring you're interested in purchasing, the next decision you'll make is what metal is right for said ring.
Here are some things to consider when making this important decision.
How Do I Decide Between White Gold and Platinum?
White gold is actually yellow gold that has been combined with other metals, called alloys, that are white—usually nickel, manganese or palladium. These alloys will make the naturally yellow gold appear whiter; however, the white color will still be on the slightly warmer side of white. For this reason, white gold is typically plated with a thin coating of rhodium, a strong, white metal from the platinum family, which makes the metal appear whiter. It is important to note that this coating will need to be replaced periodically. Happily, Blue Nile will re-plate your white gold rings for the life of the product at no charge.
Platinum is naturally white and hypoallergenic, (white gold, alloyed with nickel is not) with very little added alloy. While all precious metal displays wear over time, the finish on a piece of platinum develops a pleasant sheen (or patina) that can be polished back to a high shine, if you wish. Because of its strength, platinum does not wear at the same rate as gold over time.
Platinum is very rare and tends to be more expensive than white gold. However, neither platinum nor gold will tarnish, and gold is less dense, slightly harder, and more budget friendly than platinum.
Here's a tip: If the diamond you purchased is in the I-J color range pairing it with a yellow gold setting will offset any visible yellow color that the stone may display.
How Do I Decide Between 14K and 18K Gold?
K refers to karat or the purity of gold. 24k is pure gold, but can be very malleable and bends easily. It's not really suitable for fine jewelry. 18K gold is 75 percent gold with 25 percent alloy for strength and color and 14K gold is 58.3 percent gold with 41.7 percent alloy. 18K gold is more expensive because it contains more gold.
Since gold is a relatively soft metal, greater alloy content can add strength and increase hardness which helps resist scratching. Also, the higher the gold content, the warmer and richer the gold tone will be. This is more noticeable in yellow and rose gold. The white rhodium coating typically found on white gold makes this difference a little harder to detect. 18K white gold will be warmer in color than 14K white gold.
What is rose gold?
Rose gold is yellow gold with copper alloy to give a pink tint to the metal. Copper adds strength and tends to be less expensive, which tends to keep the price of rose gold down as well.
This hue of gold is considered a modern classic, as it has recently come back into vogue. Rose gold is perfect for someone who appreciates things that are fresh and on trend.
What More Do I Need to Know?
All fine jewelry should be inspected every six to 12 months to proactively avoid costly repairs or stone loss. Blue Nile provides this free of charge on all jewelry we sell.