By clicking 'I Agree' you consent to Blue Nile using marketing & analytics cookies as described in our Privacy Policy.
Product selection may have changed due to availability
Because of each country's product availability, the selection on this site may not be the same as the one you were previously on.
Confirm
Cancel
Cultured Pearl Stud Earrings
Our Freshwater, Akoya, Tahitian, and South Sea pearl stud earring collections offer a style for everyone, each meeting our exceptional quality standards. Diamond accents are featured on select sizes.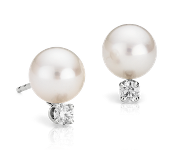 Classic Akoya Pearl Earrings

in 18k White Gold
Classic Akoya Pearl Earrings

in 18k White Gold
Round to mostly round shape and flawless to very slightly spotted surfaces
High to medium lustre and white with silver or rosé overtones
Pairs with diamond accents feature a minimum of H colour, SI1 clarity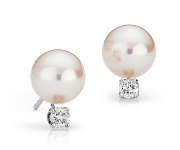 Premier Akoya Pearl Earrings

in 18k White Gold
Premier Akoya Pearl Earrings

in 18k White Gold
Round pearls are flawless to very slightly spotted
Thick nacre coating, high lustre and white body colour with rosé overtones
Pairs with diamond accents feature a minimum of H colour, VS2 clarity