Summer Wedding Season is in full swing! To celebrate one of our favorite times of year, we're sharing a few of the outtakes from our recent photo shoot in the Pacific Northwest. One thing that's never certain, especially in rainy Washington state, is the weather. Fortunately for our crew and cast, we lucked out with a gorgeous day at a local park, just a few miles north of our headquarters in Seattle.
Our location is famous for its spectacular ocean and mountain views, but a fair bit of walking is required. Since high heels aren't exactly the footwear of choice on dusty paths, our incredible stylist, Hillary, was always ready to help with mid-trail shoe changes.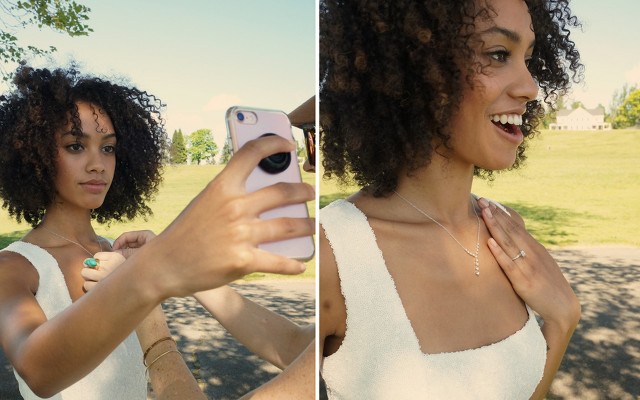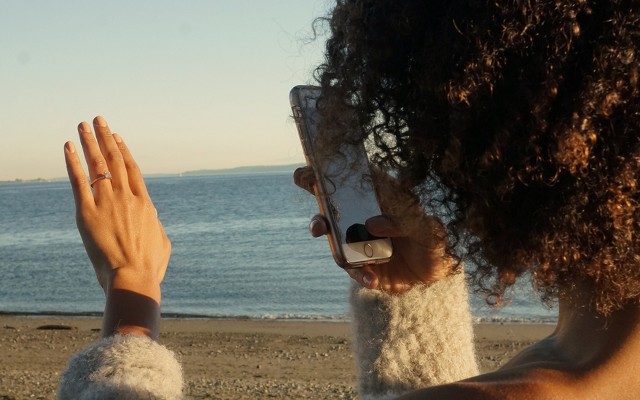 As the day wore on and we got to our final set on the beach, we were energized by an incredible golden hour. There's no light more magical or perfect for capturing the light of love.
While not everyone is as relaxed and natural in front of the camera as models David and Leah, this shot is certainly inspiring to those of us at the Blue Nile office who have upcoming sessions with wedding photographers. (And stay tuned: in the near future, we'll be sharing tips on how to get photos you'll be proud to display.)
How did the time go by so fast? Our crew basks in the sunshine and captures one last shot on the beach. And that's a wrap! Not all photo shoots are this easy and breezy. It was a truly great day. Thanks for following along on our adventure.