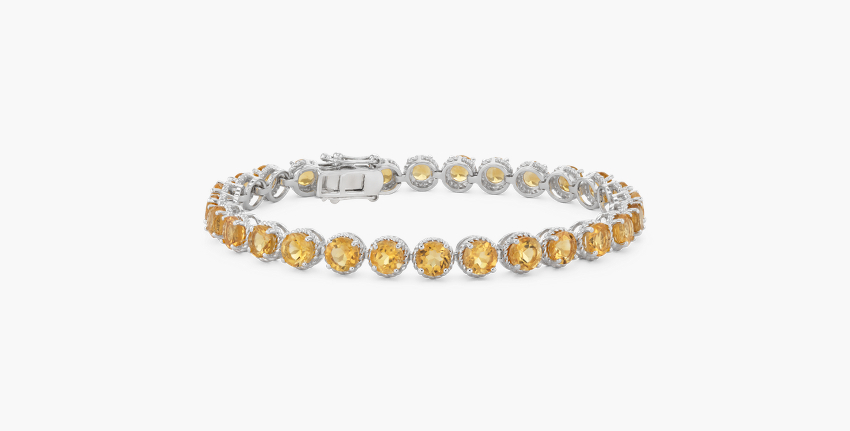 November Birthstone:
Citrine
Prized for its yellow hues and effervescent shine, sunny citrine is the birthstone for November. Citrine is a type of quartz named after the French word for lemon. Its colour range includes a variety of citrusy tones, from reddish-orange to light yellow. This gemstone's fantastic transparency gives it a glistening appeal for excellent wearability in birthstone jewellery.
The Bright and Cheery Gem
Every gemstone has a special meaning. The warm colours of citrine have made citrine a popular gemstone for jewellery throughout history, with its bright hue regarded as a symbol of joy. It has been found in Greek ornaments, Roman jewellery and Victorian-era jewellery.
Citrine's Birthstone History
Citrine was often mistaken for yellow topaz because of their very similar appearances. Topaz is the traditional birthstone for November, and the National Association of Jewellers added citrine as a modern birthstone in 1912.
A Bringer of Health and Happiness
In addition to being a symbol of happiness, the
birthstone meaning
of citrine also includes health, vitality, prosperity and good fortune. Like topaz, citrine is known to have a calming energy that soothes tempers and promotes a balanced mood. It can also be used to help the wearer get through difficult situations and protect them against bad luck.
Gifting Inspiration for the November Birthstone
Citrine jewellery is a lovely gift brimming with positive associations. If you are shopping for a special someone, this cheerful gemstone will certainly make their day and become a cherished keepsake.
Keep Your Citrine Jewellery Looking Beautiful for a Lifetime
Citrine is a durable gemstone that wears well with some proper gemstone care and cleaning.
It's safe to clean using warm, soapy water and a soft brush. When you aren't wearing it, store your citrine jewellery in a felt-lined jewellery box to keep it in great condition.
If your citrine jewellery is ever in need of repairs or a thorough cleaning, our free cleaning and repair services will have it restored, shining and ready for many more years of wear.
Learn More About Gemstones
The joyful symbolism and visual appeal of citrine make it a wonderful choice for personal adornment. Learn about other gemstones and jewellery options in our gemstone guide.
Explore Education by Category
Only at Blue Nile
When it comes to celebrations we strive to make your experience as brilliant as our jewellery with the perfect pieces for every occasion.
Amazing Value
The highest-quality design at a great price.
Peace of Mind
30-day returns, diamond price-match guarantee and more.
Expert Guidance
The original online jeweller since 1999.
Inspiring Assortment
The perfect pieces for every occasion.