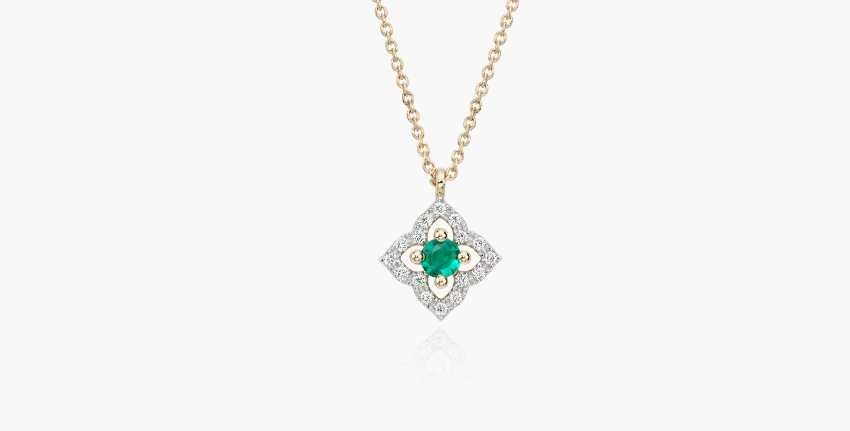 May Birthstone:
Emerald
The vibrant emerald is an undeniably beautiful gemstone that serves as the birthstone for May. This stunning green gem reflects the freshness and newness of springtime. Emeralds are a variant of the diverse mineral beryl and can range in colour from yellow-green to blue-green. Every hue makes a striking statement when set in birthstone jewellery.
Beloved Gemstone of Antiquity
Emerald has a long and storied history that contributes to its unique symbolism. It was first mined as early as 330 BC in Egypt, where it adorned pharaohs. Roman author and naturalist Pliny the Elder wrote that ""nothing greens greener"" and that looking at an emerald was restorative for the eyes. Across the globe, Inca emperors were also enchanted by the emerald's vivid colour.
Emerald's Birthstone History
When the practice of wearing birthstones arose in the 16th century, both emerald and agate were associated with the month of May. In 1912, the National Association of Jewellers created the list of modern gemstones and chose emerald as the sole May birthstone. With it's bewitching green hues, the emerald birthstone makes a natural pair with the spring month.
The Spirit of Growth and Renewal
The ancient Egyptians associated the emerald with fertility and rebirth, and it also symbolizes growth and renewal today. According to lore, emeralds have the power to increase the wearer's wit and intelligence and help them speak more eloquently. Some consider the emerald to be a symbol of luck, love, truth and faithfulness.
Gifting Inspiration for the May Birthstone
Birthstone jewellery is a gorgeous gift that showcases how much someone means to you. Gifting an emerald is perfect for those born in May or as a special present to celebrate memorable occasions.
Keep Your Emerald Jewellery Looking Beautiful for a Lifetime
Proper gemstone cleaning will maintain the shine and lustre of your precious emerald birthstone jewellery.
Emerald is safe to clean with warm, soapy water, a soft-bristled toothbrush and a gentle scrubbing motion.
When worn with care, emerald jewellery can be worn for both special occasions and everyday attire.
When not being worn, store your pieces in a felt-lined jewellery box to protect them for years to come.
Over time, any jewellery will need professional cleaning and care. We provide free cleaning and repair services that will have your emerald jewellery expertly restored.
Learn More About Gemstones
Emerald birthstone jewellery is always a wonderful choice, whether you're looking for yourself or for a gift for someone else. Learn about other gemstones to find even more fine jewellery options that suit your tastes.
Explore Education by Category
Only at Blue Nile
When it comes to celebrations we strive to make your experience as brilliant as our jewellery with the perfect pieces for every occasion.
Amazing Value
The highest-quality design at a great price.
Peace of Mind
30-day returns, diamond price-match guarantee and more.
Expert Guidance
The original online jeweller since 1999.
Inspiring Assortment
The perfect pieces for every occasion.