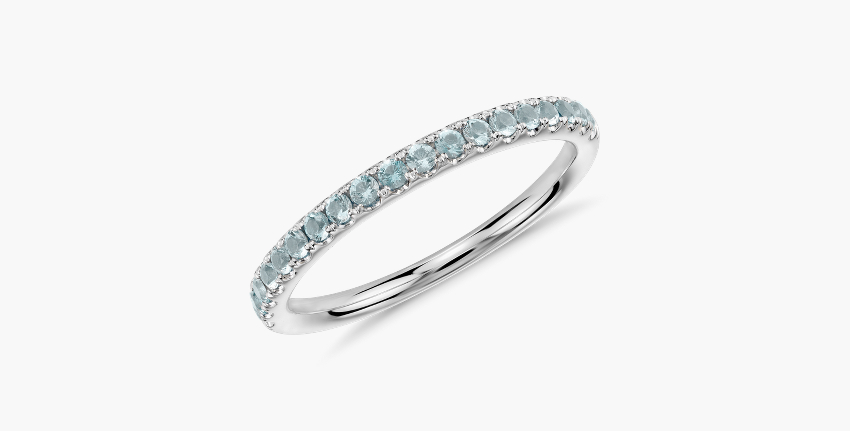 March Birthstone:
Aquamarine
Exuding an ethereal, oceanic beauty, March's birthstone, aquamarine has captivated the world throughout history. With a range from crystalline blue and cyan to pastel shades, it evokes images of tranquil waters and the purity of the sea. Delve into this enchanting gemstone to discover its majestic history and symbolism and find inspiration for gifting beautiful aquamarine jewellery to your special someone.
The Stone of the Sea
The name aquamarine signifies the sea itself, originating from the Roman words "aqua," which means water, and "mare" which means sea water. Holding sacred meaning to Neptune, the god of the sea, Romans believed aquamarines were born from the bejeweled caskets of his sea sirens as they emerged upon the shore.
Aquamarine's Birthstone History
Because its deep associations with the ocean, the aquamarine birthstone is known as the sailors' gem, promising ancient mariners safe and fruitful journeys at sea. During World War II, the U.S. navy commissioned a coastal patrol yacht, naming it the USS Aquamarine as tribute to the beloved gemstone and its ties to the ocean. A favourite among royals and nobility as well, aquamarine was particularly treasured by Queen Elizabeth II who chose to wear a pair of stunning aquamarine earrings at her coronation in 1953.
The Spirit of Tranquility and Vitality
Birthstone meanings
are often a little more modern than the gemstone's historical meaning. March's birthstone encompasses the spirit of the ocean in its current context, representing both the exhilaration of crashing waves and the serenity of calmer tides. Many believe that it inspires understanding and deep communication between people, also bestowing courage and bravery upon its wearer. A stone of truth and protection, aquamarine guards against evil thoughts and invokes creativity while heightening wisdom and intellect. Aquamarine inspires its wearer to feel as relaxed as the lolling of gentle sea waters, encouraging a spirit of compassion and kindness.
Gifting Inspiration for the March Birthstone
Treat someone you love—or yourself!—to some of the dazzling aquamarine jewellery we offer. These ideas will help you select a gift that will be cherished for generations.
Keep Your Aquamarine Jewellery Looking Beautiful for a Lifetime
With a hardness of 7.5 to 8 on the Mohs scale, aquamarine has the durability to be worn everyday, but it should be treated with proper care to maintain its beauty and prevent scratches.
With warm water and mild soap, gently scrub your aquamarine jewellery with a toothbrush to remove any dirt, dust or grime.
We are happy to offer complimentary cleaning and repair services with your purchase. Learn more about how to care for gemstone jewellery in our helpful guide.
Learn More About Gemstones
Aquamarine is a popular choice among the birthstone jewellery we offer. Learn about other gemstones and choose a piece of stunning jewellery to love, and admire for years to come.
Explore Education by Category
Only at Blue Nile
When it comes to celebrations we strive to make your experience as brilliant as our jewellery with the perfect pieces for every occasion.
Amazing Value
The highest-quality design at a great price.
Peace of Mind
30-day returns, diamond price-match guarantee and more.
Expert Guidance
The original online jeweller since 1999.
Inspiring Assortment
The perfect pieces for every occasion.