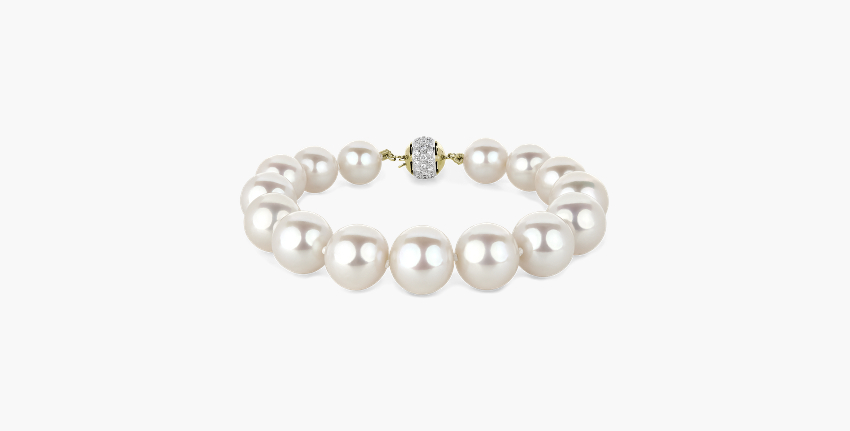 June Birthstone:
Pearl
One of the world's oldest known gems, the pearl, is also the birthstone for June. Natural pearls are rare gifts from oceans, seas, lakes and rivers, while equally beautiful cultured pearls are grown with the help of human intervention. The lustrous June birthstone, pearl, is available in a variety of colours including white, cream, pink, green and black. Pearls offer many excellent options for birthstone jewellery, from heirloom-quality strand necklaces to sophisticated stud earrings.
A Gem Beloved by Generations
Pearls captured the imaginations of many ancient cultures. In China, pearls were said to come from dragons, while in the Middle East, they were seen as teardrops from heaven. Ancient Indian texts also said that pearls bestowed prosperity and long life. Over the centuries, pearls have been worn by royalty, beloved by fashion icons and passed down through generations.
Pearl's Birthstone History
Pearl is the birthstone for June, though there have been other June birthstones over the years. Additional gems with birthstone ties to June have included moonstone and alexandrite, but pearl is the most popular June birthstone.
Pearls have a rich history with ties to ancient civilizations worldwide. While once an exclusively natural creation, pearls are now also cultivated in both freshwater and saltwater settings. Cultured pearls are just as lustrous and enchanting as their natural counterparts. When searching for pearl birthstone jewellery, cultured pearls are the most abundant choice.
In 1912, the National Association of Jewellers chose pearl, along with moonstone, as the modern June birthstone. A favourite of blushing brides, timeless pearl elevates June weddings or special occasions any other month of the year.
June Birthstone Symbolism
Every birthstone is connected to its own
birthstone symbolism and meaning
. June's birthstone is often linked to symbolism of wisdom, humility, modesty and trust. Historic symbolism of this lustrous Gemini birthstone has also linked it to prosperity.
Pearl's Connections to June
Astrological signs of Gemini and June birthday Cancers both lay claim to the pearl as their gemstone. A pearl's symbolism of wisdom, honesty and even its connections to the moon often link it to the astrological signs with which it's associated. As one of the warmer months of the year in many parts of the world, June also represents the tranquil waters in which this gem grows.
As the Gemini birthstone, pearls can be especially symbolic. The very formation of pearls can represent the dual-sided qualities of Geminis, with two shells coming together to form one pearl.
June Birthstone Colours
White and cream-coloured pearls are the most common shades of the pearl June birthstone, but additional colours are also available. Pearls come in a wide array of colours including white, cream, pink, black, grey, brown, silver, pink, green blue and even purple. Pearls often exhibit an irridescence that sets this gem apart from the rest.
Gifting Inspiration for the June Birthstone
Pearls are an elegant gift for commemorating important occasions. Our selection of pearl birthstone jewellery includes rings, bracelets, necklaces and earrings so that you can easily find the perfect present for every event.
Keep Your Pearl Jewellery Looking Beautiful for a Lifetime
Help your pearl jewellery retain its luxurious shine by practicing simple gemstone care.
Pearls should always be put on last, after body care products like hair spray and perfume, and wiped with a soft cloth after wear.
Keep your pearl jewellery in a soft jewellery box to protect against scratches, and store pearl necklaces flat in a cloth bag to prevent the string from stretching.
Every once in a while, be sure to clean your pearls with mild soap and water. Avoid submerging strings of pearls and be sure to wipe all pearl jewellery dry with a soft cloth after cleaning.
We also offer free cleaning and repair services to ensure that you can continue wearing your favourite pearl birthstone jewellery pieces for many years to come.
June Birthstone Buying Tips
This alluring birthstone for June can be found in many different jewellery styles. Freshwater cultured pearls set alongside
sterling silver
will bring lower price tags while rarer Tahitian pearls will often command higher prices. Luckily, there are stunning pearls at every price point to make the perfect June birthstone jewellery gift. When shopping for pearl birthstone jewellery pieces, consider these tips:
Choose styles with hand-selected pearls. No two pearls are exactly the same, so well-made pearl jewellery will have hand-selected gems that have been chosen for their similar or complementary styles.

Purchase from

jewellers

you can trust to ensure you're buying authentic pearls. Real pearls will typically have a lustre to them and are initially cold to the touch if they haven't been worn in some time.

Choose the pearl colour that's best for your budget. Classic freshwater pearls in white, cream or off-white are popular and affordable choices. For an eye-catching style, consider South Sea or Akoya pearls.
After you've chosen the perfect June birthstone styles, be sure to keep the pearls in perfect condition by safely storing them in a soft cloth bag or jewellery box when they're not being worn.
Learn More About Gemstones
Beautiful pearls are just one of the many types of gemstones that we offer in our jewellery collection. Learn about other gemstones and their gorgeous jewellery styles in our gemstone guide.
Explore Education by Category
Only at Blue Nile
When it comes to celebrations we strive to make your experience as brilliant as our jewellery with the perfect pieces for every occasion.
Amazing Value
The highest-quality design at a great price.
Peace of Mind
30-day returns, diamond price-match guarantee and more.
Expert Guidance
The original online jeweller since 1999.
Inspiring Assortment
The perfect pieces for every occasion.