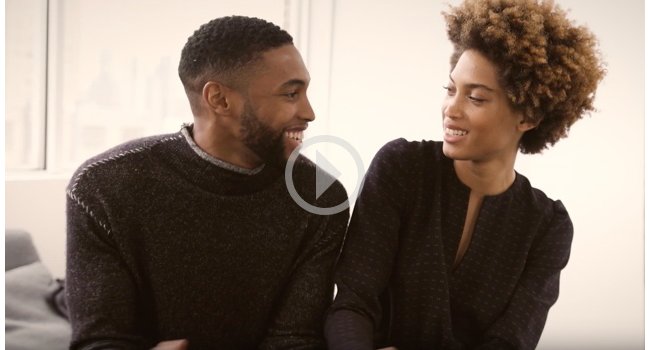 Real love is something you can see. That's why we're featuring real-life couples in our campaign photography this fall. In our new series, Love + Stories, we sit down with each of our beautiful pairs to get the backstories on their relationships and what love means to them.
Lily is a professional model. Tyrone is a rapper (catch his sweet freestyle in the video) and dancer, and also works with people with special needs. The two first met at church in 2010 but didn't start dating until about seven years later. Their shared love of music, food and laughter has sustained their relationship through long distances and time apart due to work. And they just tied the knot this August! Get set to swoon over this all-American love story.
HOW THEY GOT TOGETHER
For this couple, beauty is far more than skin deep. Both Lily and Tyrone are deeply spiritual so it's no surprise that they met at church. A few years after, she became smitten—especially with Tyrone's captivating smile. "When he smiles at you, you just feel like all his attention is towards you," she notes with a flutter. In a move that she describes as "super aggressive", she started attending dance classes and other activities just to be around him.
At first, Tyrone didn't see Lily as a love-interest. But by early 2017, her efforts to win him over paid off. [In the beginning] "I wasn't paying her that much mind," he recalls. "But as the years went on, I really started to notice that she had these great attributes..." While he cites her beauty, brains and compassion, what really drew him in was her presence in public. "She's full of life. She comes into a room and... It's Lily! She's the "lily of the field"—she bounces around, talks to people, and makes friends everywhere that she goes. She's a great people person."
HOW DID YOU CHOOSE THE RING?
When the two were pretty certain they wanted to make it forever—get ready—Tyrone flew to Lily's home in Bermuda just to ask her father for her hand in marriage. Dad approved, so it was on to the ring. Initially, they went into the "crazy process" together. "We were on every website. Definitely, Blue Nile is one of our favorites. It's not crazy expensive like all the other places."
Being a traditional gentleman though, Tyrone wanted to make sure Lily got the surprise of her life. Again, he turned to the strong community he'd built around him. "I had friends and family and some people from my church check it [his ring picks] out. We went through about five, six, seven—probably more than that."
THEIR PROPOSAL STORY
Keeping the ring secret was only half of the surprise. Tyrone wanted the proposal itself to be a complete stunner. But their busy lifestyles and largely long-distance relationship at the time made it nearly impossible. "I was trying to propose to her for a very long time but she kept leaving the country. Models!" he professes. "Every time she wouldn't know when she was coming back… and I'm trying to set it up with her family, her friends, everybody in one room."
On August 22, 2017, Lily confirmed she was flying in after spending two months in Bermuda. That day, Tyrone was steeped in pre-proposal bliss. Lily wasn't. "He doesn't remember, but we were arguing that day! He was being super nice to me—and I was so mad at him. He was sending me all these heart emojis. Anything I said, he was just contradicting it with joy. It was making me so annoyed," she says shaking her head.
Thanks to their dedication to their faith, the proposal plan still went off that night. Tyrone arranged to use their church's Tuesday night meeting as his stage. His pastor helped by placing the perfect cue into that evening's sermon, beseeching someone in the audience to take the stage and talk about the meaning of love.
The surprise worked perfectly because Lily was still clueless. "People started screaming," she recalls with a wry smile. "I was like, why are you screaming? Everyone caught on other than me."
It was only when Tyrone asked her to join him that the reality sunk in. Nerves initially got the best of her, leaving her paralyzed in her pew. "Someone had to come and be like, "Come up here, girl," she laughs now.
Tyrone wasn't without nervous excitement himself and even remembers his leg shaking as he knelt to ask Lily to spend the rest of her life with him. Lily admits that she had been dreaming of the day he would propose and that she wanted to marry him, but in the moment it was absolutely a shock. Oh, and she said, "yes," of course.
HOW DO YOU DEFINE LOVE?
Beyond faith and family and despite distance and differences, Lily and Tyrone will stick together for one simple reason. Love.
"Love, it's an action..." Tyrone throws out, but then elaborates, "A lot of people feel like it's a feeling but it's an action. If I can bear with you, no matter what, through thick and thin, that's love. Past the butterflies, past the what I even think." Lily immediately picks up the thought: "You just put yourself to the side and let yourself be with that person and be fearless and not allow yourself to be scared—to endure or to just put up with something. Love is fearless."
We're sending an enormous "cheers" to this newlywed pair. See more of Lily and Tyrone in our campaign photos this season. We look forward to introducing other real-life couples in the coming weeks. Looking for inspiration for your own love story? Let us know how we can help.